ICO Supervison Is Still In The Era Of Grassroots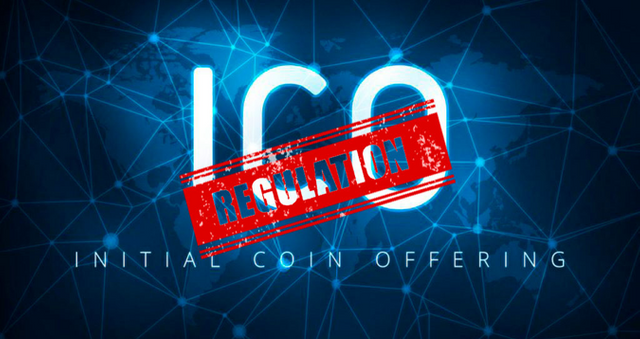 From a global perspective, Asia's ICO regulation is the most stringent, and most countries are still in the regulatory gap. As a whole, ICO supervision is still in the era of grassroots, but the regulatory trend will become more and more strict.
Crypto4all organized ICO regulatory policies in Asia, Europe, North America, South America, and Africa, and these countries are divided in to [Prohibition], [Strict regulation] and [Active supervision].
Asia:

Asian countries have stricter regulatory policies for ICO. China and South Korea have explicitly banned ICO, but both countries have discussed the positive voice of ICO. Regulations in Japan and Thailand are more stringent and show signs of constant tightening.

Prohibition:
People's Bank of China officially defined the ICO as "unauthorized illegal financing" and explicitly required "any organization and individual to stop engaging in ICO". In addition, cryptocurrency-related activities such as trading and mining are also prohibited in mainland China. Following China's footsteps, South Korea is the second country in the world to ban ICO. The Korea Financial Services Commission (FSC) stated that the ICO financing model violated the Capital Markets Act and imposed severe penalties on those involved in the ICO.

Strict regulation:
The Japan Financial Services Agency (FSA) issued an ICO Risk Statement mentioning ICO's risk of price volatility and fraud. Similar to Japan, the Philippine Securities and Exchange Commission (SEC) also formulating regulations to regulate ICO. ICO companies are obliged to provide the anti-money laundering office with the names and transaction information of buyers and sellers.

Active supervision:
The Singapore Monetary Authority (MAS) issued special regulatory guidelines that only if the ICO poses a specific risk, will it supervise related activates.
Europe:
Overall, European countries allow the existence of ICO. Russia is in a stricter regulatory environment. Other countries like France and Germany are waiting to see.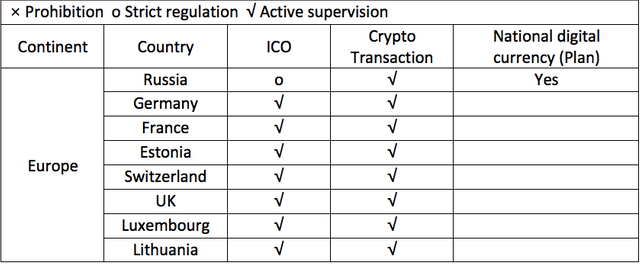 South, North America and Africa:

Summary:
From a global perspective, Asia has the strictest regulations, including two countries in China and South Korea that explicitly ban ICOs;
Most countries in the world are still in the ICO regulatory gap, or have not yet launched a formal regulatory framework;
Global regulatory trends are basically moving towards more stringent or formal regulatory frameworks;