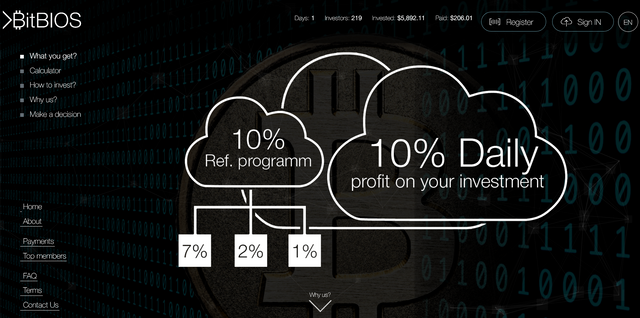 BitBIOS is a high risk HYIP program paying 10% daily on your investment. Now these plans are the same as many other hyips, but here is why I think this one will go for longer then usual.
Unique design and processing interface.
If you look at all hyip websites, they are all exactly the same, the only thing different is the images and backgrounds.
If you are familiar with HYIP websites, you know what I mean.

Automated compounding
Now every body knows, what crazy figures compounding calculators show, so this website does have this future and I'm guessing lots of users will use it, as it will give more stability to the program.

Simple plan
Most of 10% HYIP websites rates starts with 10% Daily and usually goes all the way to 14%-15%, which is not very fair for the lower budget investors, and also it doesn't give confidence of stability.
Some other cool futures are
instant deposit and withdraw
withdraw from available balance whenever you want
good referral commission that goes straight to available balance
support and tickets react really quickly
Now considering all these futures promoting this program
Its very important to get in on the first few days, as for the more you delay, the probability of not getting your initial investment grows higher.
DO NOT INVEST MORE THEN YOU CAN AFFORD TO LOSE