The invention of the internet has brought a new level of lifestyle in every aspect. It has also transformed the world positively. With the internet, there is an opportunity for effective and efficient management of businesses, as it gives access to low cost of communication, creating relationships globally and being able to transfer a large amount of data in a few seconds.
FACTORS AFFECTING EFFICIENT AND EFFECTIVE USE OF TREH INTERNET
In as much as the internet has been of great benefits to users around the world, some factors have recently emerged hindering the efficiency of internet usage such as:
i. interferences by unwanted ads: recently, ad developers have made the use of internet to be discouraging by forcefully sending ads everywhere on the internet, a user who downloads a needed App , will realize that ads pop up each time he or she opens the App. this is what Honeypod has been designed to block.
Tracking: while using the internet in your device, other intruders are able to track, monitor and trace whatever a user is doing, in most cases sensitive data are stolen in the process. Honeypod has been created to stop this.
Hackers: this has been the recent trend, cyber hackers attacking sites and servers of banks to steal user's funds without the user's knowledge, this is because the cyber hacker is able to track and use malware to destroy any security and penetrate such server. But thanks to Honeypod team who has designed a platform that will allow complete privacy for internet users and their devices. For more information please read Honeypod website: http://honeypod.org/
THE CREATION OF HONEYPOD
Honeypod is a platform that has been uniquely designed to block unwanted ads, malwares, and viruses from gaining access to internet user's device anywhere and anytime. this platform make use of the blockhain technology and cryptocurrency taking advantage of its disruptive features to provide an effective , efficient, secured, safe platform for internet users around the world. For more information please read Honeypod website: http://honeypod.org/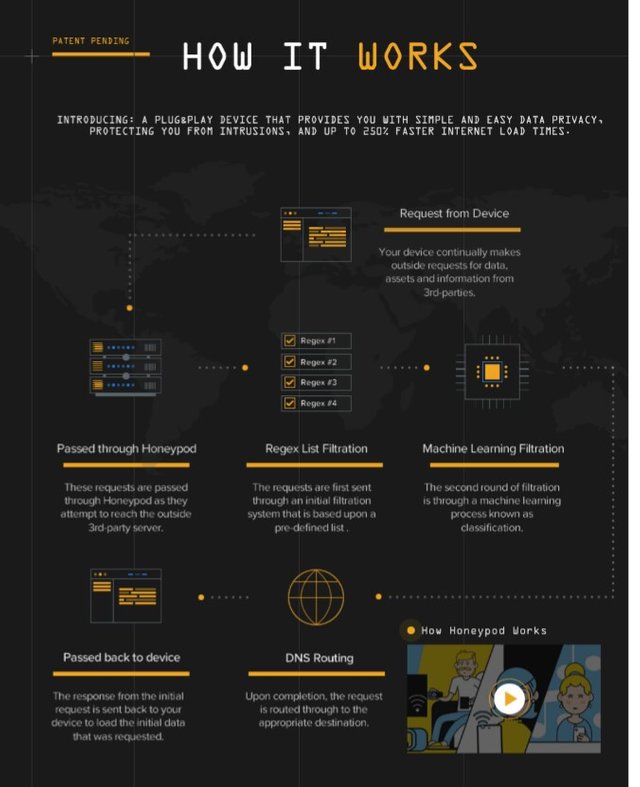 DISTINCTIVE ADVANTAGES OF HONEYPOD
I. Hnoneypod is created to support every device connected to the internet including the devices at home. Just one Honeypod App takes care of all the internet connected devices.
Full data monitoring: Honeypod is created in such a way that it allows users to monitor his or her data, whenever there is a request from a 3rd party or any communication, Honeypod blocks such and give users the privilege of seeing which information of software is trying to come in. it will then be the duty of the user to decide whether to permit such data or not.
Honey pod blocks ads: this unique platform is designed to block every ad that would have wanted to penetrate user's device, be it smart phones or smart television or any other device connected to the internet. Every unwanted ad is kept of, giving internet users a great experience.
Honeypod allows fast internet connectivity : since this Application has the ability to block every ad, malwares and other types of viruses that use to slow down internet connections and data download, it then allow users to experience a very fast browsing of the internet.
Using Honeypod guarantees earning of cryptocurrency : every user of Honeypod is meant to receive honey tokens depending on their activities and the use of Honey token on the platform.
A user friendly interface: Honeypod platform is designed to be sophisticated but simple and user friendly. Users do not need special training of professionalism to use it.
VPN integration: Honeypod has created a unique VPN for every internet user to enable their privacy, security, and hidden identity. On the Honeypod dashboard there is an opnVPN and DNScrytp functionality all to protect user's data. For more information please read Honeypod website: http://honeypod.org/
THE ROAD MAP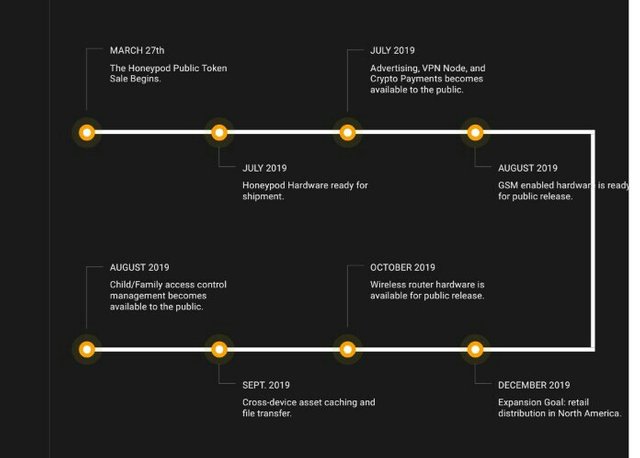 TOEKN AND ICO DETAILS
Token name: Honey
Token Symbol: HNY
Ico star date: 25-03-2019
Ico closing date: whenever hard cap is met
Price per token: $0.05/HNY
Accepted currency: Eth, BTC, XLM.
Soft cap: 40million HNY ($ 2million)
Hard cap: 200 million HNY ( $ 10million ) For more information please read Honeypod website: http://honeypod.org/

USES OF HNY
It will be used for online payment for goods and services
It will be use for trading with other cryptocurrencies
Honey token will be used for payment to advertisers
With Honey token, the team will provide a secure wallet where cryptocurrencies can be stored.
use in paying for rewards and incentives. For more information please read Honeypod website: http://honeypod.org/
CONCLUSION
In my opinion, the creation of Honeypod platform is an outstanding step in the improvement of internet usage around the world. The innovative tools, features and benefit of using Honeypod cannot be overemphasized. I have no doubt that this platform will completely change the present perception of the internet and bring hope again to the technology of the internet. the most amazing aspect is the fact that only one Honeypod device will be able to control all devices that are connected to the in tenet in the user's home and be able to block all unwanted malwares and ads. Do not miss the opportunity of being a part of this great project. For more information please read Honeypod website: http://honeypod.org/ and self explanatory whitepaper: https://docsend.com/view/6w2kpua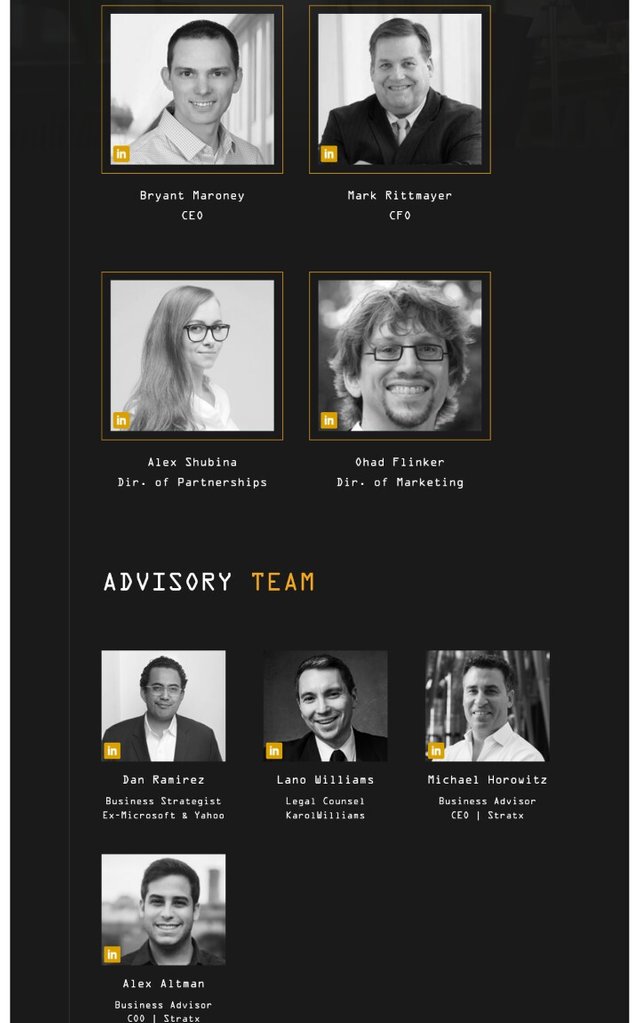 Website: http://honeypod.org/
Whitepaper: https://docsend.com/view/6w2kpua
Twitter: https://twitter.com/gethoneypod
Telegram: https://t.me/honeypod
Authour's btt profile: https://bitcointalk.org/index.php?action=profile;u=1760015;sa=summarya8
Authour's name: funex