Making apple pie on Pi Day was a complete coincidence, and only happened because @mamajeani posted Nearly Perfect Pie Crust, featuring a recipe that intrigued me because it included an egg. (Check out her blog if you haven't already, because she has all kinds of yummy food posts to make you hungry.) I haven't made pie in a long time, and that post made me want to make one!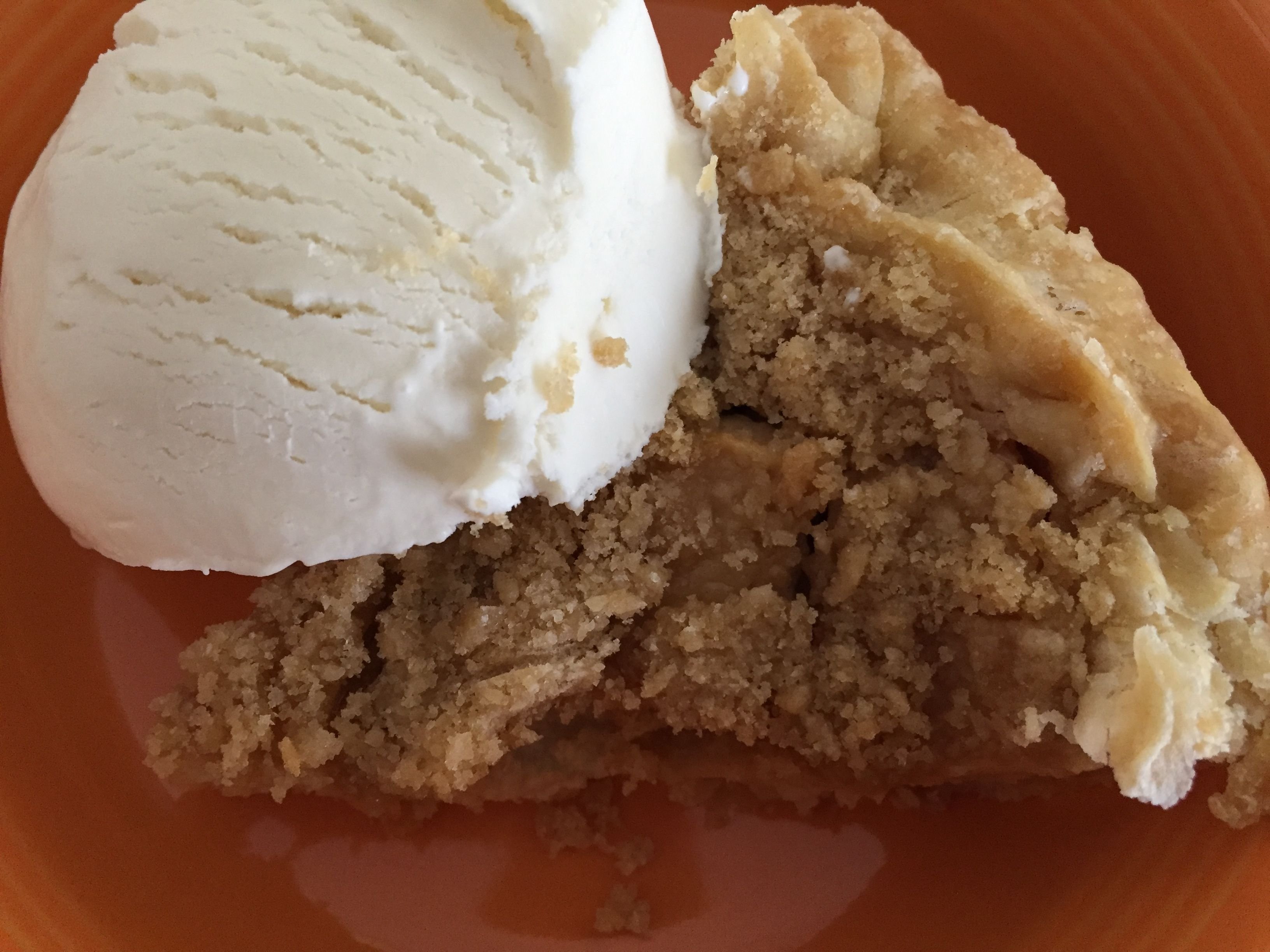 This photo is dedicated to @tygertyger, lover of pie. A bowl of entirely homemade goodness!
Naturally, the kiddos wanted to help. It was a snow day, so I had alllll day to entertain them in the kitchen. The very first thing we did was chop up and blend strawberries and apples to make fruit leather, because both @thefarmerswife and @birdsinparadise posted how to make it, and got me all fired up to add another healthy snack to our options. I didn't think to take any photos of the process though! I used @birdsinparadise's homemade strawberry fruit roll ups recipe because I had those ingredients handy, while the Husband obligingly fetched the dehydrator. Now, he has only ever used it when he makes venison jerky, and I've never touched it at all. But it can't be hard, right? I had enough fruit to increase the recipe by half, and I divided it between two trays and turned the dehydrator on. There! I can just let that do its thing, while my house begins to smell wonderfully like strawberries :)
Now to turn our attention to pie!! First, we made the pie crust (I won't repost the recipe; it's available at @mamajeani's link above!)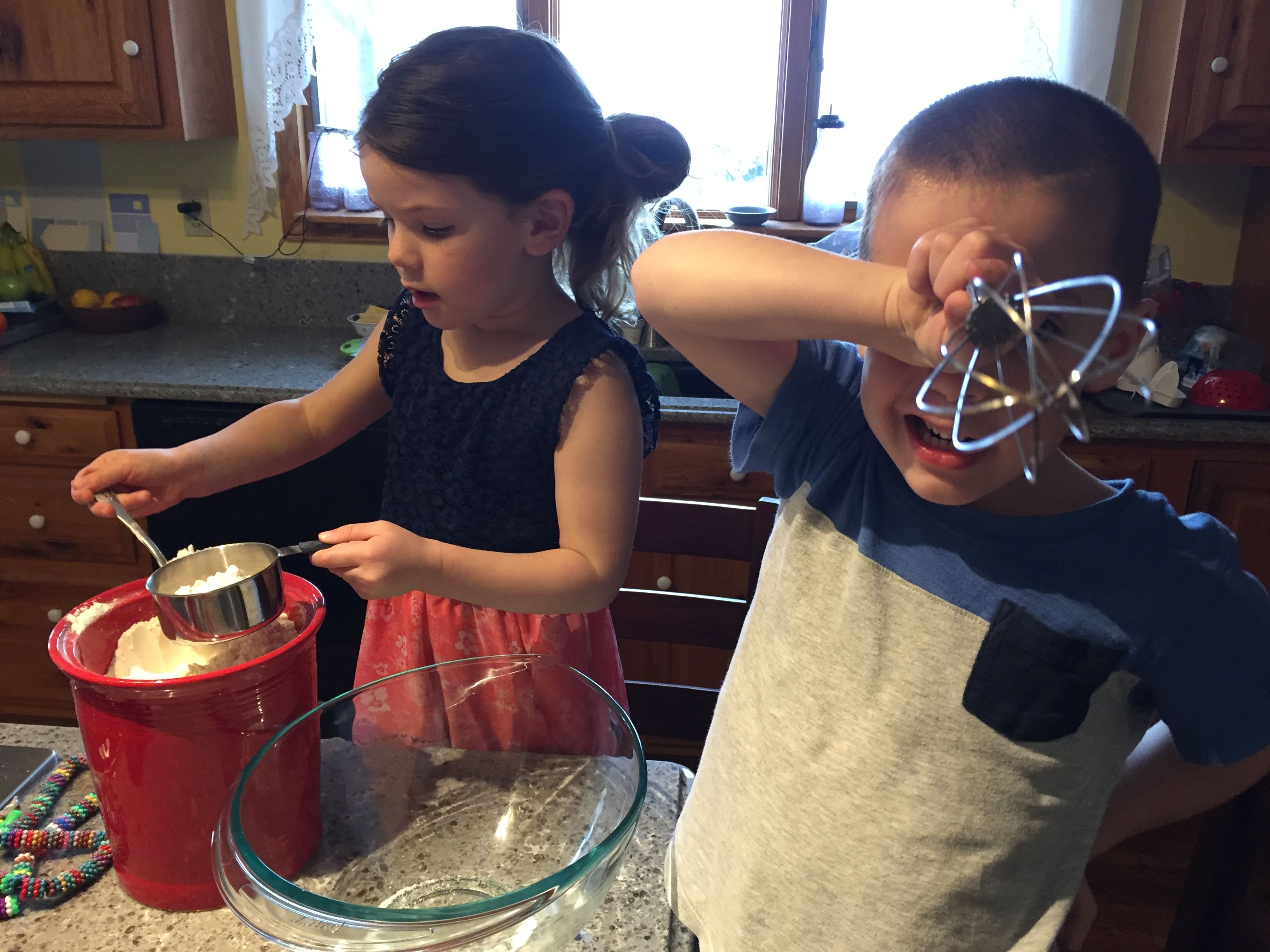 Let the good times begin!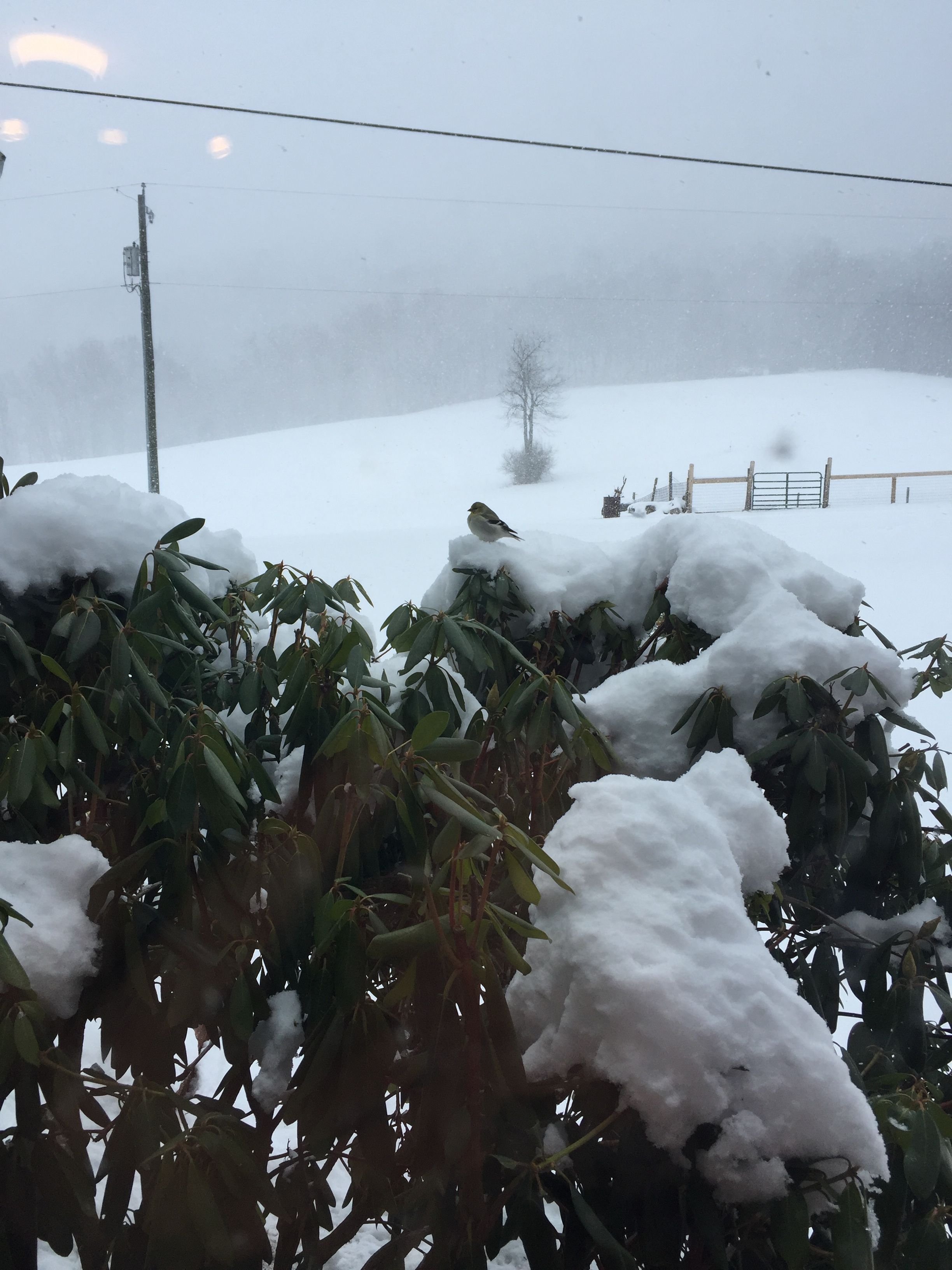 Meanwhile, outside....
At this point, it occurred to me to put aprons on the kids. Pixie has an "Elsa" apron I bought at a craft fair, but Little Man was stuck with my Vera Bradley apron. He told Pixie at one point, "Your dress is very pretty, Pixie!" and she replied, "Thanks, yours is prettier!" Haha! She must have picked up that line at preschool :)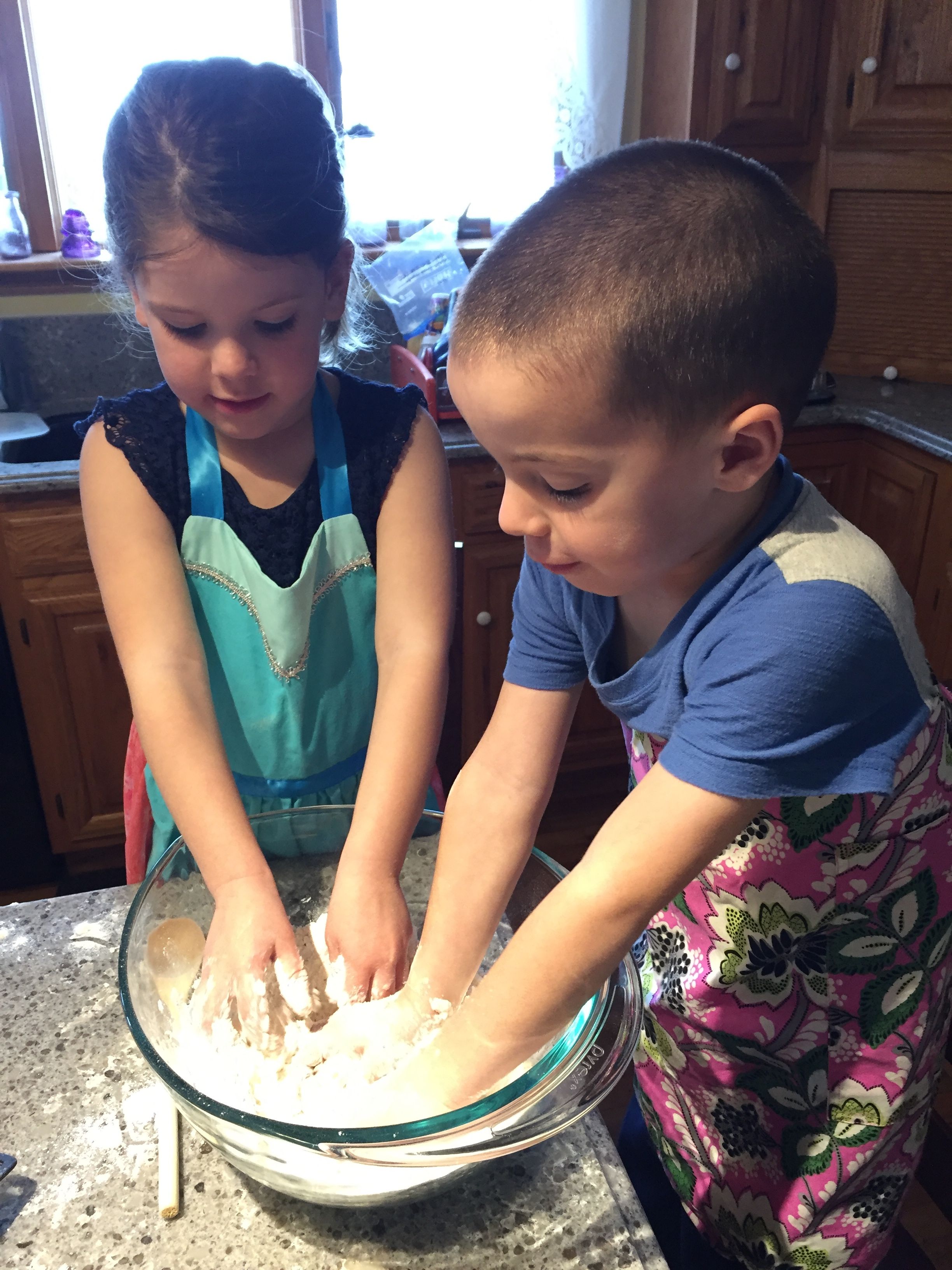 Working the shortening into the flour and salt was a gigantic hit. Maybe it was overworked a bit, but who cares when you're having fun, right?
Once little hands were thoroughly washed and the pie crust dough wrapped and put in the refrigerator to chill, it was time to make the pie filling. I used Taste of Home's Dutch Apple Pie recipe for a more custard-y version.
INGREDIENTS
3/4 cup sugar
2 tablespoons all-purpose flour
Pinch salt
1 egg, beaten
1/2 teaspoon vanilla extract
1 cup (8 ounces) sour cream
2 cups chopped tart apples
*1 tsp cinnamon
*1/2 tsp nutmeg
*These were my experimental additions to spice up the original recipe. I suggest increasing both, to taste.
1 unbaked pie shell (9 inches)
STREUSEL TOPPING:
1/3 cup all-purpose flour
1/3 cup packed brown sugar
2 tablespoons butter
DIRECTIONS, COMMENTARY, AND PHOTOS
Peel and slice apples.
This was a day full of "firsts" for the kiddos; one of them being to learn how to cut up stuff with sharp knives. They've been asking to do much more challenging things in the kitchen ever since watching a couple episodes of Kids' Baking Championship on Food Network; simply putting bread ingredients in the bread maker or operating the mixer doesn't cut it anymore, now they want to take things out of the oven (not happening) and use knives (ok let's do it) and such. In hindsight, I should have picked something a lot softer for their first attempt, but they did great! Little Man had the knack (and the upper body strength) to excel almost immediately, much to the competitive Pixie's dismay. I had to give her extra encouragement to keep going.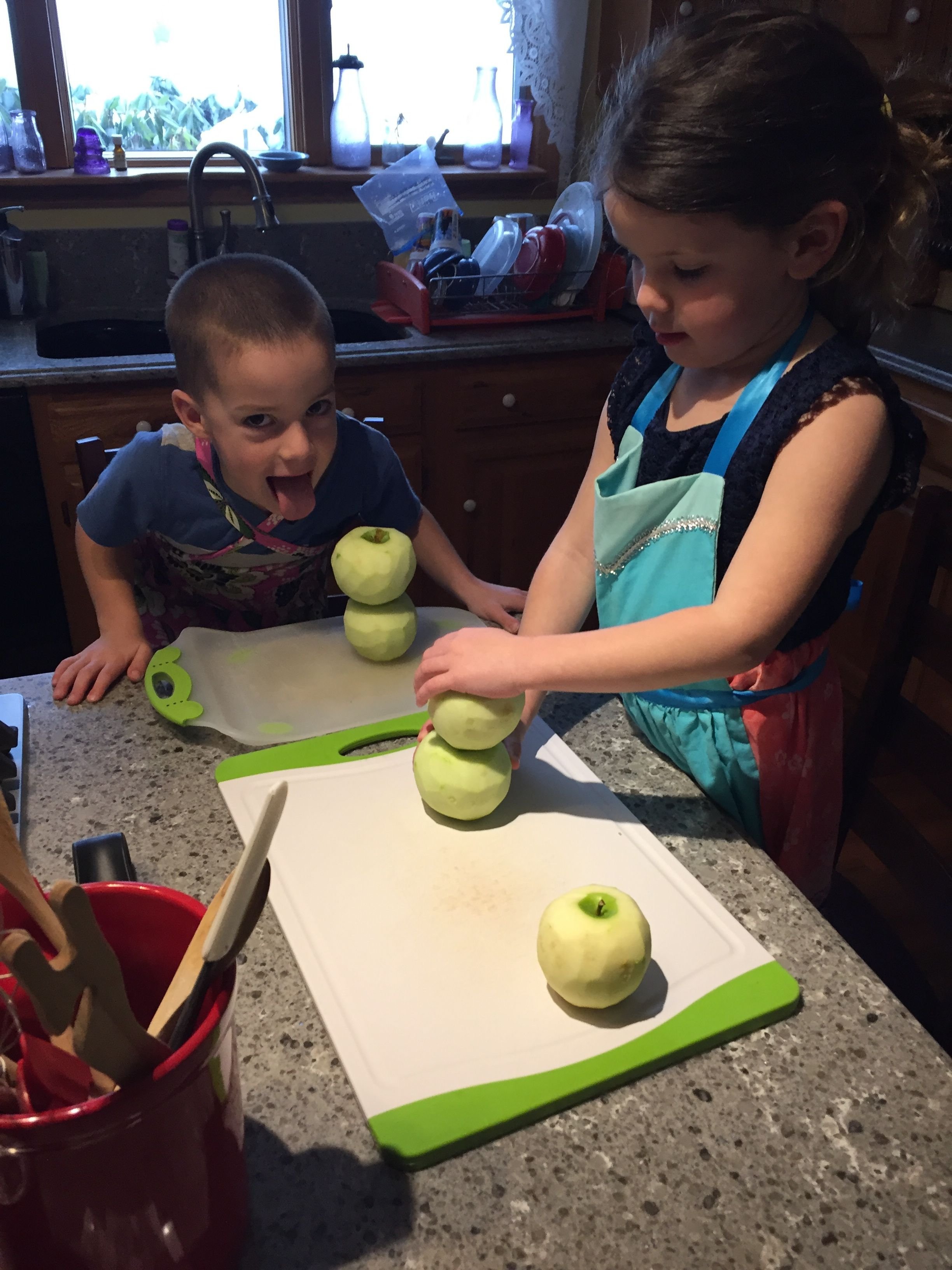 Optional step: clowning around with the apples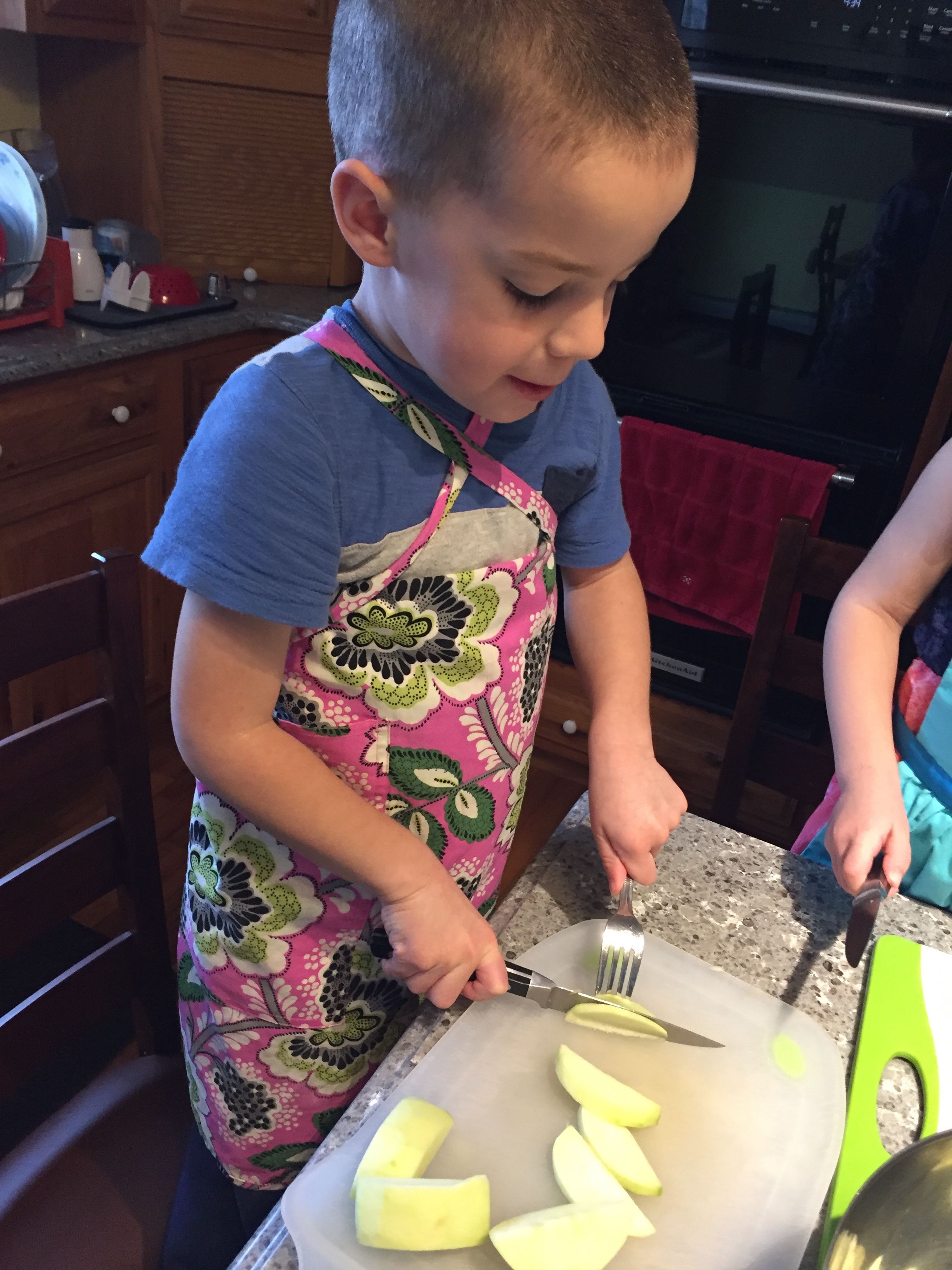 In a mixing bowl, combine sugar, flour, salt, cinnamon, and nutmeg. Add egg, vanilla and sour cream; stir until smooth.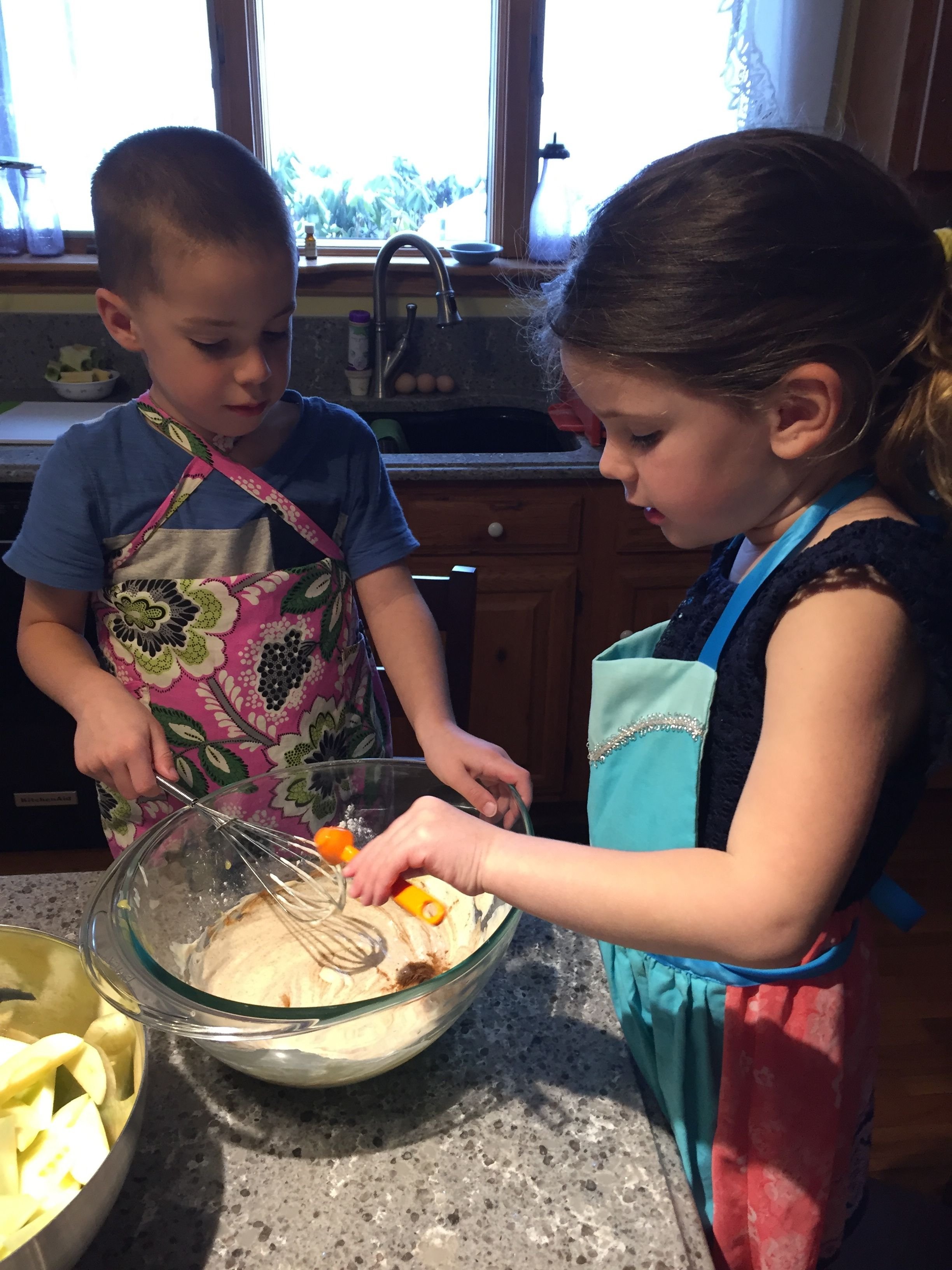 I didn't have the inspiration to include cinnamon and nutmeg until after we'd mixed the wet and dry ingredients.
Add apples; mix well.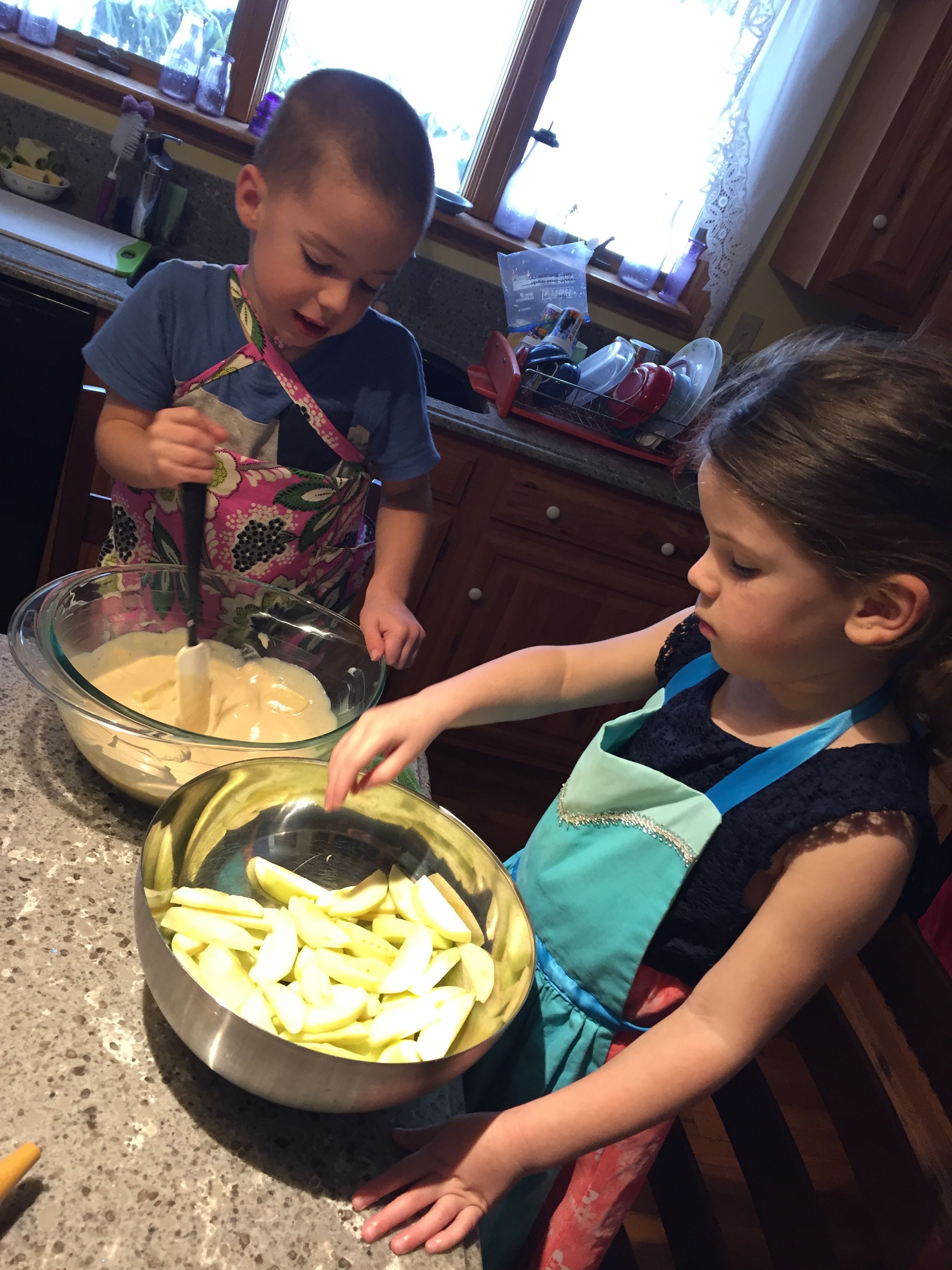 We seem to have struck a balance where Little Man always stirs, and Pixie adds ingredients.
Pour into pie crust. (Roll out your pie crust if you haven't already!) Using the rolling pin was another "first" :)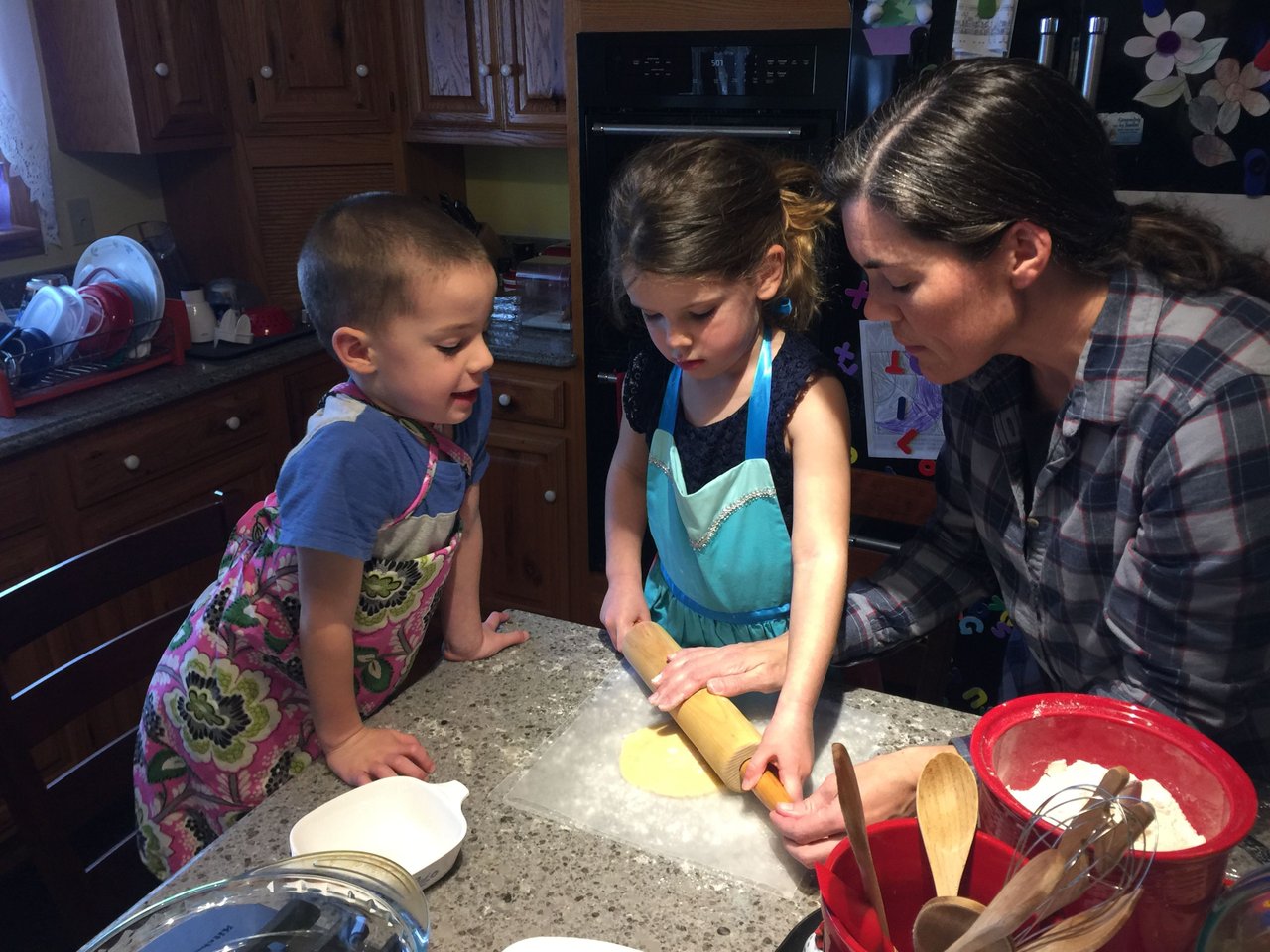 Momma makes a rare appearance.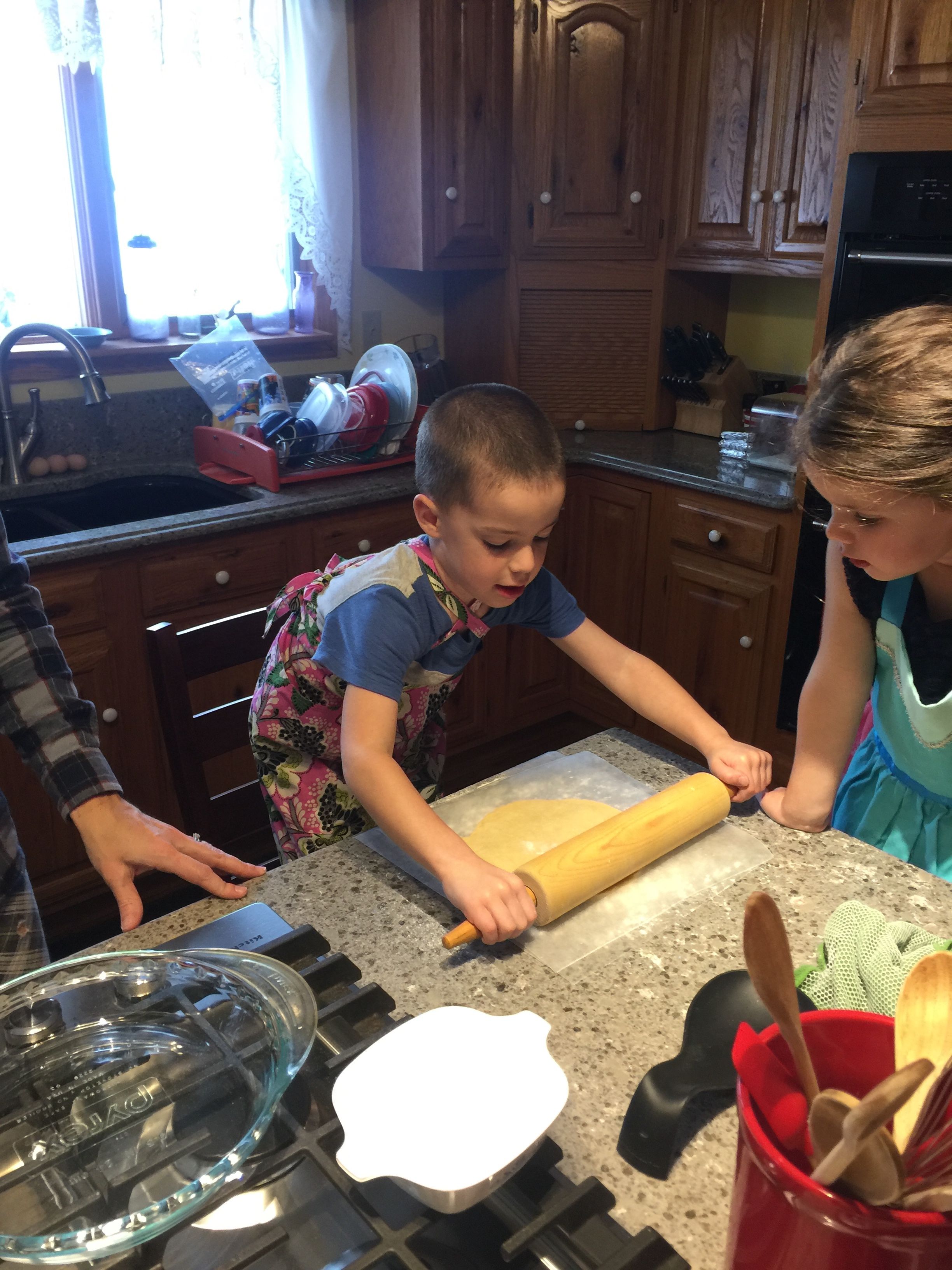 This is a perfect dough for kids to make--because it's so moist, it holds together beautifully under rough handling, without cracking like traditional pie crust recipes would be prone to do.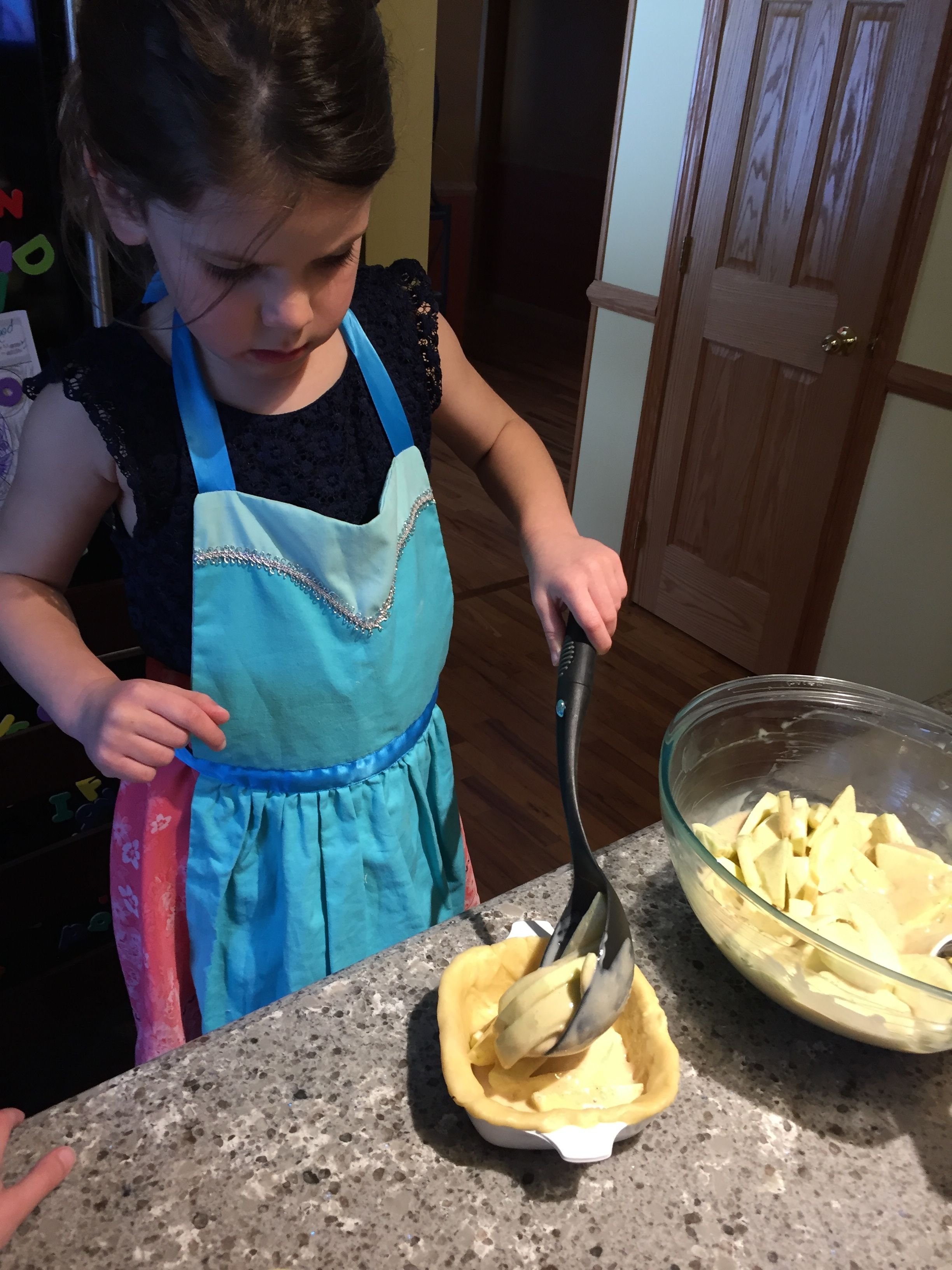 So glad I picked up these little casserole dishes at the flea market several years ago. I've found the perfect use for them!
Bake at 375° for 15 minutes. Reduce heat to 325° and bake for 30 minutes more. Meanwhile, for topping, combine flour and sugar. Cut in butter until crumbly.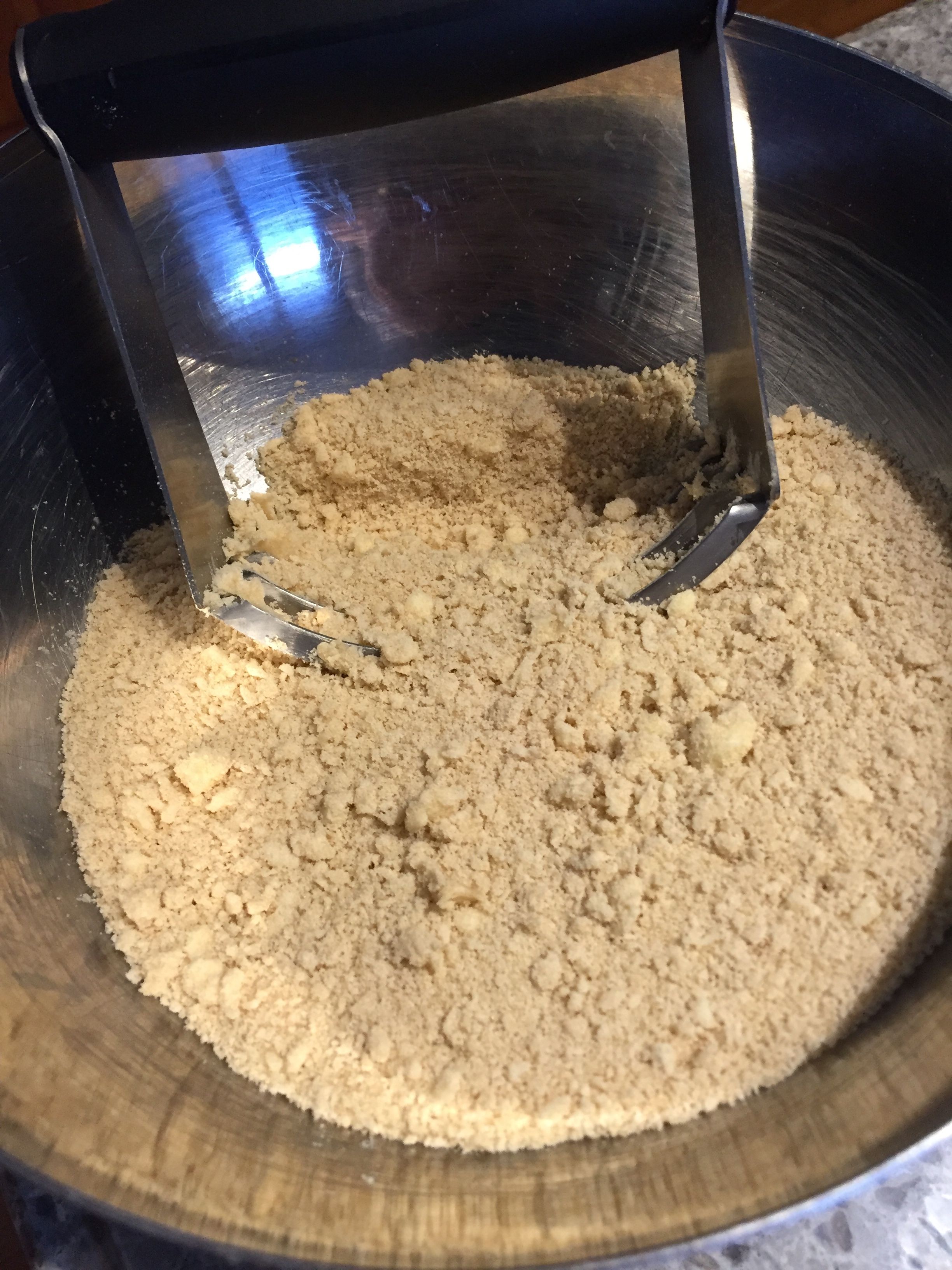 Mmmmm streusel
Sprinkle topping over pie; bake an additional 20 minutes. Serve warm or chilled. Store in the refrigerator.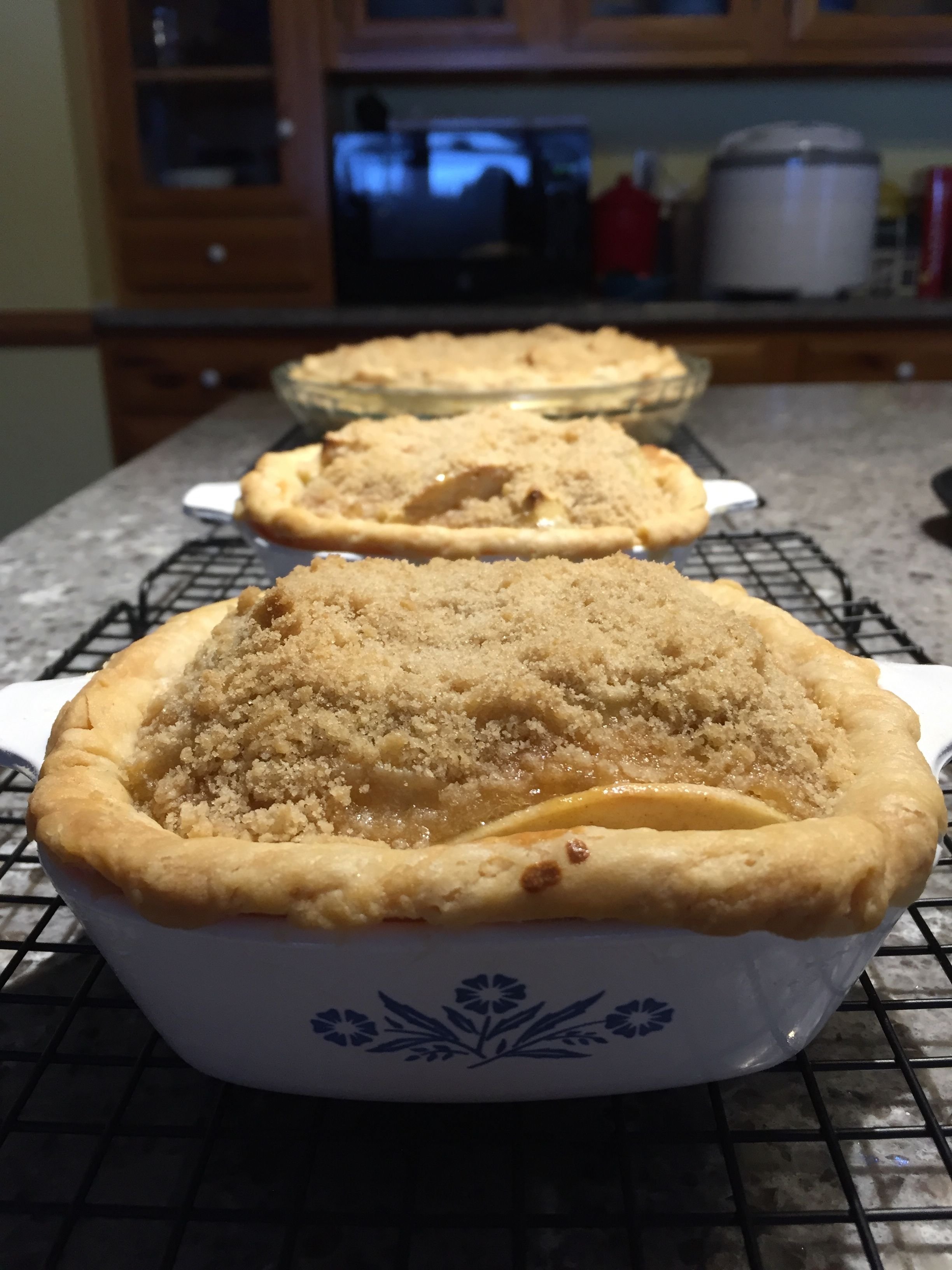 Cooling pies. Note the dehydrator, humming away in the background. Our kitchen had the most heavenly strawberry and apple smells competing with each other!
Apple pie wouldn't be complete without ice cream so....once again I have to shout out to @basicstoliving for sharing a homemade ice cream recipe that doesn't require an ice cream maker!! I've now made this with and without running it through the ice cream maker, and there is a bit of a texture difference, but not remarkably so.
I'm never going to live it down with the Husband for forgetting to put the vanilla in it, the first time I made it. "How could you forget to put vanilla in vanilla ice cream?" he chortles. Answer: Distraction. Well, I remembered it this time!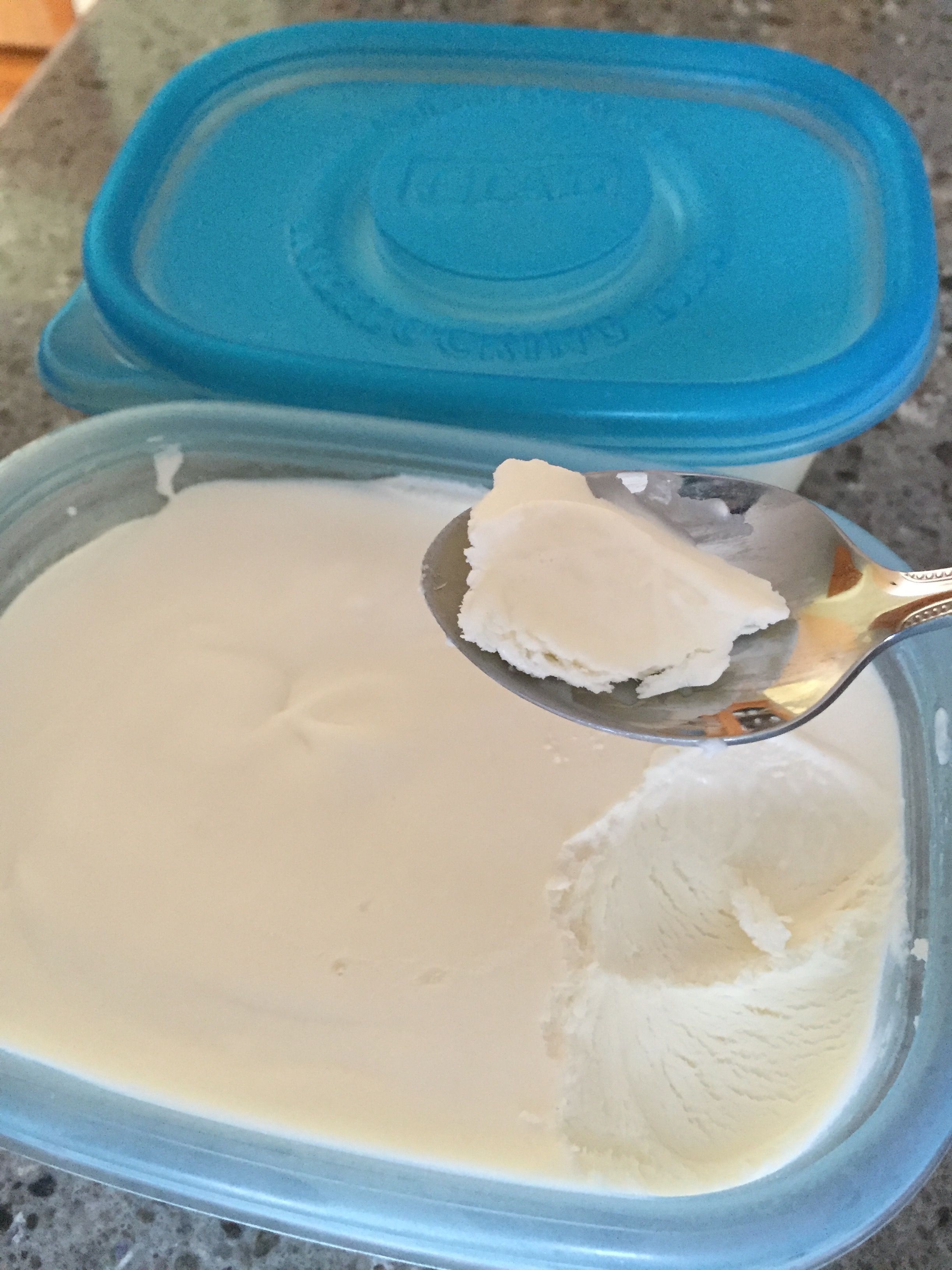 I was going to take one bite, but, well...
The Husband and I enjoyed pie and ice cream, and then he went to bed while I stayed up on Steemit and waited for the dehydrator to finish.
I checked it at 10 pm: the middle area on the trays was still wet.
I checked it at 11 pm: the outer edges felt perfect, but the middle was still damp.
Checked it at midnight: outer edges were crispified and the middle was still damp. Hm.
Finally, at midnight-thirty, I shut it off.
Go look at @birdsinparadise's beautiful, delectable, attractively rolled snacks, and then behold my strawberry fruit-paper.
I have officially achieved the Steemit equivalent of a Pinterest Fail: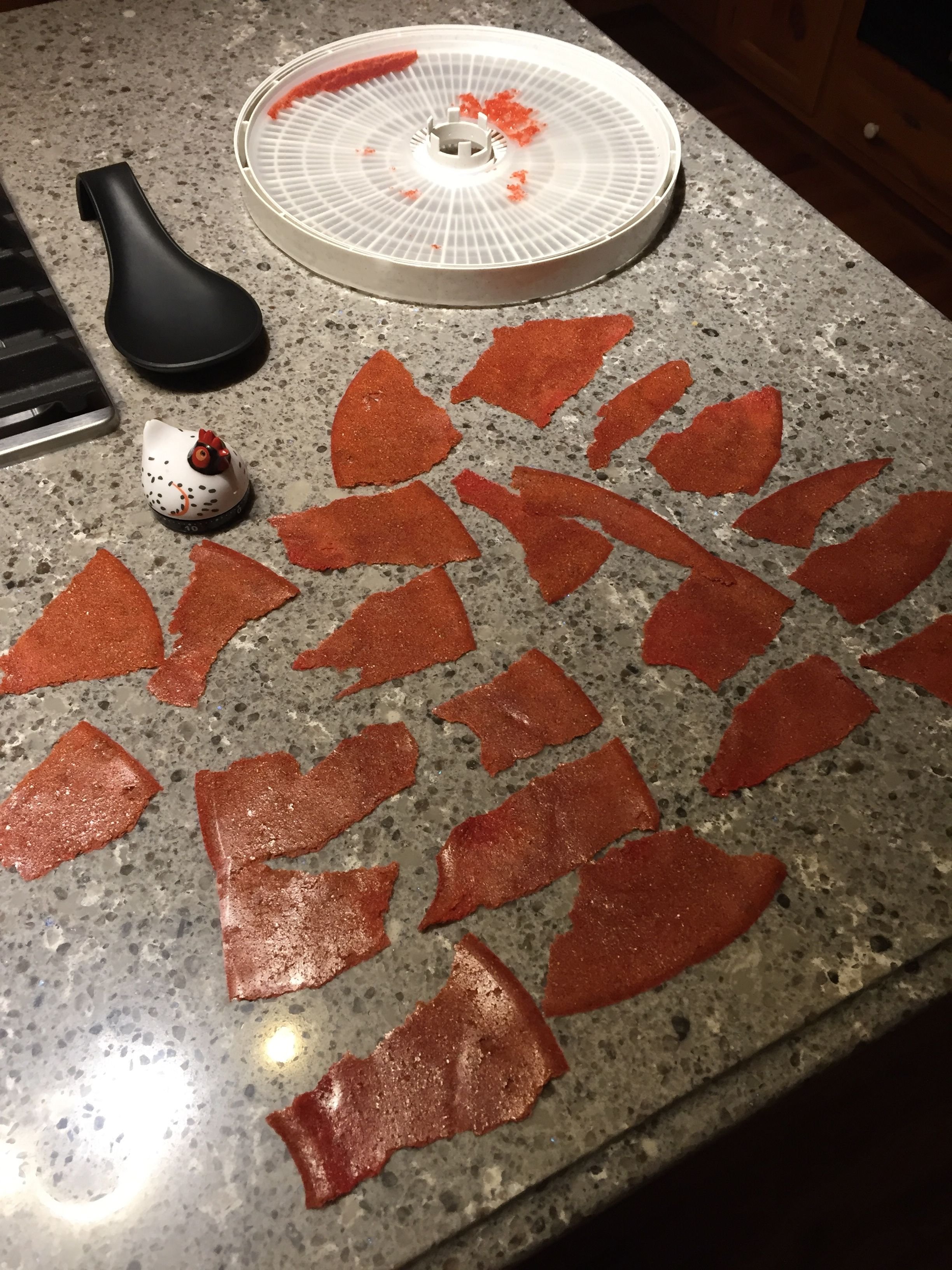 I'm sitting here laughing all over again at this.
I do believe "not following the directions precisely" and "winging it with the dehydrator" may have had something to do with my Steemit Fail. On the positive side, the taste was absolutely amazing, and I ate a lot a few, which resulted in my staying up until 2 AM. I think the kids will approve of these, and I'll certainly be trying it again :)
That was our day of destroying the kitchen, washing a million dishes, and making priceless memories <3 Apologies for the length, but hopefully you enjoyed reading as much as we enjoyed baking!