Sustainable Foraging
It is important to remember, whether you are foraging to eat more naturally, reduce your expenses or after a zombie invasion, you are the one responsible for ensuring you have a food supply that regrows the next year.
If you forage too much or a specific plant, or forage the wrong parts, you could cause that plant to not regrow next year. By learning how each type of plant in your area reproduces, you can make sure to not over harvest and ensure a good crop for years to come.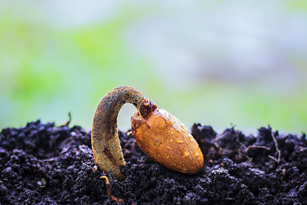 General Rule of Thumb
The general rule of thumb is to never harvest more than about 10% to 20% of any given patch of a specific plant. It is thought that this allows plenty of plant material to ensure the patch regrows next year.
There is one problem with this rule that many people do not think about. If the plant is on public land, will you be the only person foraging 10% to 20%. If just 5 people decide to forage 20% of a single patch, there will be nothing left to reproduce for the next year. Until the invasion starts, it is probably best to harvest only a small part of each patch at any one time. Allow everything else to go to seed to ensure a future food source.
This is yet another reason why it is a GREAT idea for you to plant patches of various plants you enjoy eating. If you can plant on your own property, you have some control over who forages. If you are foraging in the wild, you don't have that control.
Major difference between foraging now and after a Zombie Invasion
While we still live in a world with at least some sanity, once a Zombie Invasion hits, everything changes. There will be thousands (perhaps millions) of people searching for food sources. You will probably lose the ability to control who forages in your yard. Wild foraging becomes a free for all. Chances are good, entire patches of food will be harvested by someone desperate to feed their family.
The only thing you can do to help offset this problem is to learn to harvest seeds and start now, sowing seeds anywhere you think they will grow. Most people believe the "packed for year" date shown on seed packets means they are no good for future years. Nothing could be further from the truth.
If seeds are kept in a cool, dark place, there will be at least some viable seeds many years in the future. The "packed for year" date shows the year the vast majority of seed in the package will be viable. Each year after, a percentage of the seeds will not germinate. With most seed, it is only a small percentage. If properly stored, you could still have enough seeds germinate after 10 to 20 years, to ensure you have future crops.
Each year, after summer is over, seeds go on sale at many places, 10 packs for $1. I always buy any non-hybrid seeds I can find and keep them back. Sometimes I think if the zombie invasion holds off for another year or two, I will be able to replant half my state, lol.
I have seeds from some of my mother's plants. She died in 2004 but I still grow a few plants each year and let them go to seed, so I can ensure I have seeds for ever more. Surviving requires planning and taking action on your plan. Start planning now, so you can learn how to gather and store seeds. Your future may depend on it.
Things to Remember
Only take the parts of the plant you will be using. If only the leaves are edible, take only the leaves. Leave the stalk and roots.
If you see a seed pod forming on a plant, leave the plant alone. Allow that seed pod to grow and go to seed.
Never harvest an entire patch of any plant unless you intend to replant the next year and already have the seeds to do so.
If a plant has multiple stalks or off shoots, never take all of them. Take only a few (depends on how many there are) and leave the majority so the plant can reproduce.
Unless a zombie invasion starts, never harvest any protected species of plant. You could end up in jail. Of course, once the invasion starts, there probably won't be anyone around to turn you in.
Only harvest as much as you can eat or process for storage in one day. Fresh plants tend to begin to wilt soon after harvesting and there is no sense letting them go to waste.
Off Topic but EXTREMELY Important
Never harvest near roadways or in area where toxic chemicals are used.
Never harvest a plant unless you are 100% sure what it is. Some look-a-likes are highly poisonous and can kill you or your family.
Don't collect from nature preserves until the zombie invasion reaches the point where you are in 100% survival mode.