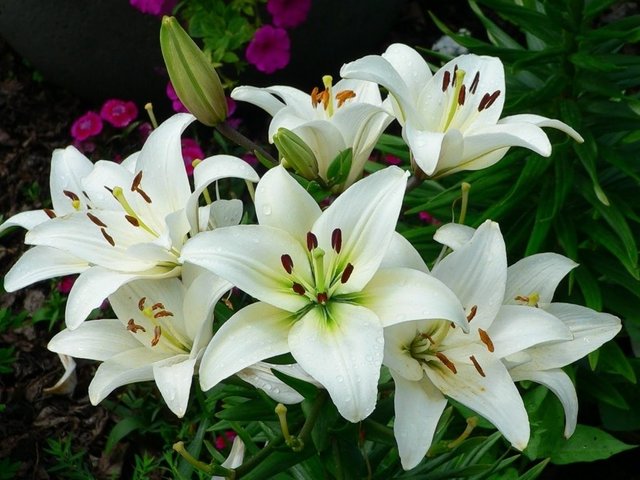 source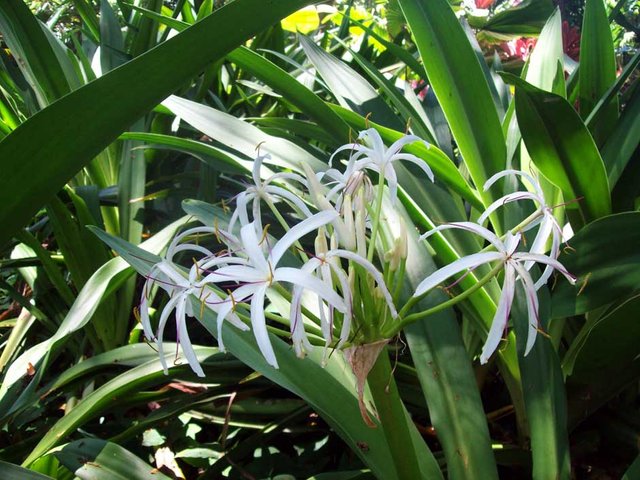 source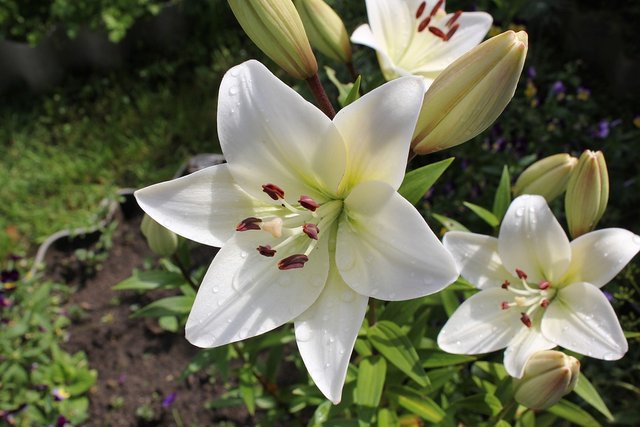 source
Hello steemit friends wherever you are. Today I would like to introduce Lily plants or lily flowers, Here are the characteristics of Lily plants, the properties and benefits of Lily plants.
A. THE CHARACTERISTICS OF LILY PLANTS
STEM
Lily plants are an annual plant that has a height of 60-180 cm. lily plants have a strong and sturdy frame
LEAF
The leaves are very long and green.
FLOWER
the characteristic of this Lily plants has a beautiful color in each lid. The flower of this big lily plant has three groups that have a fragrant fragrant and the lilies have various colors from white to yellow, orange, pink, purple red copper color to almost black and others. there are also lilies in the form of white flower-shaped flower spots with large seeds sprawled round and slimy crown taper flowers are in the deep red purple.
FRUIT / TUBERS
This plant has a large bulb growing in the soil with a diameter of 5-10 cm. This bulb is known as Poison bulb because it contains toxins.
DESCRIPTION OF LILY PLANTS
Maybe you've heard the name of lily, lily plants in English is Lily scientific name or Latin lily is crynum asiaticum. there are about 110 tribes in the lily family in (lilyaceae), the lily plants belonging to the amaryllidaceae family. Lily plant is an annual plant with a height of 60-180cm. Bakung usually has a sturdy stalk and most tribes form taro tubers underground. in some North American tribes the basis of these bulbs develops into rhizomes. some are able to live in swamps. in general this plant is more suitable to live in habitats with soil that contains acid levels balanced raw growing areas covering most of Europe and Asia.
These plants can adapt to forest habitats, often in the mountains and sometimes grass habitats. lily plants multiply by way of separation of tubers in the parent plant.
B. CONTENT OF PLANT OF BAKUNG
White rice has a sharp and cool nature is slightly spicy also slightly toxic efficacious to stimulate vomiting, anti swelling (eliminating swelling), analgesic (pain relief), antelmintik (worm medicine), diaphoretic (stimulates sweat), antidotum (neutralizing toxins), while tubers in white lilies contain alkaloids in the form likorin, inulin, kinin asetikronin and methylanthanilate
C. LILY PLANTS BENEFITS
The function of lily plants is not only used for ornamental plants but the usefulness of lily plants can also be used as herbal medicine plants, almost all parts of white lily can be used as a herb for therapeutic treatment and can be presented fresh or dry.
Here are some medicinal herbs using lily plants
- Treat bruises
How to make it take the leaves of lily plants and then spread with coconut oil then do on the fire then affixed to the sick
- Treat ulcers
how to make it take lily leaves fresh enough plants then squeeze and take water then the water is evenly distributed part ulcers
- launching urine
How to make it take lily leaves smeared with coconut oil then affixed to the bladder area
- Treating toothache
How to make it take provide white root dot as needed then paste on the teeth that hurt can also boil the roots of white after the cold used to rinse
- Snaked or poisoned
How to sweep the 5-10g washed cleaner tubers and then mashed finely strain and drink the water of the herb plants and dregs of the former collision can be affixed and wrapped on the wound. if vomiting hits pressing herbalnya act well and help the release of toxins in the body
- Rheumatism or sprains
How to make it take puree White Lily plants leaves with red ginger 10 grams and then apply on the sick waist
THANK YOU FOR YOUR SUPPORT