The June HODL Challenge - Week 1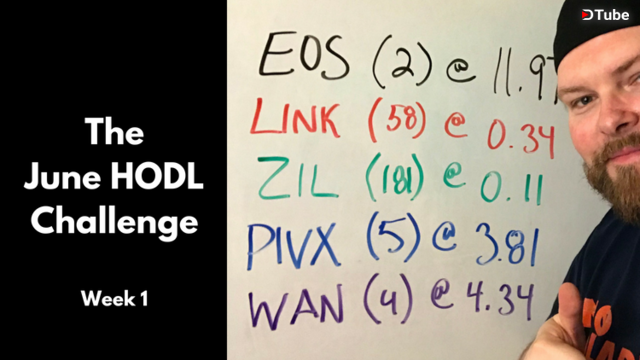 ---
And here we gooooooo....
May was a disaster if you are looking for returns. We still have our 0.011 BTC but we spent $100 in fiat to get that on May 1st. That same amount of BTC ended up being worth around $82 in fiat as of today....
That's not great but the BIG nugget is....We still own the BTC :)
Over the past few months we've only HODL'd one coin / token for the challenge. So in June, we're going back to picking up 5 coins and tokens and seeing which one comes out on top.
So this month we have picked up: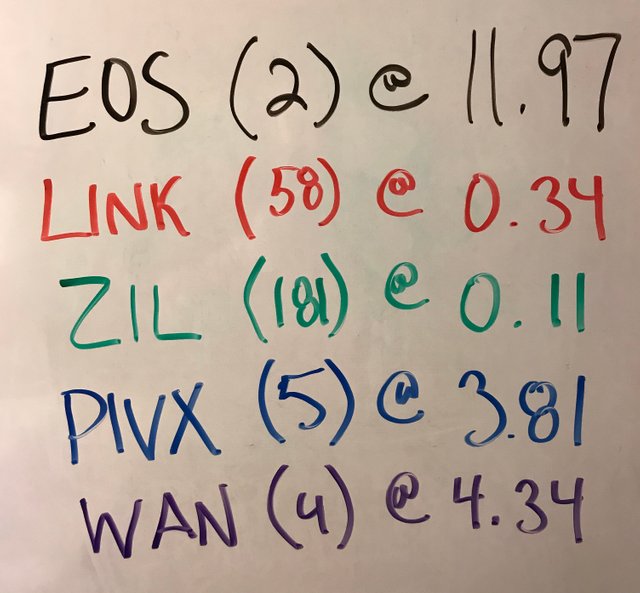 EOS
Everyone's new darling. I was not around when the Ned / Dan split happened, so not too sure what caused all the drama. Personally, I think crypto is big enough for everyone but my heart is in STEEM obviously. Regardless, June is launch month for EOS so we grabbed 2 to see how it performs over the next few weeks.
ChainLink
I was in a Discord group chat earlier and one of the speakers suggested to try it out. These guys were a lot smarter than me when it comes to crypto so I dove in and grabbed 58 of them. I'm not too familiar with the project but am excited to learn about it!
Zilliqa
A rank 25 coin that have everyone raving over the past few months. When everything was going red, this thing was in the green! We'll see how it performs over the next month as well. We grabbed 181 ZIL!
PIVX
Another darling of the crypto community. Lots of experts in the crypto world seem to be very bullish on PIVX. It's apparently a TRUE privacy coin and that excites a lot of people. We secured 5 PIVX for this month's HODL challenge.
WanChain
You'll notice a trend this month....We picked the majority of the coins and tokens that seem to have all the press and publicity. WanChain is another project that the experts love. Let's give it a go! 4 WAN is now in our portfolio.
The total of all the coins and tokens came up to $99.98 in fiat as our investment.
And now the fun begins.....Which of these 5 do you think has the brightest future and more specifically, which one do you think will come out on top this month?
Leave your comments below and remember...I upvote ALL comments in the discussion! I appreciate your time reading and watching this post, the least I can do is reward your engagement :)
Edit: I noticed I typo'ed the typo! Main tag for this post was supposed to be 'hodl' but of course...Auto correct and I didn't notice until a few hours after....Smooth, I know....Hold, Hodl...Whatever works :)
---
▶️ DTube
▶️ IPFS
---