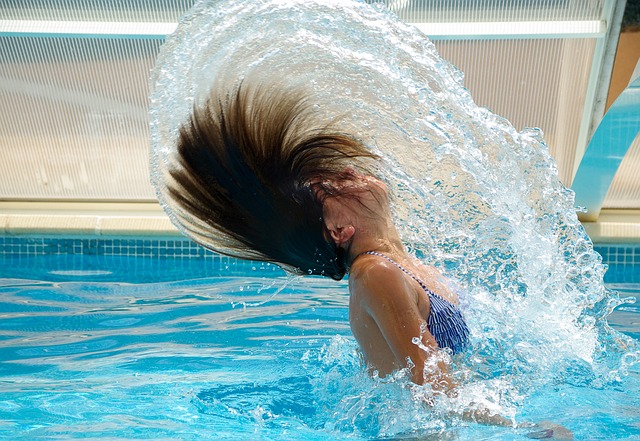 [Pixabay]
I learnt how to swim the hard way, not even in a swimming pool but in a big river. Meanwhile this wouldn't have been a big deal because a lot of people who grew up in riverine areas all learnt how to swim in big rivers at a tender age, but in my case it is different because I was already a fully grown teenager when I started learning to swim on my own, in a big river, with no teacher at all!
Hello dear readers, this is an entry to @sweetpea's contest where you're required to write about your favourite hobby, what contest could be more fun than that? When I saw this contest I was like: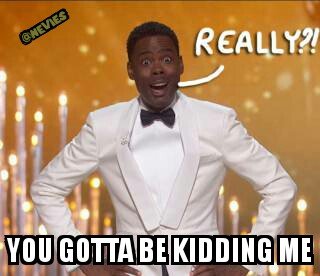 You mean its not enough fun that I like this thing and I do it frequently, but I also have to catch more fun by telling my dear Steemians about it? And in addition to all these win/generate some SBD in the process?
Like, get outta here, its too good to be true!
But it is true, Harry, you can find out more about the contest here
and join in the fun and tussle for that SBD. Let the best man win!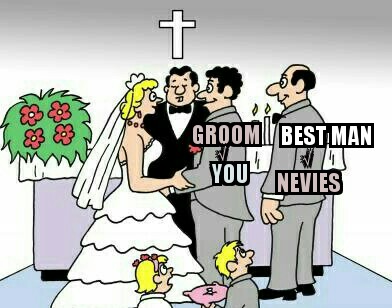 Source of Pic I used to create meme
My favourite hobby is swimming, and for knowledge's sake: swimming dates back to well over 10,000 years.
But I only started swimming in 2011 and now I'm hooked on this STUFF like thread to a FLUFF.
My relationship with swimming is one I take really personal and no other hobby of mine comes any close to it.
Most interesting to me whenever I talk about swimming are the things that happened before i learnt how to swim and the process through which I learnt how to swim. I'm going to recount it here again to you all so stay stay stay, it goes a little something like this:
I'm a Nigerian and I live in Calabar, the capital city of a Southern Nigerian State called Cross River. Calabar has some rivers and streams and it is even close to the Atlantic Ocean but I was born and brought up in the heart of the town where the rivers and water bodies are really far from you, where you never get to see any of them except for a little glimpse in the distance when you drive past.
While I live in this place I'm not originally from here, I'm originally from a different state (Ebonyi State) which shares a boarder to the northern side of Cross River State
Due to this, it is a custom in my family that we visit our hometown in Ebonyi State during each major holiday like Christmas (This is also the custom in so many Nigerian families to go to their hometown)
So my family has been keeping this custom ever since I was born. Now, unlike Calabar there is a very big river in my hometown and its really close to where we live leaving us with awe at its sight whenever we visited as children who don't see things like that in the city.
As children we used to go to the banks like the rest of the villagers, because the river was one their main sources of water and a place to bath, wash clothes, etc.
Whenever we go there we're usually knocked off by the sight of the river and just when we're trying to get back on our feet the sight of people swimming and tearing through the river with great expertise hits us a dirtier jab to the right temple.
It was really impressive the way the villagers could swim so well - even the smallest ones.
We'll watch them sadly from the banks as we could not swim and as we were always under adult supervision whenever we went there. A few times we were let to touch the water and bath by the banks but that was the closest we could get, nothing more.
It used to be painful we couldn't join them in swimming and our requests to our parents that we be taught only yielded promises that were never fulfilled for many years. Stories of this river used to fill our tales whenever we went back to Calabar and a lot of our little friends would be overwhelmed and wish the could visit such a river. Heheheh.
Fast forward to years later when I and my elder brother grew up to 12 & 14 respectively, when we became free to go down to the river without adult supervision, that year's Christmas I and my bro almost got drowned in the river, but we were saved by some boys and the whole news of our near-death experience spread like wild fire in the village. This was aided by the fact that we had some fame as city visitors and all that. It became the talk and everybody knew about it, whenever we passed people be looking at us like: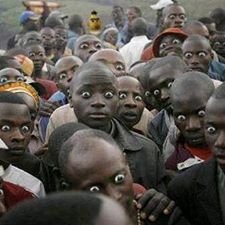 Source
It was really crazy, They were even spreading rumours/opinions that it was because we the city people who are indigenes didn't want to get initiated into the village male cult that was why the village spirit wanted to takes us. Man, that be crazy!
But years later, when my grandfather died in 2011 we had to stay longer in our village for his burial and this was my chance! I loved the water so much and I could only imagine how much fun swimming would be and I was tired of not being able to swim, always watching with hunger from the banks and having a 71 reputation for almost drowning. I really had to do something and since I couldn't get a teacher I had to be my teacher.
First off I bought a rubber tube to use as a floater. I started watching the local swimmers very closely and did what they did with my floater until I saw it worked. I kept at it for days and soon I thought I should practice without the floater. This stage was painful because I did it at the shallow parts and the shallow parts had sharp stones that injured the booze out of my feet while swimming; given that I couldn't manoeuvre well and was swimming with so much force.
I continued though, with the injuries on my leg and in a few weeks I became a whale, with all the swim power, what the heck is steem power even?
I ruled the water with a damn strong hand: self taught at a mature age and learnt from a big dangerous river.
Need I say that it took a lot of courage and braveness? Cos it was a matter of life and death. My elder brother could not muster a considerable amount of courage and couldn't join me. And to this day he doesn't know how to swim, you know that means he still looks at the river with longing like I used to do too in our childhood.
So that's it y'all, how I learnt how to swim. Right now I'm GOOD as a Ferrari HOOD. And I do catch a lot of fun when I go swimming. Whenever I visit my hometown I show the river who was boss! And whenever I'm in Calabar you can find me in a pool nearest you, but I mainly base in Tinapa (Africa's premiere business and leisure resort), there's a cool water park in there where I get all the swimming I deserve.
What gives me some great additional joy when I go swimming is if I find a little boy there who is really good at swimming. Oh praise God, I get excited cos I have a lot of fun lifting little boys and slamming them into the water WWE style. I give Attitude Adjustments (John Cena's AA), Brock Lesnar's F5 and so many more. Hahah, its usually so much fun.
Here are pictures of me in my village's river: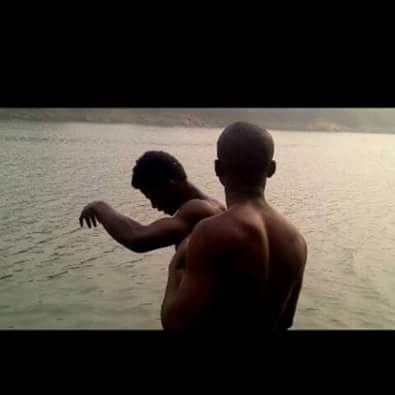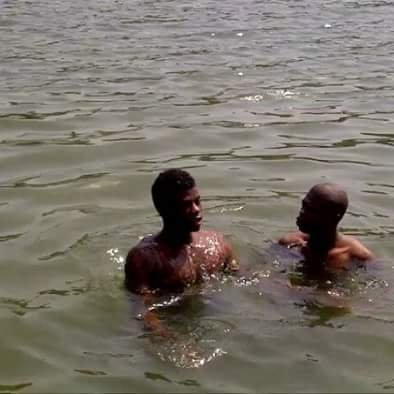 I'm the young sinewy one with the much hair on the head. And sorry that's not my elder brother but an uncle. My elder brother is @wizo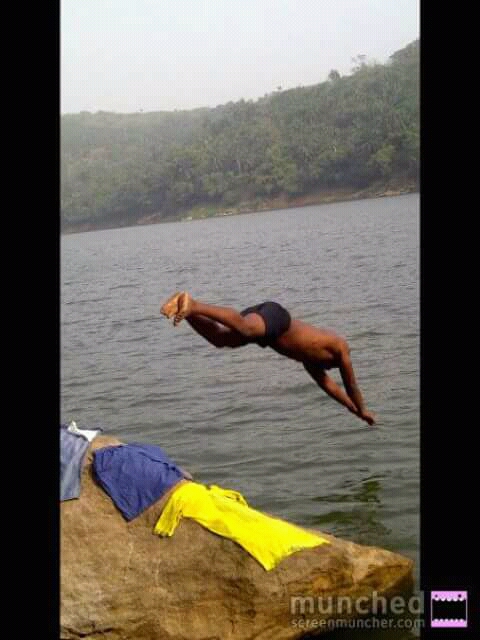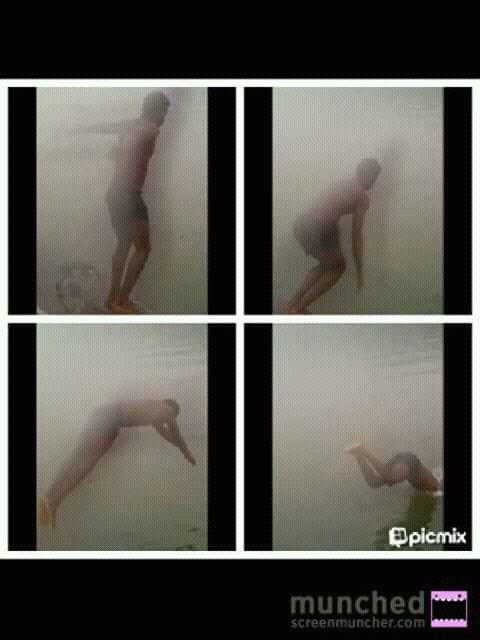 Mmm..hmm?
Here is me at Tinapa: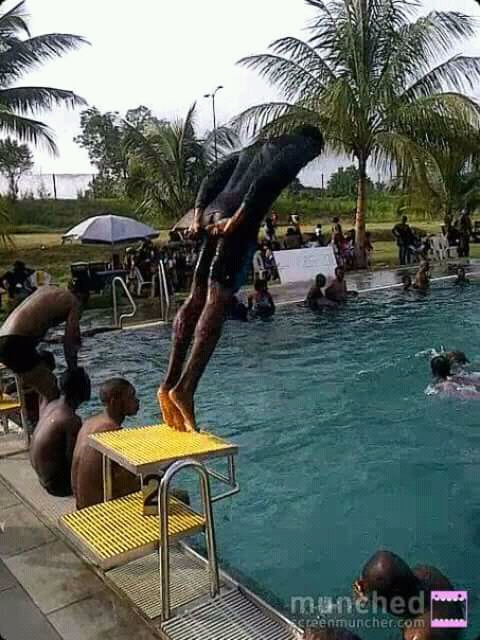 Of course I'm on the air!
Hey there, thanks for reading!