How to check Affable ratio in one click - Project Affable Contest - India (Total Prize Pool- 200 STEEM)
You could earn more STEEM as a reward while already using #onepercent #india tags in diary post comment. All you need to do is that just add #affable as well along with #onepercent and other tags in the comment section of the diary post. Please read the rules in detail here. Affable contest is organized by @sapwood
In this post, I have tried to simplify and explained all steps in proper sequence so that anyone can use #SCM tool without any issue. I understand that it's a new tool and our contest participants might be finding it difficult to perform some of the steps. I hope this post will help everyone to check their affable score easily.
---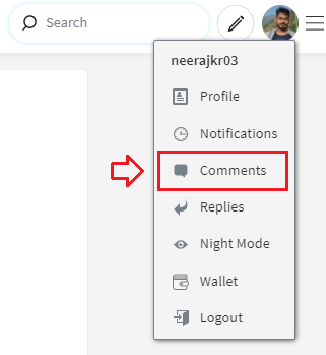 Step 1. Login to steemit.com and Go to the profile (right top)> Click on the Comments menu as highlighted in the above image.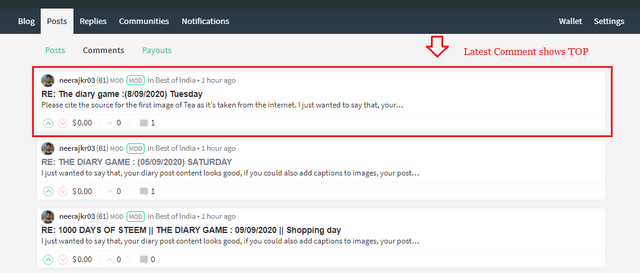 Step 2. Click on the latest comment, the top one(it can be any, outside of the diary game also), it will open that comment in a full view browser window/ tab.

Step 3. Go to the URL section as shown in the above image and copy or note down the last 6 characters as highlighted in red color. This is the comment Permlink.

Step 4. Go to http://steemcm.azurewebsites.net/ and click on "Affable Score" button as highlighted in the above image.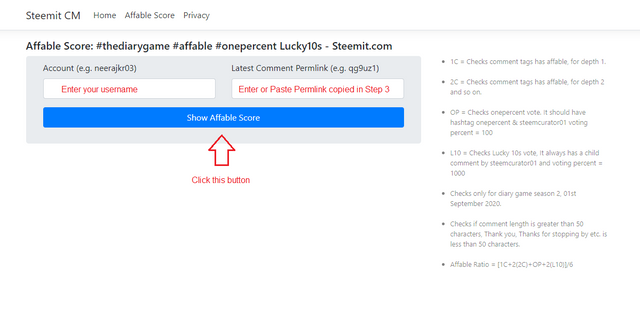 Step 5. Enter your steemit.com account Username (e.g. neerajkr03) & Enter 6 characters Permlink copied/ noted in Step 3. (e.g. qg9uz1)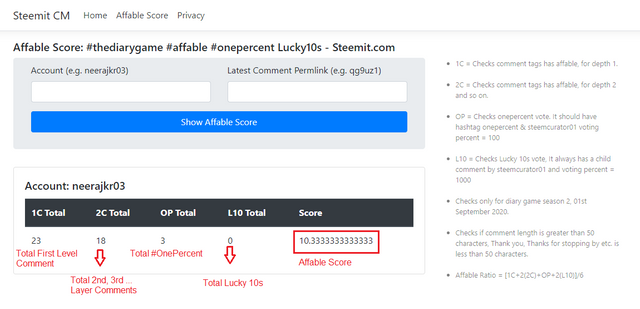 Step 6. Click on "Show Affable Score" button. Please wait for 3-4 seconds and It will show your Affable score. If checking on a Mobile phone, please scroll the page to bottom.
---
Recent Fix - #SCM was showing error if entered characters (first one or all) in Username or Permlink textbox were in capital letters.
---
Thank you.
If you have any query related to the project SteemIt Contest Management(SCM) or facing any issue while using it, feel free to mention in the comment section. I will improve the project based on your feedback. I am hoping that SCM can be helpful to organize this on a bigger level for other countries too.
---
Cc:-
@steemitblog
@steemcurator01
@steemcurator07
@stephenkendal
@shortsegments
@sapwood
Unless otherwise specified, all content in my post is the original work.