23 September 2020 Entry to the Steemit Diary Game: Entry 48
Hi friends,
My name is Lavanya, I am a housewife from India.
I am a team member of @steemingindia01 our official post you can check to hear steemingindia 01
Today my day with an early wake up around 5:30 am today. Today my hubby going to Tirumala Temple to worship Lord Venkateswara with his friends.
In my 10 years of married life he doesn't go along with his friends, but this is the first time he plans a trip with his friends. So I don't say any objection I hive permission to spend his wish.
One month before they book tickets and arrange a personal vehicle also.
That's why today he leaves home around 6 am, before that I need to clean my home and prepare rangoli design 🎨 in front of my home so I also have up along with me.
I pack his traditional dress of Pancha and Towel this is a must in Temple along with the original ID card, so I pack those in a bag, then give hot coffee to me.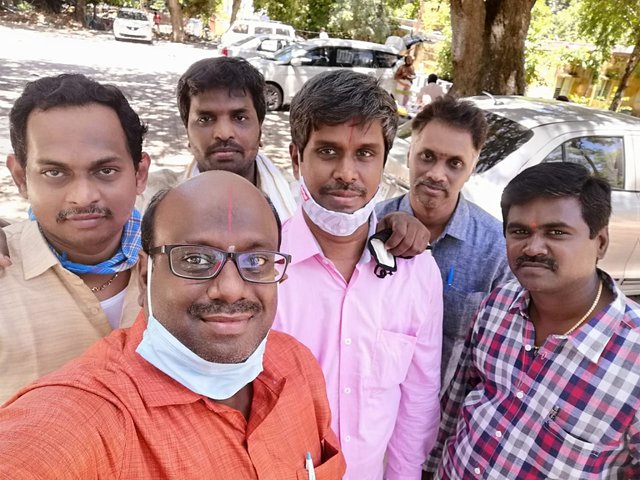 My hubby with his friends
He refuse breakfast 🍳 because this is a very early morning do I have coffee only.
Then after I finish all my morning work before he leaves home, his friends came and pick him in a car.
After he leaves home 🏠 I get free time, so I star tot engage here. I wake up earlier, my work is also finished so I spend nearly 1 hour here, then I go for taking my bath.
After finishing I go for taking my morning coffee along with I prepare other family members too.
Now it reaches to morning breakfast time. So I go for preparing morning chores.
Today I prepare Pal Pongal with kara chutney.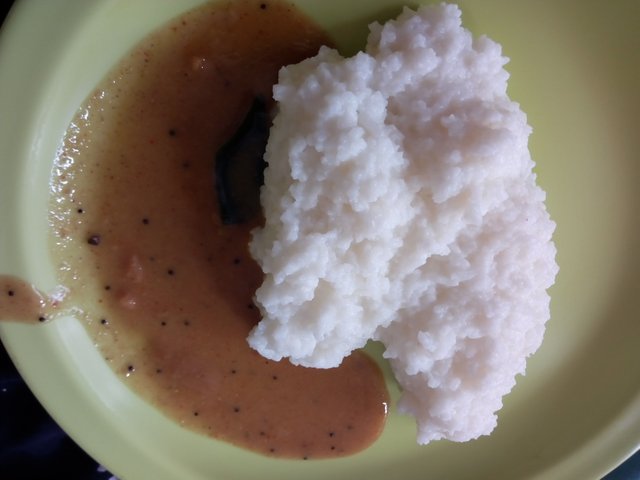 Pal Pongal with Kara Chutney
Today I prepare Pongal using milk, this dish is very famous in South India at the festival time we prepare it.
But in my family my kids are very fond of it, so we prepare when the wish.
As per the kids' request, we prepare today. I enjoyed it a lot.
It is a very heavy dish so it takes time to digest.
After finishing I give a short revision for my kid previous syllabus.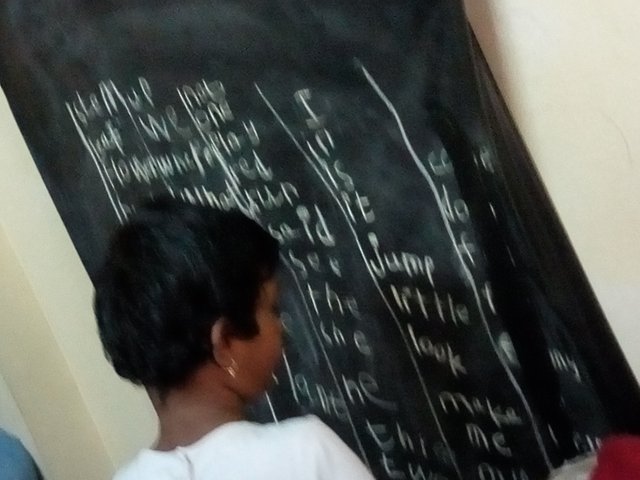 Short revision
Then after she goes for playing and coloring.
Today I get additional free time so I start engaging here, I also check @steemitblog latest updates. Today they announce a contest related to the #sun token and its mining-related. I like this contest hope soon I give my entry there.
Now it reaches to lunch preparation time. So I go for preparation. Today I prepare Rice, Curry leaf pullus, rasam, and curd.
Along with I prepare Ragi ball, it is a very famous healthy traditional dish in Tamil Nadu and AP.
This dish my daughter loved it, another co sister and her kids don't like it. That's why I prepare rice also.
After finishing preparation all together took our lunch, then after all go for their work.
Now my daughter asks me to prepare a tent ⛺ house for her needs, I said after watching some videos I prepare, but she does not listen to my words.
Always give a lot of trouble for me today, so I lose my patience so I shouted her then after she starts crying. After watching rhymes she get a nap.
Now it's time for searching for ideas 💡 to prepare a tent house for my kid, so I can't search on YouTube and Google. Finally, I got it.
After knowing I go for preparing before her wake up.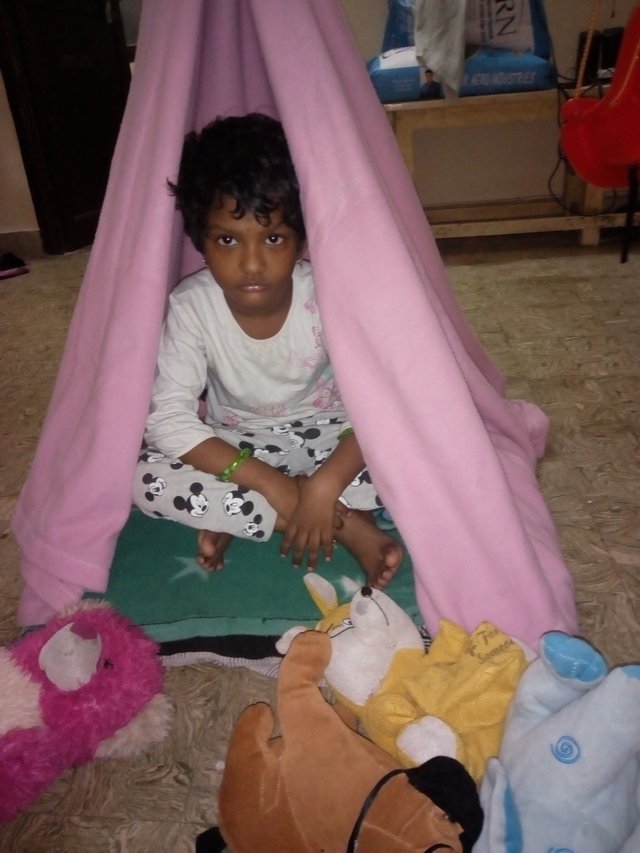 Simple Tent For my Kid Wish
Now my free time get ends without spending in steemit, but I prepare a simple tent house for my kid. Hope she likes it.
Now it reaches to evening time so I go for preparing evening coffee. But my daughter still not wake up, I also leave her because she sleeps with 😭 cry today. So I don't disturb her but waiting for her reaction to seeing this Surprise simple tent.
She wakes up around 6 pm, on seeing this she gets shocked a lot and loved it too. Then after she says Thanks With 😘 Kiss to me. I am so happy about seeing my daughter like that.
Kids having very small dreams but they always wish they become true at a time but it's not possible always need patience. Kids don't understand it. Finally, she is happy I am also happy.
The complete evening she spends in her tent, playing with her toys.
No studies in the evening today. So I get free time so I spend on TV.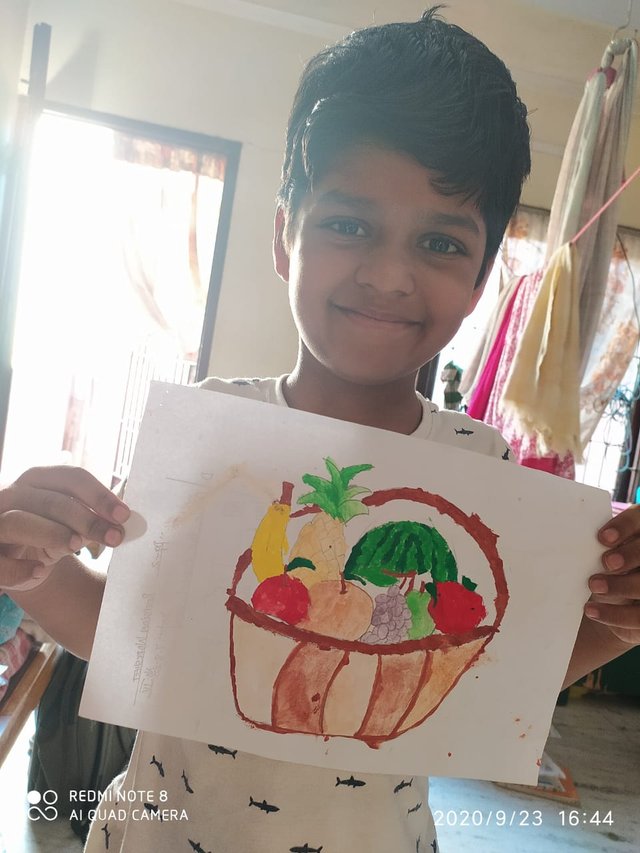 Fruit Basket by my kid
Now it teaches to dinner time. Today I prepare Rice only, remaining all leftover in adjusting all we finish our dinner.
My hubby also returns home, we all enjoy lord Venkateswara prasadham Laddu altogether.
This laddu is very famous, all most all Indians taste it at least once. That's must taste we feel about eating it. This taste not possible to get any sweet or anything.
Now it reaches to storytime, but my daughter does not ask today because she playing in her tent.
After playing sometimes she goes for sleep then I go for sleep.
Like that my day going good.
For knowing more details about me check this post
This post 100% Power Up.
#India and #onepercent, #bestofindia #affable
Thanks for Reading.