A Campaign Post for the Position of MOD in Steem Cameroon Community | Why I should be Voted | My Plans for the Growth of the Community | by @wase1234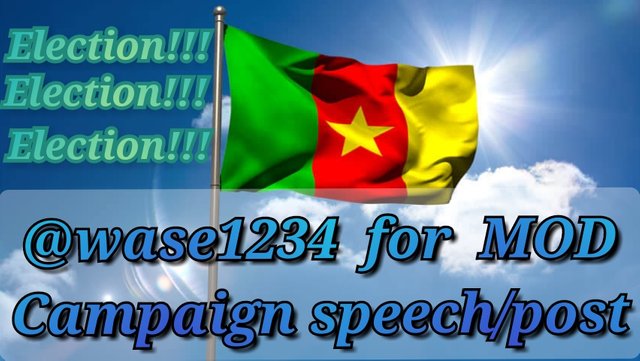 Hello steem Cameroonians. It is with great pleasure that I present to you my campaign post for the position of MOD in our prestigious community. This post is aimed at explaining why I am fit for the post and what extra thing will I bring to the community if I win. Below I will be sharing with you the points to back up the latter.


---
INTRODUCTION
---
My name is Nanje Wase and I am a Cameroonian by nationality. I reside in Molyko Buea where I also school at the Higher Institute of Business Management and Technology (HIBMAT) studying Accounting. Aside from school I hustle and improve my creativity on the Steemit platform. My username on steemit is @wase1234. I joined this platform on the 3rd of November 2021 and that is the same day I also posted my achievement 1. Being on steemit for 4 months I have been able to achieve quite some numbers of things like;
I am presently at reputation 61 with a steem power of over 900SP which keeps me just a few powerups to meet my pledge to attain 1000SP by May 2022.. I have done a total of 4 delegation reviews to our community which land me at 350SP delegated and still counting.

I have been able to introduce the plartform to others and help those who decide to join. Making a team with @b-naj I have been able to recruit steemians like @graciella @ngamd @fonjougiresse @newtonb @rockana @chamaisto @jonesfx etc through orientation sessions we organize from time to time.

I fully partake in the #club100 by never withdrawing nor powering down my account since I joined the platform. In total I have done 13 powerups in 4 months.

I qualified for the Steemit Crypto Academy season 5 in December of 2021 where I started with the introductory courses. Due to the rules rules I wasn't qualified for the season 6 when it started but I qualified this February 2022 when I hit reputation 60.

My status in the newcomers community is Pro Newcomer meaning have completed all my achievement tasks and done the compilation of them all. This makes me aware of the content etiquette of this platform as well as knowledge about the various steemit tool, applying markdowns and the basic securities of the platform.

---
WHY SHOULD I BE VOTED AS MOD
---
I have a good knowledge and experience with a users CSI score, delegations, review and curation which are all very important for new membership. I always make sure I keep the community alive and active by making sure to post at least 4 posts weekly as required, to upvote and resteem all posts made by the community's offical account(@steem-cameroon).

I do my part as a patriot of the community by recruiting newbies in every instance that I can. Coupled with that, I have a good experience with the Steemit platform, I am also a loyal steem Cameroon content created and I am also committed in building the platform.

Many will think that my longevity on the platform makes me less fit for the position but I strongly disagree. I makes me a more formidable for the post because I was recognized and nominated regardless of the fact that I have been here for less than 6 months. This goes along to prove how hardworking and interactive I am on steem Cameroon and the entire steemit.

Obviously my education comes first but steemit also owns some ours of my day everyday. Even when I am not posting, I must be upvoting and commenting. You can see prove from my voting CSI.

Like one of our admins mentioned, creating good posts does not prove availability. I am good for this position because apart from my school, i allocate hours of my day everyday for steemit. This makes me available to come to the platform and the groups to address certain problems and do the duties of an MOD.

I am a big fan of respect, honesty, fairness and hardwork. Above all I am a big fan of God. If I am nominated, I will use all the above mentioned principles to shape my interactions with the community, the admins as well as doing my job as MOD.

---
MY PLANS FOR STEEM CAMEROON
---
Here I won't promise you gold and silver, but I have looked at the platform and studied how I can help improve it and fill some gaps from my own point if view. Apart from the normal MOD obligations, here is my target for the community
I want to target admin - member relationship. Due to the little extra availability I have, I will be more quick to attend to the worries of the members of steem cameroon and work with my fellow admins to help you. Nevertheless we shouldn't forget that to be helped, you need to be following all the rules of the community.

Targeting lost newbies is also another thing on my list. I see that steemians recruit other steemians to the platform and just abandon them to find their way. I will want to rally up such people and help them by orientating them and giving them further explanations on how the platform works.

Content quality control!! Most at times, we don't put enough efforts in creating good posts in the steem Cameroon community. I will be taking my time to browse through the platform and pick out those people whose contents don't have quality, get to them and try help them improve on the quality of their content.

What is delegation? It's lending a part of your steem power to someone or to a community to help them grow in their influence and also their curation power. I can't say I will force or do announcements about delegations but I serve as an example to my fellow steem Cameroonians by reviewing my delegation to the community as often as I can. The community grows we all gain. So why should we hold back on delegations?
All those are my points that I will personally try to implement in the community. I can't do all that without your support and seriousness. I want to try and help but I will only move with the movers.

---
CONCLUSION
---
I hope with all that I have explained, the steem Cameroon community will see me fit. All my achievements mentioned above are from my hard work. Like the famous Cameroonian Christian musician said in one of her songs "everything weh u see for my body na my sweat ooo". I have worked hard and that will reflect directly on how judiciously I will do my work as the MOD because this was where I started and it will be an honor to serve the community.
I am very grateful for those who nominated for this great opportunity, it means alot to me that you feel I am worthy for this position.
Whether the election results favor me or not, I will continue to serve my community always and forever.

---