Steem Cameroon - Steemit Engagement Challenge - Season 4 (Week 2) || Take/snap a Picture and Draw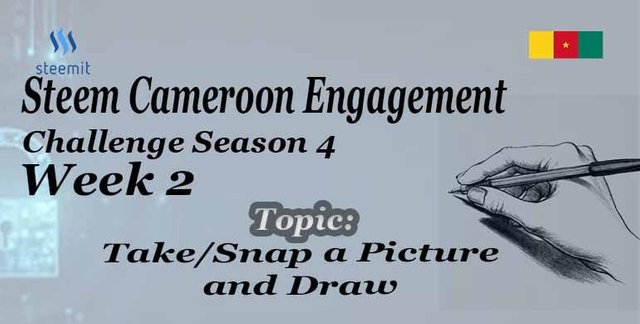 Drawing plays a big role in our brain development from childhood. It's one of the first learning tools used in schools from pre-nursery to higher levels of education for learning.
This is not something to be limited to just arts, it can be spread over different subject areas. As we all know, drawing is an external representation of something which has an actual meaning or looks exactly like a physical object. This week we are hoping to tap into our inner creativity of virtual representation.

Take/snap a Picture and Draw.

What do you understand by drawing?
Take a picture of something you can draw
Why did you choose this particular picture?
Make a drawing of the image on the picture above
How would you feel if someone else took a picture of you and draw
What were the challenges you had when drawing
Do you think you can continue with your newfound talent (Rate yourself)
Provided you had everything at your disposal, will you take drawing as a profession?
How has this exercise contributed to your personal growth?

RULES

Publish your entry post in the Steem Cameroon Community
Your title should be Steemit Engagement Challenge S4-W2 | Take a picture and draw - by @username
Have your username and date on your drawing
Take a selfie at the end of your drawing holding your arts
Any history behind the item?(We'll love to see items with sentimental value)
The minimum length of your post must be 300 words.
Plagiarism of any sort will be detected and you will be disqualified.
Be creative and not limit yourselves only to the guiding questions
Use only original images or copyright-free images and properly cite them. (You can visit this post to know more).
Your entry must be #steemexclusive
You must belong to a club status (either #club5050, #club75 or #club100) to participate in this contest.
Include #steemcameroon-s4w2, #betterlife, #steemexclusive, your club status tag (#club5050, #club75, or #club100), and country tag within your first 5 tags.
This contest is open to all, and all languages are acceptable.
Invite 3 friends to participate
Follow @steem-cameroon, and subscribe to the Steem Cameroon Community.
You must leave your entry link in the comment section of this post, and do not forget to upvote and resteem this post.
This contest will start at 00:00 (UTC) Monday 05/09/2022, and end at 23:59 (UTC) Sunday 11/09/2022.

Note
Although this is not a rule, we would appreciate it if you support Steemit growth and community growth by supporting the burnsteem25 project and allocating 10% rewards to our curation account (
@steem-cameroon
) respectively.
Remember that the purpose of this engagement challenge is to promote daily engagement. As such, you are expected to interact daily with other participants' entries and engage with quality comments. We shall carefully check the engagement levels to select our winners. You are obligated to make out time and respond to comments that support your entry.
Quality comments will be supported using the @steem-cameroon curating account.

CC:
@steemcurator01
@saxopedia
@fombae
@chant
@majerius
@b-naj
@wase1234

Thank you,
Steem Cameroon Team
Steem Cameroon Discord Server
Steem Cameroon Telegram Channel