Steemit Contest Management (SCM) tool - Azure Resource Uses, Metrics and New User Tracking feature feedback
I would like to share the Microsoft Azure App Service resource uses and metrics of the Steemit Contest Management (SCM) tool.
Below are the Azure App Services metrics for the last 7 days.
CPU Time (Avg): 6.56 min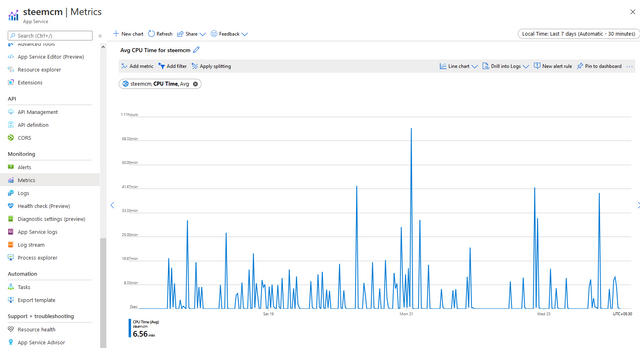 The max CPU uses shows on September 21st (around 1:00 to 2:00 AM IST), which is around 58.33 mins, just below the 60 minutes limit of the current CPU quote. If this uses increases then I need to move this to the next upper tier on Azure hosting.
Sum Request for SCM : 751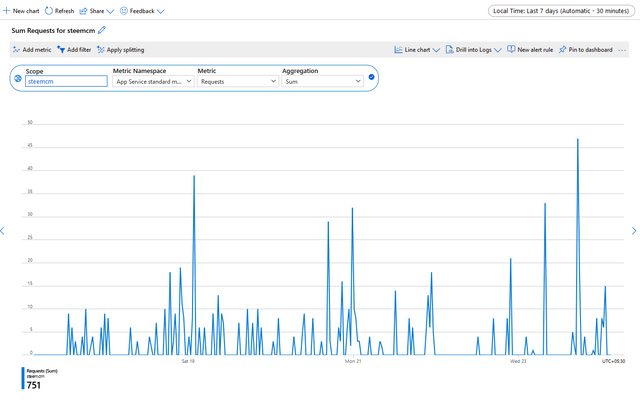 It shows the sum of request made to SCM.
Avg Response Time for SCM : 587.25 ms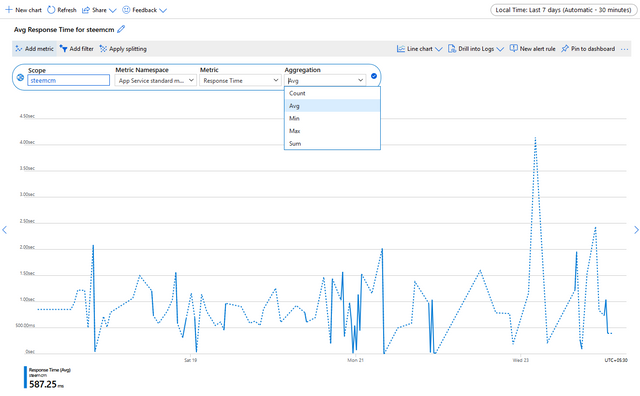 The above metrics of Avg. response time of SCM is pretty good, it calls Steemit APIs, reads, check #affable rules and processes users replies in Avg. 587.25 milliseconds and show the result.
---
New Steemit User Tracking
I am planning to work on the New User Tracking feature addition to SCM.
Feature Details and Uses Case
It will show all new users (filter by 7, 15 or 30 days) on #SCM who has signed up on Steemit and made at least one post. The Steem Greeter Fairy team will check that blog of the user and guide user to join the Newcomers community, will explain the achievement and 500 SP support program by adding a reply in the user's blog post.
Also, after few days, this reply can be automated in SCM with message template defined by the Steem Greeter Fairy team.
Benefit
I have observed that many users who joins without anyone's referral (without existing Steem user's help), they are sometimes unable to figure out from where to start and they becomes an inactive account in few days. This feature will help Steem Greeter team to guide them in right direction and could try to retain them.
As per my analysis, In the last 3-4 days, out of 100 new users only around max 10 users or less has tried to post something in a random community and others have not performed any activity. I will share this report with precise details in the next post.
---
Please guide/suggest me if this is something helpful for Steemit or I am just thinking/focusing too much on the new users?
This feedback will help me in deciding my next steps.
Thank you!
Cc:-
@steemitblog
@steemcurator01
@steemcurator07
@stephenkendal
@shortsegments
@cryptokannon
@rishabh99946
@sapwood
**Note: All the screenshots are taken from Source: https://portal.azure.com, steemcm.azurewebsites.net account which is managed by me.