Renato Massari - The hug [IT] - [EN]
[TALIAN]
Renato Massari - L'abbraccio
Renato Massari è un pittore italiano nato nel 1947 a Longiano in provincia di Forlì-Cesena (Italia)
Nel 2000 consegue il premio nazionale della cultura Terzo Millennio indetto dal CORRIERE DI ROMA.
Qui di seguito una critica di Giorgio Falossi:
"Le sue opere si distinguono per la personalità dell'autore per il lirismo che sa includere in ogni forma espressiva il cui fine unico rimane sempre l'arte" (Giorgio Falossi - 1981)
Descrizione dell'opera
Dipinto da: Renato Massari
Titolo: L'abbraccio
Anno: 1998
Dimensioni: 50 cm x 70 cm
Materiale: Cartoncino telato
Vernice: Colori ad olio
Foto del dipinto
In questo dipinto l'artista dipinge due figure eteree che si confondono con il cielo. La figura che vediamo di spalle ha delle ali al posto delle braccia. Il dipinto sembra voler rappresentare il conforto che può dare un abbraccio in un momento particolarmente difficile. La notte viene dipinta con colori scuri, con un po' di blu e un tocco di viola che rende la notte più profonda. Quel tocco di viola, secondo me, aiuta a rappresentare meglio quello che può essere una notte dolorosa.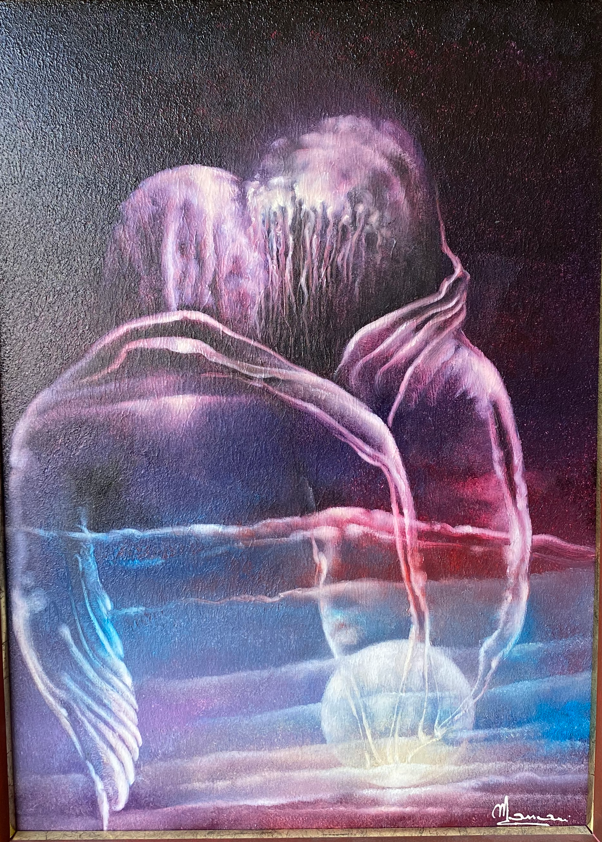 Dettaglio 1
I capelli di uno dei due personaggi sembrano una cascata d'acqua o mille radici d'albero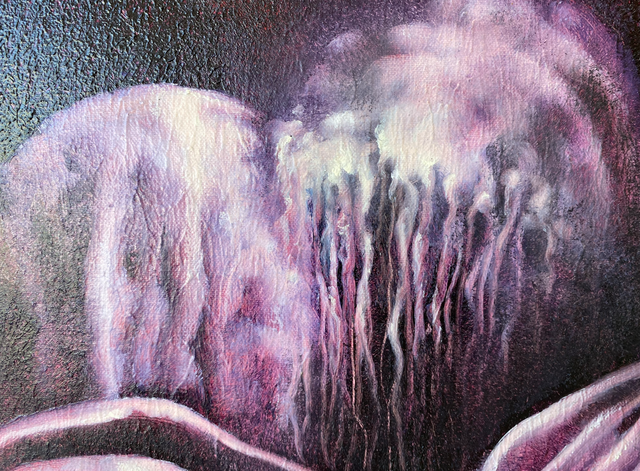 Dettaglio 2
In basso a destra del dipinto c'è una luna che si confonde con alcune parti delle figure eteree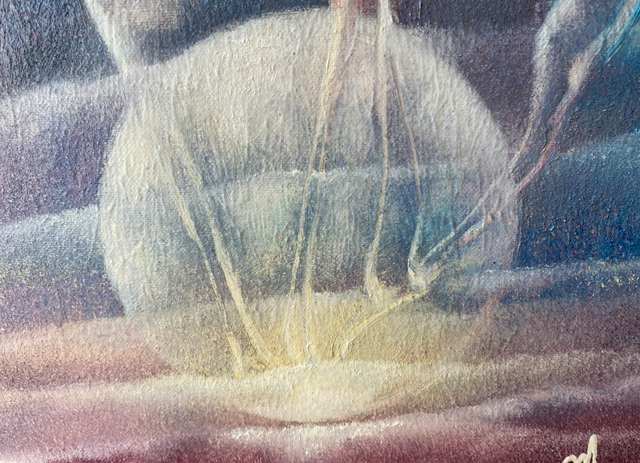 [ENGLISH]
Renato Massari - The Embrace
Renato Massari is an Italian painter born in 1947 in Longiano in the province of Forlì-Cesena (Italy).
In 2000 he was awarded the national culture prize Terzo Millennio indetto dal CORRIERE DI ROMA.
The following is a critique by Giorgio Falossi:
"His works are distinguished by the author's personality for the lyricism that he knows how to include in every form of expression whose sole purpose always remains art" (Giorgio Falossi - 1981)
Description of the work
Painted by: Renato Massari
Title: The Embrace
Year: 1998
Dimensions: 50 cm x 70 cm
Material: Canvas cardboard
Varnish: Oil colors
Photo of the painting
In this painting the artist paints two ethereal figures blending into the sky. The figure we see from the back has wings instead of arms. The painting seems to want to represent the comfort that a hug can give at a particularly difficult time. The night is painted in dark colors, with some blue and a touch of purple that makes the night deeper. That touch of purple, in my opinion, helps to better represent what a painful night can be.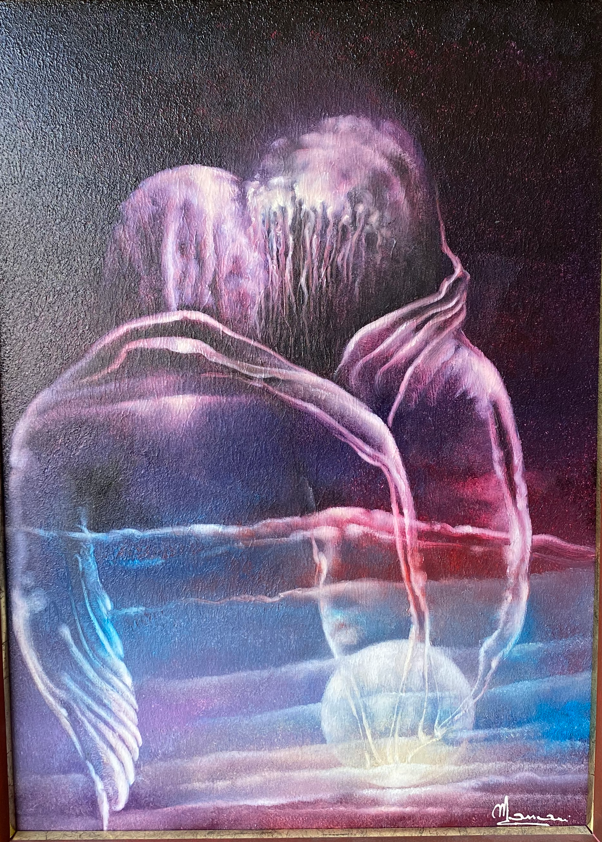 Detail 1
The hair of either character looks like a waterfall of water or a thousand tree roots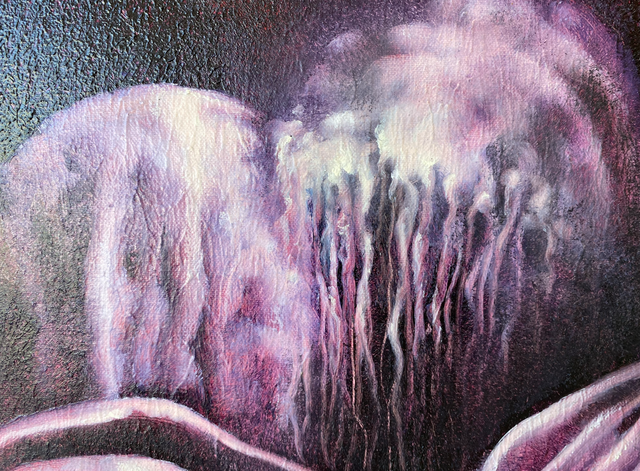 Detail 2
At the bottom right of the painting is a moon that blends in with some parts of the ethereal figures
Thank you for reading and viewing this post
Other paintings by Renato Massari
https://steemit.com/hive-184714/@stefano.massari/renato-massari-l-ultima-mossa-it-en
https://steemit.com/hive-184714/@stefano.massari/renato-massari-il-ritratto-it-en
https://steemit.com/hive-184714/@stefano.massari/renato-massari-la-vallata-it-en
https://steemit.com/hive-184714/@stefano.massari/renato-massari-ali-in-festa-it-en
https://steemit.com/hive-184714/@stefano.massari/renato-massari-oro-n-1-it-en
https://steemit.com/hive-184714/@stefano.massari/renato-massari-dipinto-n-16-la-rosa
THE END