Italy Community Application for the Communities of the Month Support Program - November
Greetings Steemit Team,
I am @girolamomarotta, Admin for the Steemit Community Italy, as well as Steemit's Italian Country Representative. I would like to write this post as our application for The Communities of the Month Support Program - Applications for November.
THIS IS OUR MOMENT


I say this without fear of being considered cheeky...this time we can really have our say in being chosen as one of the Communities of the month.
The Steemit Team has put the spotlight on #club5050, a fantastic initiative that aims to reward users who Power Up at least 50% of their liquid rewards.


Well, there we are!
And, let me say it, for quite some time too.
I could almost say that we inspired this project...and now I'll explain why.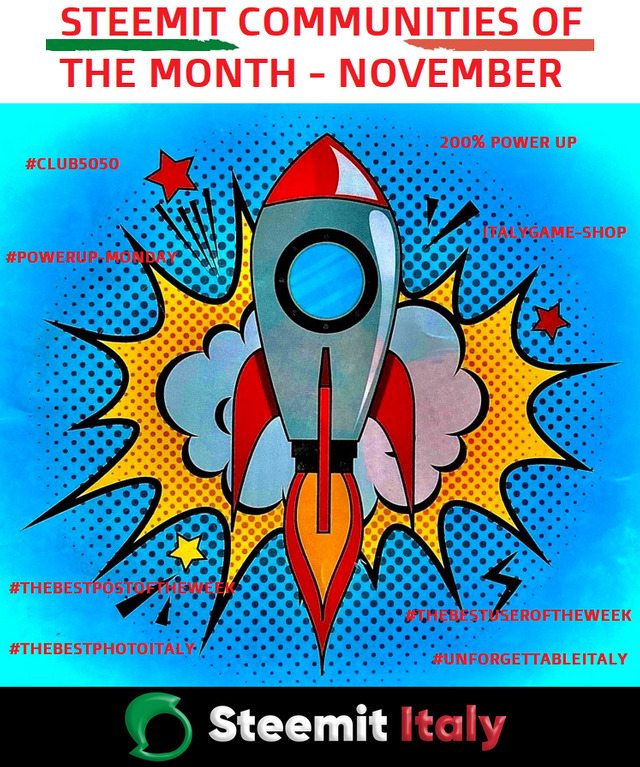 For over a year, Italy Community has been a hotbed of ideas, initiatives, contests, welcoming to all members of the platform, a place of support and growth
Those you see listed in the image are just some of the initiatives currently underway.
Others are about to be launched: there are two very important ones that are already ready to go.
But now it's time to talk about Power Up and how close the relationship between Community Italy and the growth of the SP is.
To do this, we have to take a step back in time and go back to my 11 months ago post.
It was December 03, 2020, and while everyone was pushing for posts to be set to 100% Power Up, I came with conviction to give the opposite advice.
The rationale is clearly explained: with SBD so high in value, the change in the market could have doubled, tripled or even more, the value of the rewards. But then it was necessary to do Power Up.
https://steemit.com/hive-184714/@girolamomarotta/why-at-this-moment-it-s-more-convenient-to-set-a-post-on-50-50-than-on-100-power-up-eng-ita
This post is an important lesson on how rewards work on Steemit and how crucial it is to be able to read the dynamics of the market.
This was my proposal to the Team...does it remind you of anything? 😄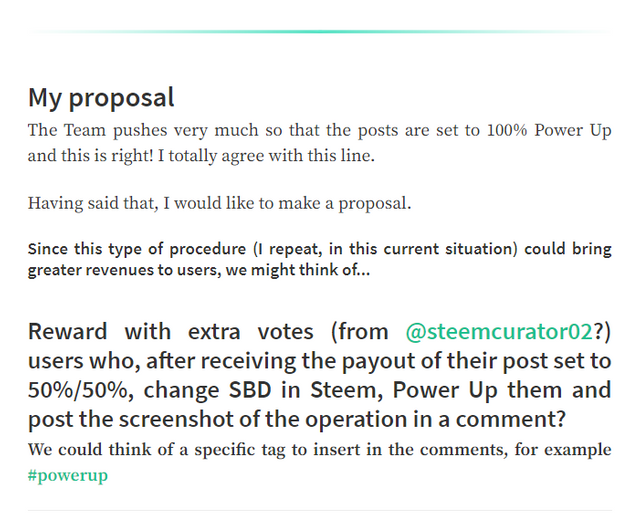 Let's say I had seen along...
However, it was not possible for the Team at the time to follow this type of initiative and nothing came of it.
But I'm a stubborn type and hardly give up something that I truly believe in and am convinced of.
So I made myself up 200% POWER UP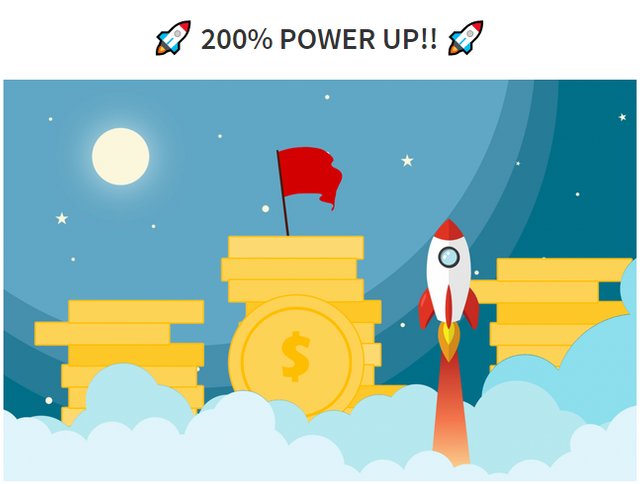 The goal was to make community users understand that they could grow faster with this mechanism, even with the same work they could easily get double the SP and would also be rewarded for it!!
Clearly, the project was liked and in fact it is still ongoing, after 11 months, many Power Ups and distributed prizes.
We have even quadrupled the income with this system!!

But that's not all.
In June I increased the dose and started with another initiative, parallel to 200% Power Up, but this time entirely personal.
In fact, I inaugurated the Power Up Day which almost immediately became Power Up Monday

Thanks to the Transfer Search function of Steemworld, the wonderful tool created by @steemchiller, I can also show you what my results are: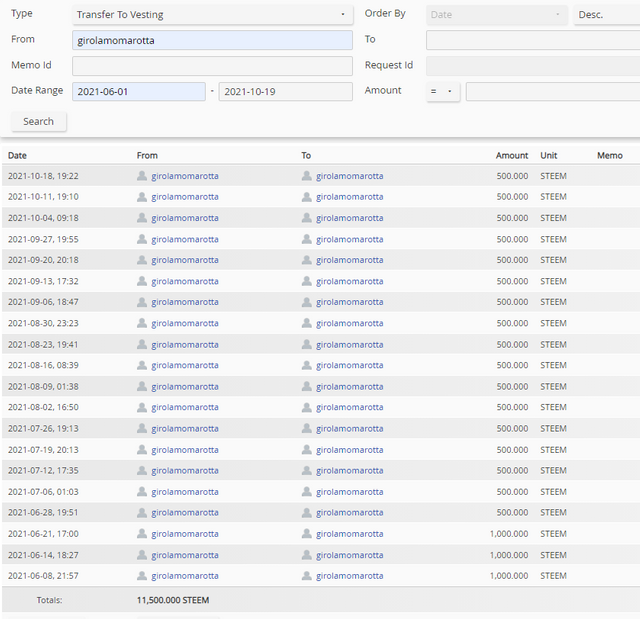 An increase of 11,500 SP in just under 4 months!!
---
But the best thing is another: there was no need to involve the users of the Community...in a nano-second many people joined of their own free will.
@mikitaly, @frafiomatale, @famigliacurione, @alein, @giuatt07, @claudio83, @stefano.massari, @sardrt, @ketty79, @robytrix, @giorgiamolinaro, @thebigpas, @sergione48, @mcassani, @daniel844, @serialfiller are the Italian users who have participated or regularly participate in these two initiatives.
I would like to point out in particular some users who have entered a few months ago, who have always done Power Up and have already reached excellent SP levels.

---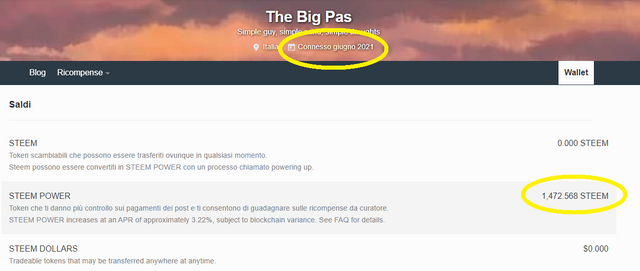 ---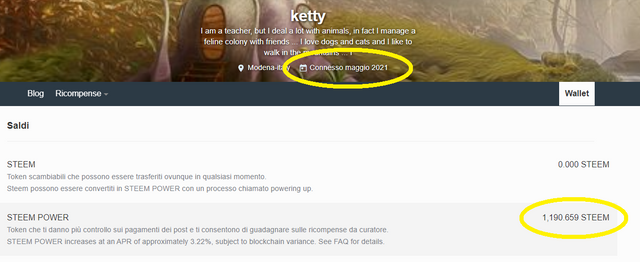 ---
This makes it clear what is the mentality that immediately acquire the people who join us.
In short, here in Community Italy we are truly the masters of Power Up!!

As for the other initiatives, you can find in this post by @italygame all those we carry out every day.
https://steemit.com/hive-184714/@italygame/3thqr3-find-the-contest-that-s-right-for-you-there-are-no-more-excuses-for-not-being-active-on-steemit-trova-il-concorso-adatto-a-te
---
Since February 2021, we run @italygame witness.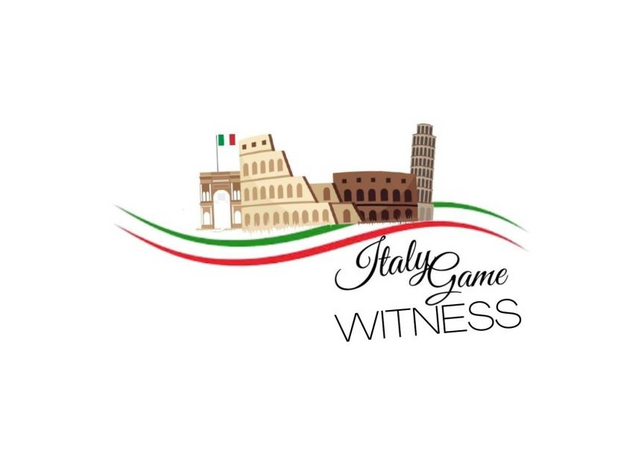 We are currently in 33rd position and have produced 9362 blocks, with a percentage of 99.81%

---
Our tool @steem-fanbase is also available from June 2021.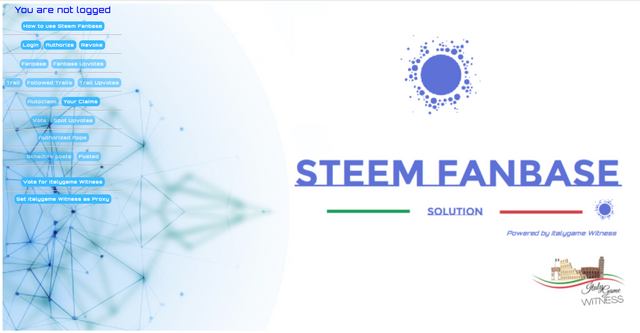 It allows you to automatically vote for your favorite authors, follow a trail, claim rewards, consult statistics, translate posts, revoke authorizations and many other functions.

@chiacchierone has also just been born, a project created by Tino @famigliacurione, with which we will encourage and reward the interaction between users of the Community, an aspect that we believe is fundamental for the growth of our group and the entire platform.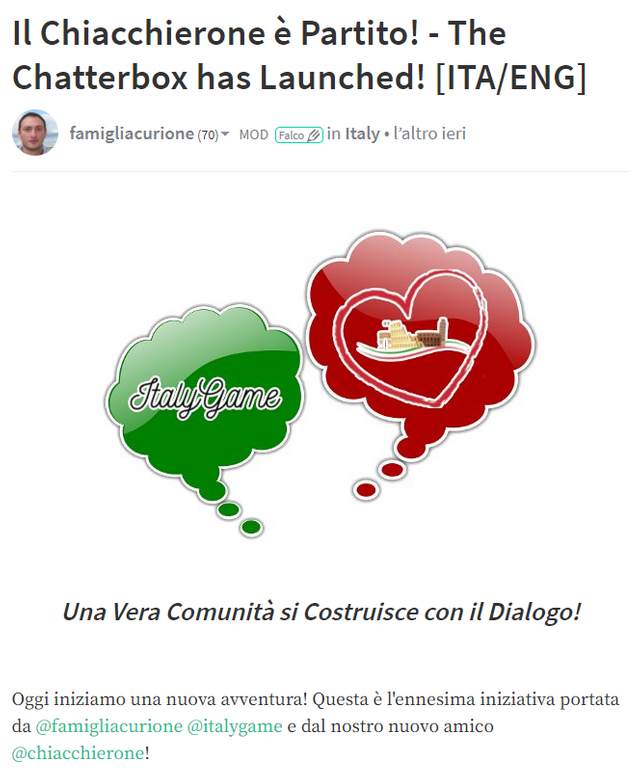 You can find here the announcement post.
Well...I challenge you to tell us what else we can do, because, as you can see, we have so many original and exciting things going on!!


In terms of marketing and promotion, we have just launched the official shop I LOVE ITALYGAME
https://steemit.com/hive-184714/@girolamomarotta/ecco-a-voi-lo-shop-i-love-italygame-ita-eng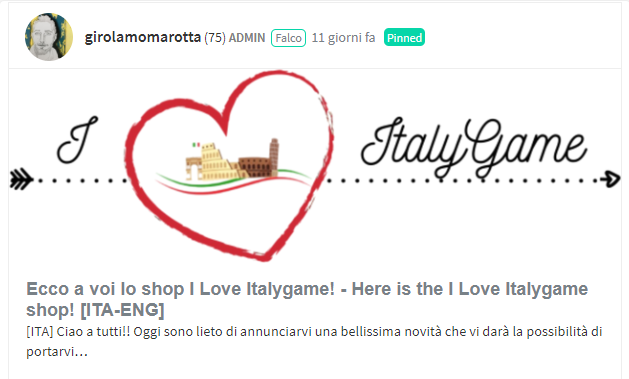 About this initiative, we will soon launch another very interesting contest...you will see that it will really be something new and stimulating for everyone.

Our Community, in just over a year of activity, has achieved really positive and in some ways surprising results.
From a small group of 5 committed Steemians, we have grown into a Community of 3490 subscribers with 146 active users.
---
Our Community Curation Account is @italygame
The current Effective Steem Power of @italygame is 26,830.81 (+9.03% compared to last month and +2,226.40 SP).
We have also started posting an automatic comment to inform all those who have been supported by the Community account and to let them know of our activity as a witness.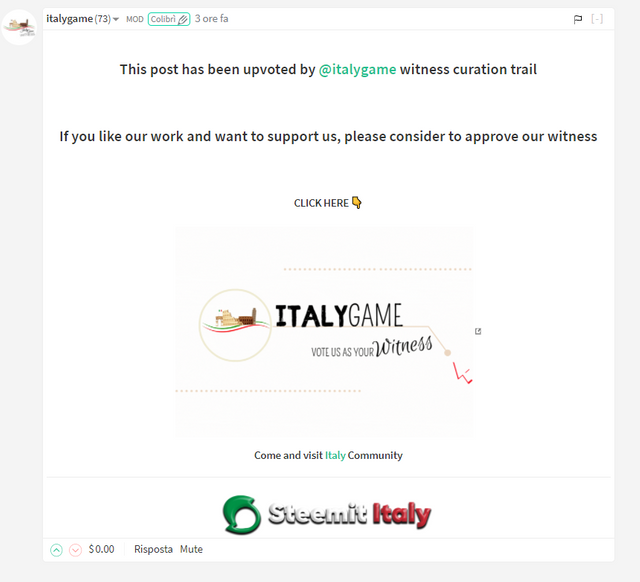 I hope you have noticed our commitment and attention in following the expansion program of the Steemit Team and the intention to put it into practice with a precise and determined rationale, which fits into our vision and brings benefit and development for all.
We strongly want to be among the communities of the month of November and we really believe we deserve it. We hope you will agree.
Thank you so much for the opportunity!
---
Greetings to all
Girolamo

---