Application | Communities of the Month Support Program | Steem Infinity Zone
Respected Steemit Team,
This is @cryptokraze, founder of the community Steem Infinity Zone and I would like to appreciate steemit team for taking this wonderful initiative of monthly support program for communities. We are applying for the community support program through this post by our community official account @siz-official.
We are covering each element in our application required for the support program and providing comprehensive information about our community.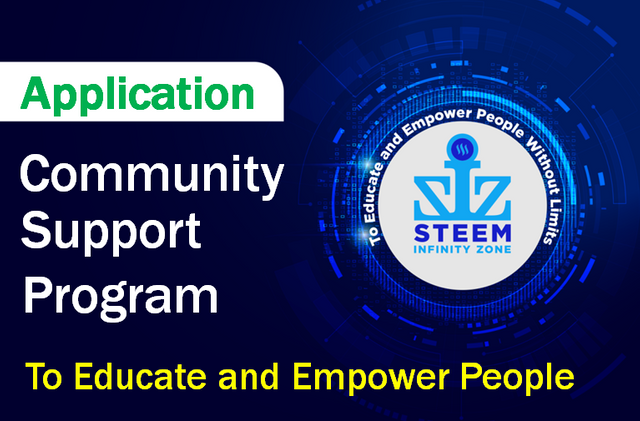 Community Purpose
We started our community with vision, mission and plans that were shared in the Community Introduction Post.
Vision and Mission
Steem Infinity Zone is established with the Vision "To Educate and Empower People on Steemit without Limits"
SIZ will onboard new people, mostly students to steemit platform by creating seminars, zoom sessions and steemit education tutorials.
SIZ will provide a platform to Teachers and Trainers in different fields including Forex, Crypto, Food Processing, Arts, Photography, Computers and Technology, to provide value to Steem ecosystem.
SIZ will provide an excellent platform to empower students by learning these valuable and lifelong skills as well as showcase their individual talents.
Uniqueness of Community
SIZ is unique because it is based on adding value to people life by educating them with different skills through SIZ experts. It is a platform for both trainers and students to showcase their individual talents that will empower the community.
SIZ is also unique in the sense that the founder of the community is using all his rewards to grow the community and support community members. He is also using his personal resources to run different community projects.
There are no other communities that are focussing on providing a platform to both trainers and students. SIZ is making continuous efforts to add different domains in education so maximum people can get benefits.
Why People Should Join SIZ ?
By joining Steem Infinity Zone, You will learn some valuable and lifelong skills that will literally add value to your life.
SIZ is providing Steem education on Local level that will enable many to change their life.

SIZ will provide training on Forex and Crypto Trading under the guidance of Profession Forex and Crypto Trader @cryptokraze. You don't want to miss out this skill.

SIZ is providing valuable contents on Food Processing under the guidance of experts in field of Food Processing and Technology.

SIZ is providing valuable tutorials and trainings on Computers and Information Technology Field by experts in their respective areas

SIZ is providing awareness sessions, tutorials and valuable content on E-commerce that is a super skill to change your life.

SIZ is providing a platform to everyone for showcasing their individual talents in different fields and support every valuable content creator.

By joining SIZ, you will get a chance to learn new skills or upgrade your current skills that will ultimately add value to give you "A Better Life"

Community Team
Steem Infinity Zone has the following team members that are playing their roles. The community staff team is capable of covering English, Urdu, Hindi, and Indonesian Languages.
1 - @cryptokraze (Admin) from Pakistan
He is the founder of SIZ and all the developments and projects are being led by him.
2 - @vvarishayy (Mod) from Pakistan
She is also Country representative of Pakistan and doing moderator role in SIZ. She is handling members inquiries about Newcomers achievement tasks and contests in SIZ.
3 - @suboohi (Mod) from Pakistan
She is handling most of the contest being organized in SIZ and will handle SIZ-Charity project that will be launched very soon.
4 - @arie.steem (Mod) from Indonesia
He is handling the promotional activities and supervising the tasks being done by community members.
5 - @qasimwaqar (Mod) from Pakistan
He is basically the investor and sponsor of SIZ and providing resources for different project and community support when needed.
6 - @siz-official (Mod) Community Account
This is our community official account that is used for curating members and post community updates.
7- @endingplagiarism (Mod)
We have collaborated with endingplagiarism to cope with the plagiarism offenders and keep the community free from plagiarism offenders.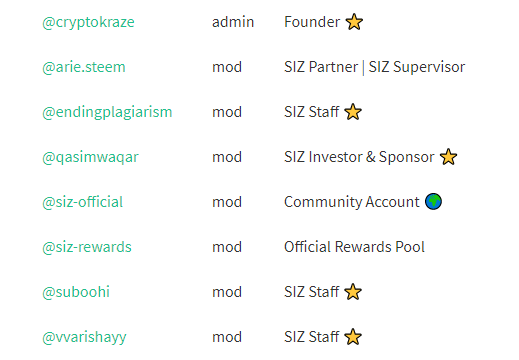 Rewards for Moderators
Currently, we are providing a reward of 50 steem per month to our moderators who are handling and managing the contest for their time and efforts. These rewards are provided by the community admin from his personal resources and community funds are not used for this purpose. In addition, we allow moderators to post contest results from their accounts or regular community updates so they have chance of getting curation by steemit team.
Contingency Plan
SIZ has already made its contingency plan in case main admin decides to leave the community or we lost our keys.
The accounts keys are stored at 3 different places including hardware devices, paper storage and cloud storage. The details are shared with 3 moderators.
In case, @cryptokraze decides to leave the community, the power will be shifted to @vvarishayy (Country Representative of Pakistan) who can handle the community in an effective manner.

Community Curation Account @siz-official
Our community curation account is @siz-official that is being used to curate members posts.

The curation account has effective Steem Power 37,044 out of which 10,016 is community own SP while 27,028 is received from delegatiors.

We have long term plan to take our account steem power to 100k SP by year end and we are using all our rewards to convert into steem and power up. In addition, we are offering maximum delegation rewards (upto 200% of curation) to delegators so we can get more delegations in future. The founder @cryptokraze has been delegating most of his Steem Power to community curation account to grow it.

All the rewards received in form of SBD are being converted into steem and turned in to steem power. We have not withdrawn a single steem from the community so far. Delegation rewrds and contests prizes are transferred through community official Grand Rewards Pool (@siz-rewards) which is financed by the founder @cryptokraze and our sponsor @qasimwaqar.

The curation account access is given to 2 other moderators (@vvarishayy and @suboohi) who are handling the contests so they can vote on contests entries and other good posts in community.

Voting CSI score for curation account is 11.8 according the Steemworld data as shown in below picture. We are not self voting and this 1.40% self vote is due to mistake which was removed. We will always use the curation account to vote on members posts.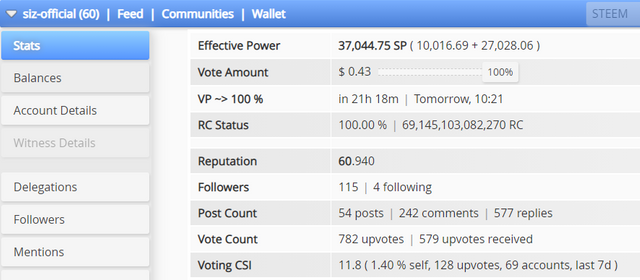 We have grown our SP significantly this month and doing voting on almost all the posts. If some posts got skipped that might be due to extra load but we check the payout section of community posts so any post reaching payout deadline will get voting. We can say that 90% of the posts in community are getting voted by curation account.

Plagiarism and Abuse
We have made collaboration with @endingplagiarism to deal with plagiarism so that it can be done more effectively. In addition, @cryptokraze and @vvarishayy are checking random or suspicious posts for plagiarism.

If we spot a plagiarist or abuser, we remove voting from their posts and give them tag Under Observation. If he/she still repeat the mistake, action is taken to mute from community.

To check the account originality, we already have country representative @vvarishayy in our team who is doing this effectively.

We have instructed members to use images from copyright free resources and made a separate tutorial on using images in the posts.

Engagement and Commenting
We try to check all the posts and commenting on most of the posts and we will continue to comment on maximum number of posts through our official account anc admin team accounts. 50 to 60% of the Posts are being commented by the Community team currently and we will definitely increase this engagement in coming days.

Plans and Updates
We are posting new developments and plans on regular basis. We can say that we are updating the community development and projects on monthly basis. We are planning to post community progress and plans twice a month moving forwards.
Some of the community plans and development updates are being posted by the Founder account @cryptokraze and some of them are posted by Community account @siz-official. Moving forward, most of the plans and updates will be posted through community official account.
Steem Infinity Zone has a long term plan which was shared in our 1st Meetup and some of the points in our long term plans are listed below;
Promoting Steemit in Pakistan through colleges and universities
Growing the Community Official Account to 100k SP
Adding more SIZ Experts from different fields of Study
Expand the SIZ Projects (Investment Plans, SIZ Exchange and SIZ Rewards)
Starting SIZ Charity to support the needy
Making the Community Self Sustainable Eventually

Promotion Strategy
We have started promoting Steem Infinity Zone in local area through colleges and university students. We got a good response despite the pendemic situation.

We have done a promotional contest for full month to get new people on board which was very successful and we got +170 new sign ups through that contest.

We have plans to start another contest to promote steem on social media which will be effictive to bring more people to community.

We have a long term plan to recruit SIZ promotors who will be doing promo activities in different cities of Pakistan. Eventually, we will expand it worldwide to have many promoters around the globe.

Our main target audience will be the students in college and universities because that will give us a good network to help in marketing.

Special Features of SIZ
We would like to mention special features of our community Steem Infinity Zone that are not present in any other community on Steemit.
Steem Investment Plan
The main objective is to bring investments to Steem ecosystem from outside by providing better returns to investors. We want people to keep Steem within the system instead of withdrawing so we encourage everyone to be part of this plan and get great returns on their Steem investments. You can get 60% Profit annually on your investments with SIZ. We have received 5300 Steem from 5 investors so far and it will eventually increase with time.

SIZ Rewards
We have launched SIZ Rewards (@siz-rewards), which is community's official grand rewards pool. SIZ management and other generous donors can support this by sending donations that will be used to support community members.
SIZ Delegation Reward System
We have invited delegators to support SIZ community by delegating their Steem Power to the community official account (@siz-official) and get upto 200% curation rewards which is the best offer among Steemit communities.
SIZ Exchange
We have launched this project (@siz-exchange) to support community members by providing local currency in exchange of their Steem and SBD. This is a non-profit Service and resources received in SIZ Exchange will be utilized to power up or support SIZ Projects.
So far we have given exchange services for 4,342.313 STEEM and 8209.858 SBD which means @cryptokraze has used equaly amount of his personal resources to pay for these exchange service and kept these steem and SBD assets within the system that shows SIZ commitment towards growing for long term.
Why SIZ should Get the Support?
We want the support so that hardworking members of the community should get some rewards who are putting efforts since community is started. They have not given up doing the good work despite getting no major voting support.
There are SIZ Experts who are doing some great work and their efforts should be recognized though the voting support. In this way, we will get more experts globally and it will ultimately help achieve the community main goal that is to empower the people to learn some great skills that will help them in their life.
Since, the community have started, the founder @cryptokraze has used all his steemit rewards to grow the community and support the members through contests and other support programs. We have not withdrawn a single steem since this community is started and @cryptokraze has used his personal resources outside steemit to pay to the members who wanted to withdraw. We have kept all the steem and SBD within the system through out SIZ Exchange.
SIZ has always encourages #steemexclusive content in our community and we will not allow cross posting in our community.
Lastly, we assure steemit team that we will not use any kind support for our personal gains. All the support received will be used to grow the community and support the hardworking members. The main objective os Steem Infinity Zone is to empower people and we need your support to make a positive impact on lives of many because 1 small vote can worth huge for some student who is struggling to manage his study expenses or a housewife who is finding it hard to manage expenses oh her children.

Applicant
Steem Infinity Zone
A community to Educate and Empower Poeple without Limits