Steemit Engagement Challenge S6 - W2: "What steps would you take to save the soil?"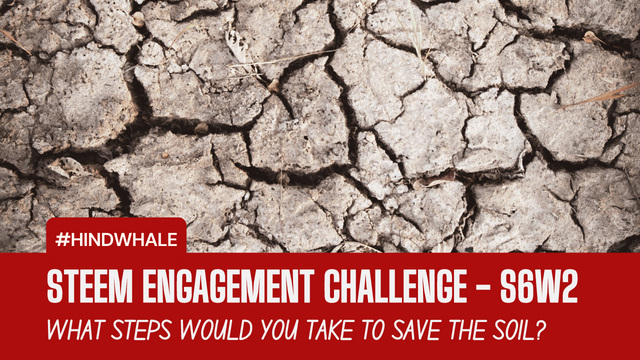 Source: Canva
Namaste Steem Family,
Eight billion people rely on the soil for their survival. It is the main source of our food and drink, it nurtures us and protects us. The earth, with all of its landmass, is our home. We are dependent on its health. But much of this depends on how well we treat the land around us.
Soil erosion, deforestation, overgrazing, and pollution have taken a heavy toll on soils' ability to sustain life in the past few decades. There are actions that can be taken that can reverse this trend.
Saving soil is important because the soil contains the nutrients that are essential to the growth of crops, trees, and plants. It also helps regulate the climate. If soil is depleted of its essential nutrients, it becomes difficult for farmers to grow crops.
Disadvantages of soil degradation include loss of biodiversity, flooding, desertification, and reduced crop yields. Farmers' livelihoods are at risk and they can even lose their farms altogether.
It is clear that soil erosion, soil depletion, and soil degradation are the main threats to sustainable food production.
Soil has been linked to crop productivity since the days of the Roman Empire. Due to our rapid population growth, coupled with population migration and urbanization, 17 billion tons of fertile topsoil were lost by 1980.
The loss has continued despite legislation to conserve topsoil and protect vital water resources across the globe – even in developed countries such as Australia, Canada, and Japan.
This is leading to further crop yield losses due to loss of soil integrity. This presents a problem for food security because demand for food is set to exceed production by 2050.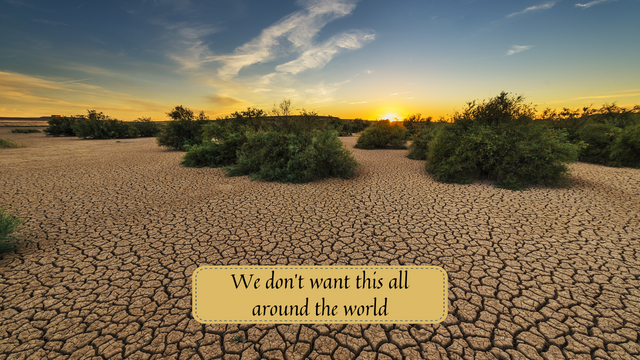 Source: Canva
In this engagement challenge, you will be required to provide solutions to this alarming problem. Start by researching why this problem deserves a dedicated engagement challenge. Then, consider what the serious consequences are of degradation in the quality of the soil, as well as what steps can be taken to decelerate that degradation.
In order to improve your research, we have added a few links here that will give you a better idea of the types of games that were played and are played around the globe.
To be considered quality content, you should first address the problem, then provide solutions that will help slow down the rate at which soil health is deteriorating. Finally, you should conclude your post with a brief conclusion.
---
Contest Guidelines
---
Write an article of at least 300 words on the topic and share it with the #hindwhale community.
Plagiarism of any kind will not be tolerated.
There is a weekly limit of one entry per person per community, so please plan accordingly.
The user must be a member of at least #club5050.
The title of the post should be "Steemit Engagement Challenge S6/W2 - What steps would you take to save the soil?"
Follow @hindwhale, the official account of the #hindwhale community.
Comment thoughtfully on the entries of at least three other participants (ensure that you interact extensively with other users).
In the first five tags, include #hindwhale-s6w2, country (for instance, #India), and club status( #club5050).
You should invite at least three friends.
Each of the top three winners will receive and share a total of 10 STEEM (5, 3, and 2 Steem).
Develop compelling content that is appropriate for support and stands out from the competition.
This competition begins on November 28, 2022, at 00:00, and ends on December 04, 2022, at 23:59.
---
Conclusion
---
I believe that soil degradation is an issue that is easily forgotten. The environment and its importance will not be top of mind until it's too late.
There has to be more education, awareness, and funding for the topic. Soil degradation affects the future generation's livelihoods, and health, and sustaining food sources will be a most urgent matter to take action against very soon.
---
Post checking and commenting policy for the community
| Category | Remark | Score |
| --- | --- | --- |
| #Club5050/75/100 | ✅ or ❌ | 1/1 |
| Verified User | ✅ or ❌ | 1/1 |
| #steemexlusive | ✅ or ❌ | 1/1 |
| Plagiarism Free | ✅ or ❌ | 1/1 |
| Bot Free | ✅ or ❌ | 1/1 |
| Voting CSI > 5 | ✅ or ❌ | 1/1 |
| Markdown Style | | 1/1 |
| Image Usage | | 1/1 |
| Quality Content | | 2/2 |
| Total | | x/10 |
---
---
| | |
| --- | --- |
| 1st Position | 5 Steem |
| 2nd Position | 3 Steem |
| 3rd Position | 2 Steem |
---
Delegate to our community account (@hindwhale)
Delegations are encouraged from those who are interested in supporting the community. It will contribute to the growth of our community. We invite you to become a delegator of #hindwhale by giving any amount you consider appropriate:
Easy Links to delegate @hindwhale quickly
---