HOPE TOKEN - important question: WHY and WHAT FOR? [join discussion]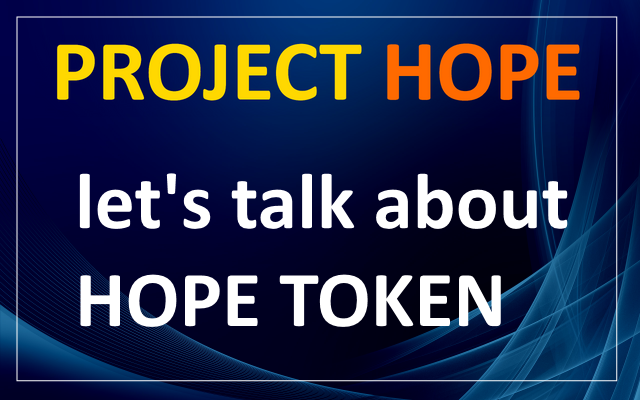 INTRODUCTION

Many of PH (project.hope) community members are already familiar with my idea of launching our own HOPE token. Many of you already understand the general concept of this community token and we've discussed its token-economics (business model) and during those brainstorming sessions, @karamyog and @nomad-magus asked me a very simple yet extremely valid question:
if we have hive/steem, why would one want a PH token?
Below, I will share my 3 reasons and explain each one. But I will start by explaining the general idea behind the HOPE token.
GENERAL IDEA

Let's start by explaining in a few sentences the general idea of community HOPE token.
My assumption is that people who read this publication are most likely PH members and are already aware of Project.hope business model. You can read more about it here:
PROJECT HOPE ECONOMY EXPLAINED [2021]
In short: all authors publishing their posts within our community are setting up beneficiary to @ph-fund and those funds are being used to cover various expenses and are allowing us to continue on a steady growth.
I would like to build a model, in which our community members are being rewarded with HOPE tokens based on their level of commitment and engagement. At the same time, a large part of all received beneficiaries (let's say 30% of all liquid steem) would be used for buy-backs and burns. Which in return would create demand for that token.
It's almost like creating a company which is paying their employees some BONUSES in the form of company shares, while at the same time using a significant part of revenue to conduct buy-backs from the market.
It's nothing new and I'm sure most of you are aware of such a business model.
REASON 1: WHY to launch HOPE TOKEN instead of using STEEM?

Till today, I've been using part of those funds (beneficiaries) to support financially (with STEEM tokens) a group of several most active and engaging members. However, this solution had its own challenges and I didn't like it that much.
After all, other crypto projects (like Ethereum, Solana, various of DeFi etc) are also rewarding supporters and community members for their efforts with their own native token, instead of providing them with ETH, bitcoin or stable coins.
There is a reason why those crypto projects are trying to attract supporters and investors while providing them with an opportunity to earn if they invest in a token and hold it.
Even with miners - they get rewarded in native tokens for doing some "work".
CASE of HOPE TOKEN:
In OUR CASE, I want to reward people who participate and who invest their TIME and ENERGY (instead of money) and who hold to that token. Assuming that its value will grow in the long run.
I strongly believe that the HOPE token price will increase with time. Assuming project.hope will grow in voting power by attracting more delegations and expanding the current curation trail. So HOPE token will allow those who earn it to profit from the growth of our community.
Hopefully I'm making sense so far.
REASON 2: PERSONAL CHALLENGE

We all need ways to stimulate ourselves from time to time. One way to do it is by setting up long term goals and trying to achieve them. Right?
I've been involved in building Project.hope for almost 3 years already. And as much as I enjoy what I do and I love being part of such an amazing community, it is simply NOT ENOUGH anymore and I'm craving for more.
As PH, we have managed to build a strong team of people sharing similar interests, values and often goals. And I think now it is now the right time to BUILD SOMETHING TOGETHER.
Especially since I've realized (after having discussion with several of our members) that others often feel the same way about it, and the idea of launching our own HOPE token is very popular and many of us would like to try and see where that path takes us.
REASON 3: BONDING, LEARNING and BUILDING TOGETHER

We've already achieved a lot as a community. I would say that our biggest achievement is the fact that most of our members share a strong SENSE OF BELONGING.
Wouldn't you agree?
On top of that, within the recent months, several of our members were deeply involved in promoting other crypto projects like RobiniaSwap and WOX-defi. We've learned to collaborate together on another level and we all got some useful experience in the process.
And now it's simply time to use that knowledge and experience to launch OUR OWN TOKEN.
I'm very excited just thinking about all the work that is ahead of us. Knowing that we will learn many things together and share experiences with each other. Knowing that this will only build deeper engagement and trust between our core team members, building an even stronger sense of belonging and strengthening the current bond between me and those involved.
LAST WORD

Those are the 3 main reasons behind me working hard towards the idea of launching a HOPE token, and as you may have already noticed - it is not at all about attracting investors and raising money. My agenda is absolutely different.
I've mentioned already that I care about building a "sense of belonging" within our team. I see it as the foundation for Project.hope and I strongly believe that launching a HOPE token will bring us together even closer.
RESTEEM and SHARE YOUR FEEDBACK

I would appreciate every feedback, so spare several minutes and read through this post carefully. I read all the comments. Always.
Yours, @crypto.piotr
@project.hope founder
check out our community: https://steemit.com/trending/hive-175254