PROJECT HOPE ECONOMY EXPLAINED [2021]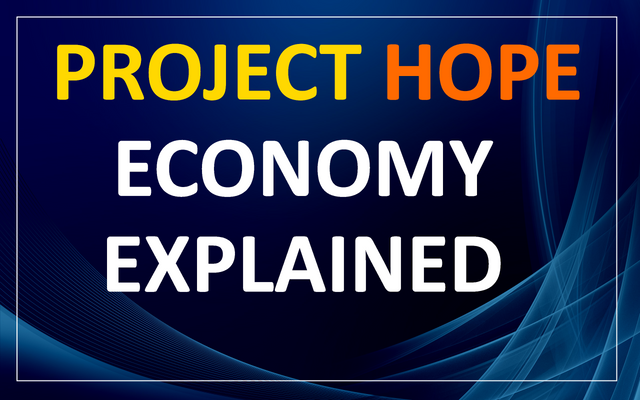 INTRODUCTION

Within the recent weeks, I've received a few enquiries on how our Project.hope community economy works. So perhaps it would be wise for me to write a publication regarding this topic summarized in one post.
In this publication, I will also discuss some challenges our community has faced in the beginning of its existence and the solutions we've tested and implemented to solve them.
If you would find our efforts worth supporting, then consider delegating a small amount of SP or joining our curation trail (more info at the end of this post).
Without further ado, let's get into it ....
ISSUES AND PROBLEMS WE'VE FACED

Each community is facing some problems and issues in one way or another. More often than not, those challenges are quite similar. And not addressing and handling them often is a cause for such a community to fail and sometimes eventually slowly disappear.
Major problem which most communities are facing is the fact that only curators and authors are being rewarded for their work and efforts. Only those two groups are receiving STEEM tokens for either creating quality content or by curating it.
Whoever tried to manage the community would quickly understand that it is important to also incentivise other important key roles. Moreover, we all need to find ways to reward our most engaging members, moderators, team leaders and perhaps some developers or even graphic designers for their efforts.
Those were real issues which we had to face and address at the early stage of launching the Project.hope community. Problems which many other community leaders are struggling with till this day.
HOW DO WE INTEND TO SOLVE THOSE CHALLENGES?

At some point I've learned about the possibility to set up a beneficiary on published articles. And it hit me. What if I would ask everyone who publishes within Project.hope to set up a small percentage of beneficiaries to our community budget account? And use those funds to grow the project? Then an idea was born.
So we have started by introducing a system, in which we would request that every PH member would set up 20% beneficiary to @ph-fund on each post published within our PH community. Those funds initially allowed us to rapidly increase our growth.
For the first time we could afford to reward (with steem tokens) few most active members and moderators for their time and efforts.
Luckily, the idea of sharing part of profit with the community fund has been approved by a majority of PH members.
TWO YEARS LATER

Many things have changed within two years, which have passed since we've launched Project.hope. And so did our project's economy.
Currently, we are encouraging all PH members to set up 35% beneficiary on their publications to @ph-fund (community budget). And those funds are being used to cover various expenses:
1) MOST ENGAGING USERS
---
Majority of those funds are then being distributed back to our community members. Depending on their role within PH and level of engagement.
This allows us to financially support people who can then focus greatly on being active within the community. It gives them financial means to support their life expenses, which allows them to invest more of their own time to read publications posted by other members and engage with authors (in comment section).
Our goal is also to support those who understand the importance of quality of their comments.
Additionally, we use part of that budget to reward a few team leaders and moderators for their input into building our common project.
2) ENGLISH LESSONS
---
For several months already we've been sponsoring online english lessons for a group of Venezuelans (currently over 15 people). Mostly struggling and underpaid former university professors for whom crypto is a life gamechanger.
It allows them to access worldwide financial / banking systems. Giving them opportunities to better their life.
We believe that by investing in their language skills we are able to bring more value to their content published here on Steemit and it would help them to grab more of those opportunities.
3) EMERGENCY FUND
---
We've also established @ph-emergencyfund. I, together with former doctor @josevas217 are in charge.
This fund serves one main purpose: to financially support PH core team members in case they would face some unexpected medical expenses. Or in case their laptop charger would die and a new one would be necessary. This type of situation, for example.
We always try to be there for our members.
But ONLY if those members are indeed active and an engaging part of the community.
So far, we've helped several of our members in times of medical need. We've also purchased several laptop accessories which made our PH members work easier and more efficiently.
4) DELEGATORS
---
On top of all of that, we share 100% curation rewards , increased by a small percentage of received beneficiaries with all delegators.
SUMMARY

For most new PH members the idea of sharing 35% of their post payout does sound initially discouraging. However, most of them changed their minds as soon as they learned how those funds are being used. And they realize that this model allows them to distribute rewards generated within the community between many parties involved. And they quickly realize that it's a win-win scenario.
NO POWERDOWN POLICY

We're encouraging our members to follow our strict NO POWERDOWN POLICY on Steemit. Our goal is to support (upvote) publications of those people, who are growing their own voting power (SP) and using only part of their liquid rewards to cover life expenses.
After all, supporting authors which are dumping all rewards and create constant selling pressure (instead of growing their account) is NOT our goal.
HIVE BLOCKCHAIN

Every now and then I'm being asked if Project.hope exist on HIVE blockchain. The simple answer is NO, we don't.
We've tried to build our community on both chains (steem/hive), however many of our members experienced high level of hostility on HIVE and we've decided to "shut down our doors" over there and FOCUS SOLELY on building our community presence on Steemit.
SUPPORT PROJECT.HOPE (delegation / curation trail)

Hopefully I managed to hold your attention all that while. I appreciate your time :)
If you value our efforts, then please consider joining our curation trail. Nearly 300 people trusted us and joined it already.
You can also show you support by simply DELEGATING as little as 100 steem today.
RESTEEM and EARN an 115k SP upvote

I would also appreciate every resteem.
You can help us reach a wider audience and earn solid upvotes. I will drop 100% upvote using our @project.hope account (114k) on one of your recent posts.
(limited to accounts which have min: 100 SP, 100 comments and 100 followers)
LEARN MORE about Project.hope

If you like to learn more about Project.hope, then consider visiting those 2 links:
a) how did it all start
b) learn little bit about our history, goals and vision
You can find us on Steemit: https://steemit.com/trending/hive-175254
Our DISCORD server: https://discord.gg/uWMJTaW
Yours, @crypto.piotr
Founder of Project.hope community