Meet and learn how to use Cryptomission: An application based on STEEM Blockchain / Tutorial
Hello dear community of Project Hope and Steemit in general, everyone knows that always as PH Team we look for strategic relationships with new projects that arise in this platform, with the intention of collaborating in its development and promotion.
Today I bring a publication to talk about an application in development, but that is already being used by many within Steemit, I talk about:
CRYPTOMISSION
Its name is self-explanatory, at least as far as what it was created for, simple, in a nutshell it's about accomplishing some specific missions, a certain amount of times a week, or maybe on a specific schedule and you have the chance to earn cryptocurrencies, specifically STEEM.What do you think? great, isn't it?
Well, I can understand that with this presentation you understand what it is about, but the details of how to use it are something else. And that's part of the reason of this publication, to share a tutorial, step by step, so you can have a clear vision of how to use this DApp. So keep reading to learn how to use it.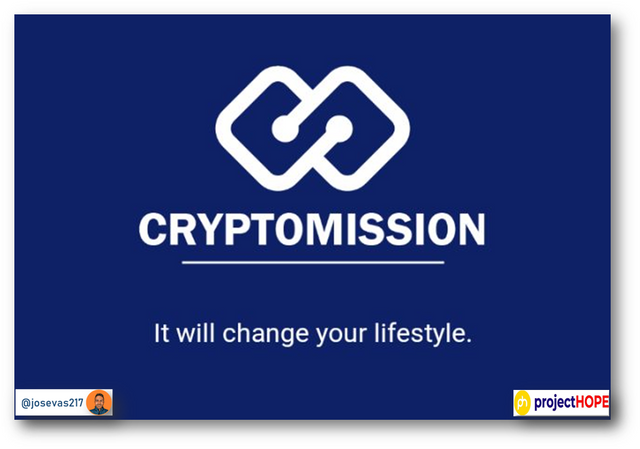 Source
The first thing you must do is Download the application, here I leave the link for Android Phone and for IOS:
Android link :
iOS app download link :(It is testflight beta version.)
Cryptomission discord server :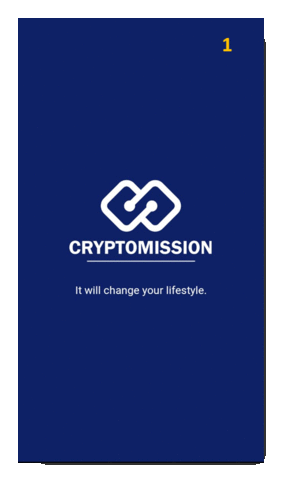 Gift created at picasion.com
Once you have downloaded the Application to your cell phone, you must login to it and logue with your POSTING KEY, it is necessary to be able to link your Steemit account. This is a simple process, actually all the operation in general is easy to understand.
Once you have downloaded to your cell phone, each time you go to enter the application, you will see the process detailed on the right:
1 Enter the application.
2 Update the application.
3 Looking for your login.
4 When you open you will see the missions that are active.
Well, you review the missions and you'll notice that it has basic information regarding each one of them, start date and faith completion, this is an important point, because some missions you must verify 5 times a day, and let's say that if one started on October 1st and ends on the 7th, you can't start on the 5th, because you only have 2 days left for verification and to be eligible for the prizes, Do I explain myself?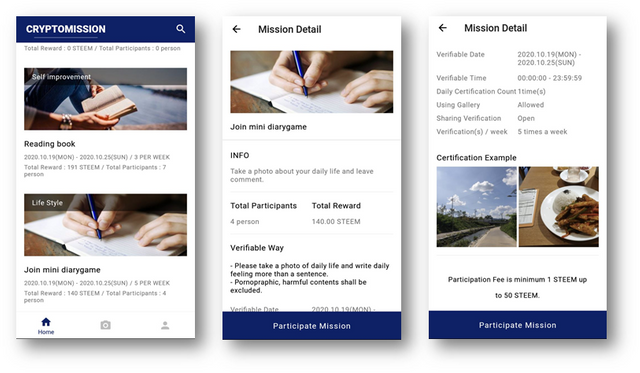 Screenshot of the Cryptomission application
How to enter to participate in a mission?
When you enter the DAPP at first sight you will get information about the mission, number of participants at that moment, number of times you have to do the mission in the week, date when the mission will take place.
Let's say we are going to enter the mission "Join Mini Diary Game" (1), you touch the image to enter and you will see the following information:
Number of participants, the images you can share, avoid pornographic content, among other things.
Required number of mission checks, schedule, examples of pictures you might use, start and end date. At the bottom it says, Participate in the mission.
Examples of photos you can upload.
If you decide to do so, what you have to do is click on the button Participate in the mission and it will ask you to send between 1 and 50 steem (amount that is at your own decision), procedure that is also done from the application, with the well-known tool Steem Login.
You must copy your active password, and enter the application again, unless you want to copy each one of its letters and numbers one by one when asked.

Screenshot of the Cryptomission application
How to send the Steem through the Application?
The process listed from 1 to 5 in the image above, I must assume that it is known by all, or at least by most. (1) You must place the amount of Steem you are going to send in the corresponding box, then click on Send Steem points; (2) shows you how much you are going to send and to whom; (3) asks you for your username and the active password, click where it says get started; (4) shows you the complete information of the transaction you are going to make, click on Approve; (5) once the sending is done, the entry to the mission is completed.
One point that should be clarified here is the fact that you have to send Steem in order to participate in the mission. Cryptomission makes a contribution of some Steem that go to a prize pot, to which is added what each participant contributes. In this way, at the end of the mission (7 days), this prize pot will be distributed among the participants who have completed their missions, in proportion to the Steem they have sent. That is, whoever sent 50 steems, will get a higher proportion than whoever sent 2.
If you want to have more information about the distribution of the awards you can see in more detail in this publication made by @cryptomission.

How do we participate in the mission?
After you have signed up for the mission by sending the Steems you want, as I explained above, you can participate, considering the schedule of the mission you have chosen, obviously. Well, let's participate in the mission of the Mini Diarygame, we'll do it as follows: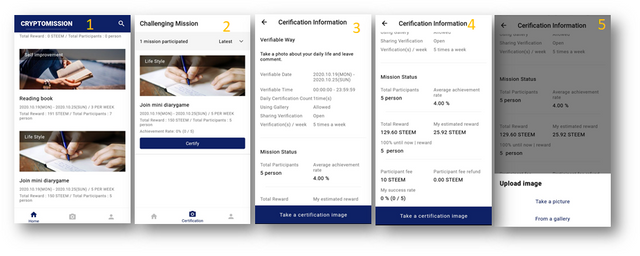 Screenshot of the Cryptomission application
(1) Once you have registered for the Mission, you must click on the camera below and in the center, in order to verify your first participation. (2) When you are there you must click on the certify to make your first participation, and the following ones will be the same way. (3 and 4) allows you to see all the information corresponding to the mission in which you signed up, you must click below on the blue stripe where it says "Take a certification image ". (5) will give you, depending on the mission, two options, either to take a picture right away or to use one you have in the gallery, you choose.




Screenshot of the Cryptomission application
For the example I bring, click on "Take a picture", and it takes me to the point 6, where you can see the camera opens. (7), you can see that it captures an image of the sky. (8) In the lower part you can write something related to the image you are sharing, once you are satisfied with the image and the writing you are sending, in the upper right part. (9) here is something important, you have two options, if you say yes, the image you just captured and the text you have written will be published in your Blog on Steemit, if you say no, maybe your post will be validated as you are fulfilling the mission of the day, but it will not be published in the blog. (10) once you have said yes or no, you must confirm your participation, and later (11) you will see that you have already fulfilled your mission, and have completed 20% of what is due.
For now, I think I have concluded, I hope I have been as clear as possible and that from this tutorial you can understand how to participate in this application based on Steem's Blockchain
Thank you very much to the friends of @cryptomission for bringing this new way of relating and increasing activity on the platform.
If you want to know more about the team behind this project, you can visit the following publication
I would like to emphasize that after that hard fork months ago, many applications migrated to another blockchain so I think it is important to highlight and make use of this application based on Steem blockchain.
@steemitblog, @steemcurator01, @steemcurator02, @steemingcurators, @cryptokannon, @stephenkendal, @shortsegments.


I authorize the use of this banner to everyone who wants to do it.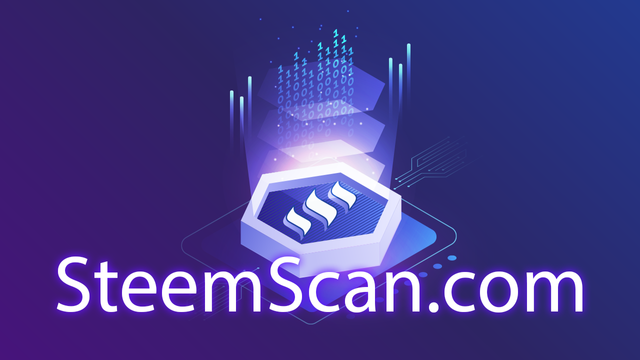 Visit our partner STEEMSCAN if you are looking for an easy and fast way to convert STEEM to other important cryptom currencies. To access the page click on the following link: