RobiniaSwap- join our enthusiastic team of people supporting this new project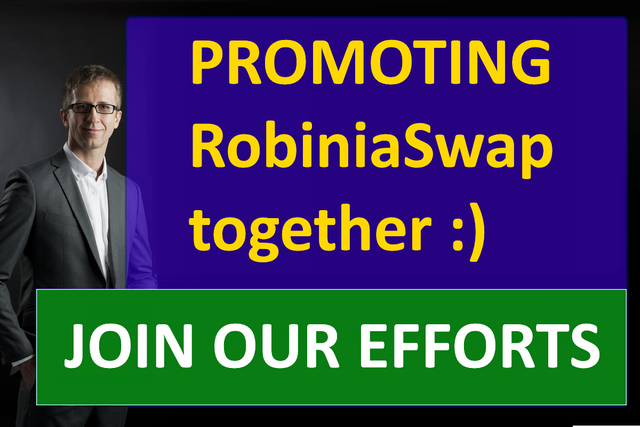 INTRODUCTION

Several days ago I wrote about forming a partnership between our Project.hope community and a team of Korean developers (@RoadOfRich), who are being led by quite a well-known team leader: @Nia
You can check this post: here.
As many of you already know, RoR is launching a new project very soon: RobiniaSwap
Together with some of our community members, we're supporting their efforts and our goal is to bring more traffic and exposure to their project. This post is addressed to all those of you who would be interested in showing your support and helping us out with that task (while earning a few bucks on the side).
Did I get your attention already? I hope so :)
LAUNCH DATE - small update

Before I go any further, please allow me to remind you that the launch date HAS BEEN CHANGED from 24th of September to 1st October 2021.
You can find more details on Robinia Discord server.
EXPLAINING MY IDEA

Most of the time, projects that are trying to build their exposure on Steemit seems to be doing it all wrong. Instead of supporting people who test their tools and write their own feedback (based on their own experience), different strategies are being executed: users are being asked simply to write a publication about a project and post it on their profiles.
That request usually ends up with everyone re-writing previously published posts without really putting an effort to learn much about the promoted project. Most authors would open a few recent articles explaining what the project is about and often simply re-phrase it, while hoping to be rewarded (with solid upvote) for the job being done.
In my personal view, this is not the way to get far. I would rather focus my efforts on making sure that everyone who participates in a similar marketing campaign is DEEPLY involved. That such a person will put an effort to test the tool/software, learn about it and only then share honest feedback.
I strongly believe that this would allow us to build a core of a community around RobiniaSwap. A community that would be helping to build trust towards the promoted project. After all, to bring some traffic is one thing, but to get people involved ... that's another story. And any sort of involvement does rely heavily on trust.
Hope I'm making sense so far.
CREATING A PLAN and EXECUTING IT

Let's combine both previous paragraphs. We already know that RobiniaSwap will launch on the 1st of October and I would like to ensure that by that time most members from our Project.hope community will understand what RobiniaSwap is about, how it works and mostly: how can we all help them to be successful.
RobiniaSwap is not yet available, however it will be very similar to PancakeSwap. So those of you who know how PancakeSwap operates will already have an advantage.
In order to even start our adventure with PancakeSwap (and RobiniaSwap), everyone would have to learn how to set up MetaMask, learn what MetaMask is for and why we need it.
So my plan is quite simple and straightforward:
Since it will be crucial for everyone who participates in our little marketing campaign to understand both topics.
I would request all participants to publish 2 articles on their Steemit/Hive accounts:
first one: about MetaMask
second one: about PancakeSwap
Both posts will have to be based on your own experience with setting up and checking out those 2 tools. The goal is obviously to help you get educated about both tools, knowing that this experience will be essential to understand RobiniaSwap once it will be launched.
It's also a GREAT OPPORTUNITY to learn to work together as a team, and to earn some JUICY upvotes (we manage quite a solid voting power on both chains: steemit and hive).
CONTACT ME if you want to participate

Please contact me via discord (details below) if you find this topic interesting. I will then provide you with more information.
AM I GETTING PAID?

I've received a similar question already and I would rather clarify it right away.
I do not get paid for my support to the RoR team and their new project RobiniaSwap. If I receive any payment, all of it will be used to reward people who were involved and help to turn their work and efforts into Robinia success story.
I've invested 3 years of my life into Steemit and most of my resources are being held on Steem blockchain. Therefore, it is crucial for me to support projects built by teams of developers who are active and engaging on STEEM.
I believe that if we want our blockchain to be successful, then we all should have a similar mindset.
Yours, @crypto.piotr
Founder of Project.hope community