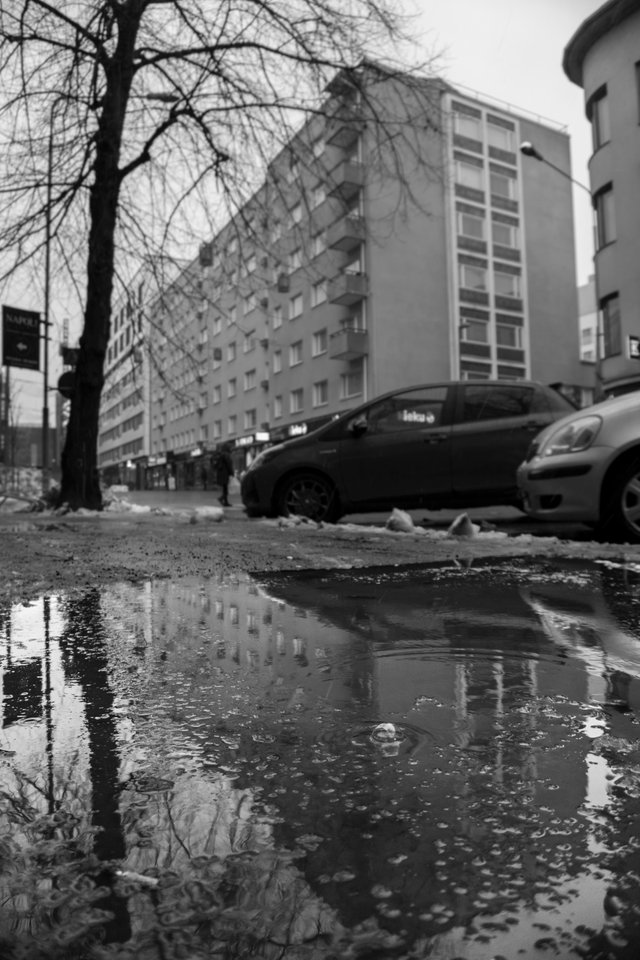 Puddles are amazing. There's always the chance that if you step on one, you fall right through to the other side. To the other side that is seemingly similar, but different. Negative world, fun world, weird world, scary world.
Weekdays there might go Munday, Twoday, Whenday, Thirsday, Freeday, Saturaday and Senseiday. Different but not that much. Then again everything could be upside down. But it takes a person from the other side to notice that everything is upside down. Until you've spent there long enough for the upside down to be normal. You get used to it.
Or it could be another dimension. And the occasional oddities that happen here in our world, would be escapees from the puddles around the world. Bubble pops, corona virus happens. Small ripples reach the edge of the puddle, a new animal species is born.
No more days when it was fun to step on the puddle not wondering if you have water tight boots on. You see a puddle and for a moment you feel the puddle call you: "Step on me. Step on me!" but as you walk closer to the puddle you hear you brain counter actions turning on: "Rnnn... rrrnnn... rrrrnrnrnrnnnnn... arrrrrre you sure? It's pretty cold out here. Are your feet already wet? If they aren't, perhaps we shouldn't get them wet? We're far away from home, do you want to walk the next 30 minutes with cold and wet feet? You will ruin you shoes as you failed to put your rubber boots on. How much did these shoes cost?"
So you tippity tip, hoppity hop and make any acquired evasive moves to avoid stepping to the puddle. Sometimes you succeed, sometimes you won't. And there you are thinking, now I have wet feet, should have done that willingly. We both, puddle and I, would have enjoyed it far more.
Such fun times we had dear puddle, years and years ago. If you manage to come back here in the summer and the weather is warm hot, and we meet again, I promise to step on you. Perhaps I will even stay a while and jump a little.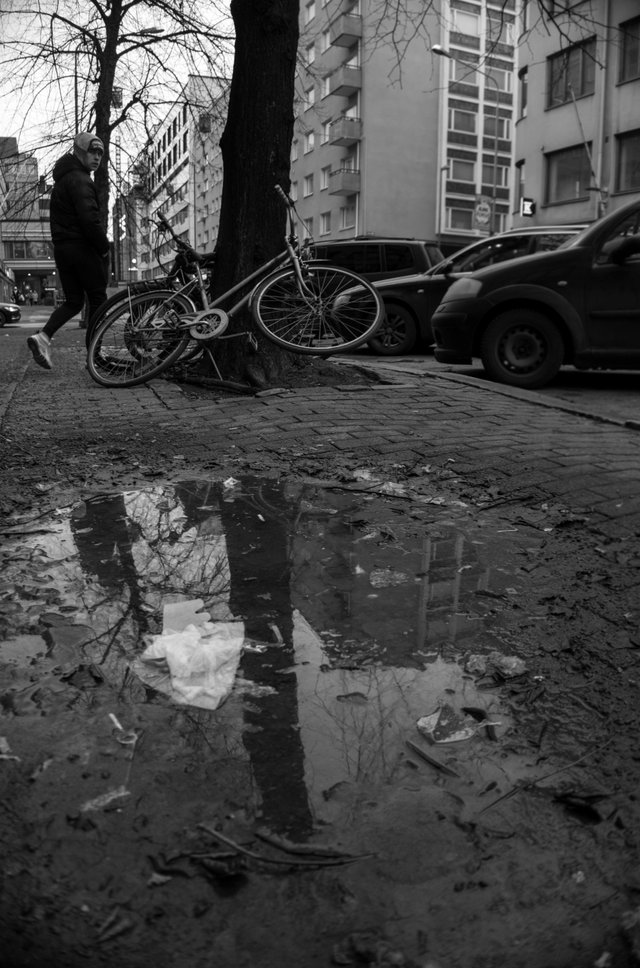 I'd like to see the photo that this boy took of me. Squatting there. In front of a goddamn puddle. Like it was the most amazing puddle ever. That's at least how I think he saw me.