Steemit Philippines - Steemit Engagement Challenge Season 8 (Week 3) Announcement of Winners and Contest Summary || "Silver Lining"
Have a Blessed day Everyone!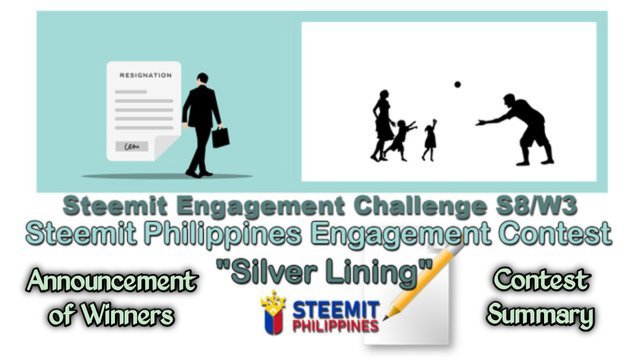 The third week of our Steemit Philippines - Steemit Engagement Challenge Season 8 was indeed another successful week and we thank God for all who have participated as we received a total of 76 Entries from all over the world.
We have also started our fourth week for the Steemit Engagement Challenge Season 8, and for us to know about the new contest, please click the link below 👇.
👉 Steemit Philippines - Steemit Engagement Challenge Season 8 (Week 4) || "Famous Street Foods in your Place"
This contest talks about a serious topic, you can create an entry telling about your personal experiences or about a situation in your country like for example, your government imposing tax addition, the "silver lining of it is that your country has financed projects like road expansions, school, hospital, and a lot more projects. Another example is, you need to resign from your work, the silver lining of it is that you can now spend more quality time taking care of your family. For full details, you can see it here
As compared to last week's Steemit Engagement Challenge which received a total of 30 entries, we have received more entries now and we have a total of 76 Entries from our participants from different countries and individual. We've read excellent content based on the given topic of the week and we really appreciate the effort they give and that we thank God for that.
Here are the summary of entries by countries. (Based on the official tag #steemitphilippines-s8w3)
| Country | Number of Entries |
| --- | --- |
| Venezuela | 28 |
| Nigeria | 14 |
| Indonesia | 10 |
| Pakistan | 6 |
| Philippines | 5 |
| Colombia | 2 |
| Bangladesh | 2 |
| India | 2 |
| Ghana | 1 |
| Cameroon | 1 |
| South Africa | 1 |
| Argentina | 1 |
| France | 1 |
| Chile | 1 |
| Brazil | 1 |
| - | - |
| TOTAL | 76 |
We ensure to read and evaluate contest entries the best as we can which we can say that it was also very hard for us, with in terms of language but thank God for we make a way to translate it so we can understand it very well.
Selection process for the winners of our contest was indeed very hard because the entries of our participants were extremely amazing and a lot of them explain well and shared their experience while facing problems or issues in life and how they overcome it as their silver lining. And for whoever be selected, we ask everyone to accept and be happy for them.
We have been given the freedom of choosing the winners but we wanted to consider what Steemit Team wants us of how to choose. We are looking for bests contest entries in terms of quality and how they have done in terms of engagement through comments, upvotes and other factors. We've also checking ChatGPT Generated Content or what we called AI generated content.
Here are the Winners of our Steemit Engagement Challenge Season 8 Week 3.
All prizes has been sent to the Winners 🏆

Credits:
The contest created by @juichi and @loloy2020
Cover photo: @julstamban
To God be all the Glory! 🙌☝️😇
---
If you want to help our Community by delegating and curating, you can do the following.
1. Quick Link
I've created an easier way to be able to delegate just select the link below.
Delegate 50 SP | Delegate 100 SP | Delegate 150 SP | Delegate 200 SP | Delegate 250 SP | Delegate 300 SP | Delegate 350 SP | Delegate 400 SP | Delegate 500 SP | Delegate 750 SP | Delegate 1000 SP
2. Delegate to how much you want.
To be able to delegate use the link.