Application for Country Representative of India by @cryptogecko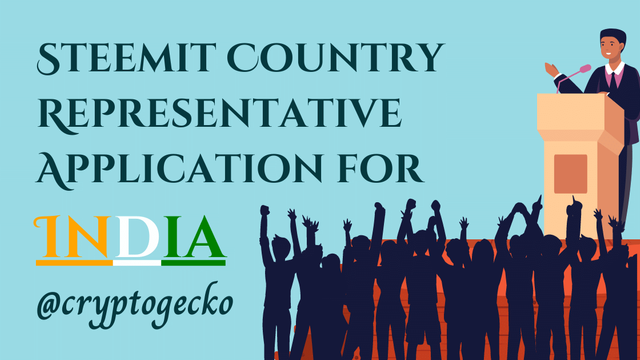 Source: Canva
---
Namaste Steem Family,
I am very excited and delighted to have the opportunity to apply for this excellent opportunity that we Indians have been waiting for months for. The Indian community does not have a country representative and as a result, we have been lagging behind. I believe this opportunity will boost our community's excitement and energy.
With a population exceeding 1.3 billion people, India is one of the most populous countries in the world. Considering the number of individuals who are likely to join Steem from India in the future gives me great excitement. Even if we are able to attract one percent of the population to our blockchain, we will have 13 million people from India using the platform. However, the question is who will bring this large number of users from India to Steemit? Yes, you are right. Promoting the platform is the responsibility of a country representative, and the promotion should be conducted in such a manner that most users will remain active once they have joined.
Steemit: My presence on the platform
---
I have been a member of the platform since September of 2017. I have been actively involved in the platform for the past one year, and before that, I was active on the platform in 2018, so I am no stranger to the platform. For the past few months, I have held the position of Moderator of the Steem India community (@steemindiaa), which has been an excellent opportunity to learn about guiding newcomers and growing the community.

Source: SteemWorld
I have also had the privilege of being a part of the Community curation team as well. My team, the Sevengers, have been fortunate enough to have gotten the opportunity to have been chosen by the Steemit team to be the curators for two categories. During the first two months of this initiative stated by the Steemit team, our team was responsible for curating the Science and Technology category, and now for the past two months, our team has taken on the responsibility of curating the Learn With Steem theme category.
Fulfillment of Criteria for Country Representative
---
Amount of Steem Power Owned
---
The amount of SP I own currently stands at 6,253 SP, out of which I have delegated 4,000 SP to @steemindiaa, the official community of India.

Source: SteemWorld
Since the initiative was first introduced by the Stemit team, I have been following the #Club100 club status, and I will continue to follow the club in the future as well.
My Reputation
---

Source: SteemWorld
The current reputation of my profile stands at 67.201, which is a respectable number, but I will be aiming to take it up to 70 as soon as possible.
Country of Residence
---
Currently, I am living in the Junagadh district of the Gujarat State, which is the westernmost state of India, and this is the region where I am from. My family and I have been residing in Junagadh for the past five years and I intend to continue to do so.
The nature of my father's occupation, which was serving in the Indian Army, meant that we could only live in one place for a maximum of 5 to 6 years before my father's battalion would automatically move to a new location. Since I have lived in many different states throughout my life, It meant making new friends, learning a new language, and experiencing a new culture. Throughout my life, I have lived in Haryana, Rajasthan, Uttar Pradesh, Punjab, Odisha, and Gujarat, to name a few states.
Languages that I am familiar with
---
Since I have lived in many different parts of India, I have learned a few languages as a result of having lived there for many years. I am proficient in a number of languages, including English, Hindi, Gujarati, Punjabi, and Odia, among others.
Voting CSI
---
When it comes to voting, I always try to make sure that I use my voting power to support new users and my community members, but sometimes I also give my votes to users that are not members of my own community.

Source: SteemWorld
Since I have been a part of Steemit for such a long time now, I am well aware how important it is to vote for others in our community. I have been a part of the Steemit platform since before there was a concept of communities on the platform. There is no longer any difficulty in tracking users and giving them votes as a result.
It is my goal to increase my Steem Power as much as I can, but as part of that effort I will also ensure that I support my country members and this is evident by the voting CSI figures I have posted.
The reasons why I would make a good Country Representative for India
---
As I mentioned earlier, I have been doing my best to support new users, and this is accomplished in a number of ways, such as guiding them in the comment section, voting on their posts, and taking personal Google Meet sessions with them.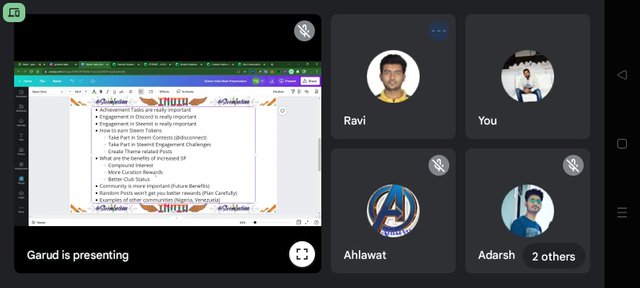 Aside from that, I have contributed to a number of posts that, I believe, are of particular importance to newcomers. I have included a few examples of these types of activities in the list below.
---
It is very important for me to have the opportunity to be a Country Representative because I seek to promote the growth and development of Steemit in India through the creation of valuable content and contests that encourage engagement. I am looking forward to this wonderful opportunity and I cannot wait to get started.
You can find my Achievement Task #1 here