PayPal For Splinterland Cards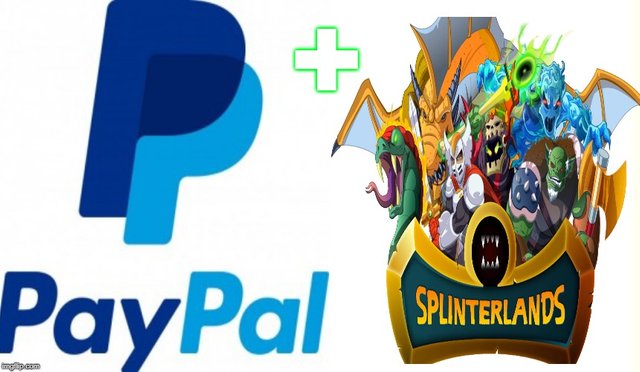 I'm sure Paypal needs no introduction but in the small chance that someone hasn't heard of it. PayPal is an online financial service that allows you to pay for items using an internet account. You can add your bank account, credit card, debit card and/or PrePaid card details to your Paypal account. This allows you to purchase things online in which accept Paypal as a payment option. You can also recieve payments for goods or from family and friends with your Paypal account.
Over the years Paypal has become a widely accepted and used payment solution. Many of today's masses use paypal to make purchases on popular websites like Ebay. Currently the Splinterlands site allows PayPal purchases but only for purchasing booster packs. Well that's all about to change and soon you will be able to buy individual cards using your PayPal account.
This PayPal announcement was first announced just days ago on the official Splinterlands blog topic, Splinterlands Ethereum Integration is Live! and as the title of that announcemt indicates, we now can turn our Splinterland cards into ETH (How cool is that).
---
Turn Splinterlans Cards To ETH
Splinterlands cards can now be sold/bought on OpenSea for ETH. Simply go to https://opensea.io/ and type Splinterlands in the search function to see all the monsters that are available for purchase. If you're not farmiliar with OpenSea and its marketplace @clove71 created a great tutorial in which can be found in the topic How to sell your Splinterlands Cards on the Ethereum Blockchain!
---
Personally I think adding PayPal for individual card purchases is a HUGE step in the direction of gaining mass adaption with this game. Being able to buy individual cards (which in itself is a cryptocurrency) directly for fiat using a simple means such as PayPal is huge news and I highly suspect the amount of daily sales (which is already at a healthy amount) to increase.
Splinterlands On T.V. / Go To 24:00 Mark
That's right Splinterlands is starting to catch the eyse of the almighty god known as Television. The game has also secured itself a 90 second spot on a national broadcast TV channel named AMC (American Movie Channel) in which will be broadcast this year. So keep your eyes peeled and don't blink as updates and growth happens fast in the Splinterlands world.
P.S.
It's not too late to be an early adapter. Sure Splinterlands is on their third edition of cards but to be honest things are just starting to heat up and get interesting. Not financial advice, do your own research before investing your hard earned currencies in any project.
---
Advertisement
Free Goodies In A New Blockchaing game
Click Here For Details!
Limited Time Offer
---
---
Splinterlands (also known as Steemmonsters) is a digital card game created by @aggroed and @yabapmatt. Early game release has launched and prizes are already up for grabs. You can get started with investing in or playing Splinterlands by clicking here.
---
---
Posted via Steemleo | A Decentralized Community for Investors