Key Takeaways From The Steem Witness Chat With Justin Sun | Steemleo Show #19
---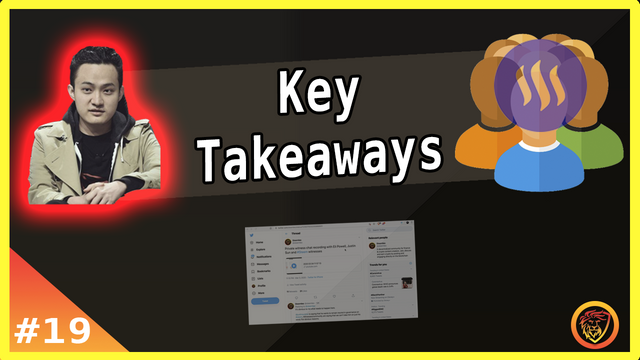 There was finally a closed-door meeting between the Steem witnesses, Justin Sun and Eli Powell the other day where many of the current governance issues on the blockchain were discusses.
---
Listen & Subscribe to the Steemleo Podcast!
---
For the most part, the meeting was relatively productive in understand Justin Sun a bit better. For me, I confirmed my suspicions that Justin really doesn't understand anything about Steem and he bought Steemit, Inc. under false pretenses from Ned.
In my opinion, Ned deceived Justin in more ways than one about Steemit, Inc. and the Steem blockchain.
Ned has come out and said that he pursued many acquisition deals until finally he found Justin and they came to an agreement.
In my opinion, the prior deals all fell through because the companies looking to acquire Steemit, Inc. dug up all of the dirt on the company and how Ned had made promises that he didn't plan to keep and how he ultimately did nothing for the past 3 years and ran the company into the ground since Dan's exit.
Again, this is all my speculation, but I believe Justin was fooled by Ned because Justin's team is mostly incompetent — especially when it comes to technical details.
Justin claimed in this chat that his team did due diligence, but only on the documentation provided by Ned. That is not called due diligence, that is called naiveté and poor business practice. You don't buy a house and take the seller's word that there aren't any leaks in it. You have it inspected before you sign the deal.
Anyways, in this talk I just find the key points from the meeting between Justin, Eli and the witnesses. I also conclude with what is (in my opinion) the easiest path forward — a win-win for all parties involved. Justin declining the right to vote on consensus and the Steem Blockchain witnesses signing an on-chain agreement that they will never touch Steemit's stake in the Steem Blockchain ever again as long as the decline_voting_rights op is in place.
Links Mentioned:
---
Our Community
https://steemleo.com is an online community for crypto & financial content creators, powered by Steem and the LEO token economy.
---
▶️ 3Speak