SteemAlive Presents: "My Local Professionals". Profile of people that render useful services to us. 40 Steem Prize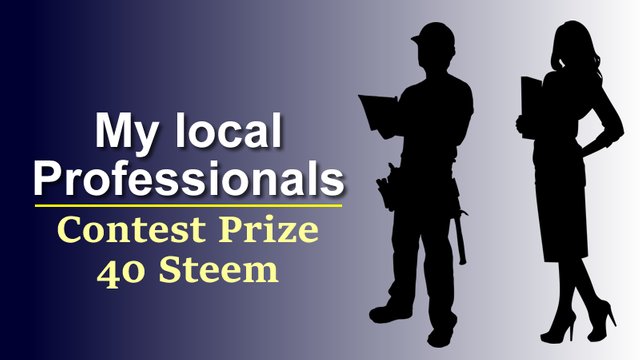 Introduction
Mondays are for contests, aren't they? We are delighted to welcome you friends to our community contest for the week! Last week, we did a great job with the [Sucker Punch] Contest where we asked you to write about the biggest challenges you have experienced in life. It was really touching to read personal stories of participants - you can shed tears if you see what people go through. That contest will end today and the result will be announced.
This week, our contest is called My Local professionals. It is something so interesting you want to be a part of it.

The contest - My Local Professionals!
There are people that provide important services for us to keep life moving. Sometimes, we cannot imagine what life would be without them. We appreciate their work. So in this contest, we want you to introduce us to some of those local professionals whose services you have used in the past or present.
My local Professionals - what we want you to do
SO we want you to write about those professionals or people in your area that provide specialized services for the community. We actually want to meet them. Below is a list of those we want you to write about:
Doctor/Nurse
Mechanic
Painter
Driver/Motorcyclist/Keke Rider
POS agent/Operator
Mason
Dentist
Shoe repairer
Capenter
Fashion Designer
Barber/HairStylist
Electrician
Special Equipment Operator
Artist
Graphics Designer
We have listed 15 Professionals above. Choose at list 6 of them and write about their work. Be creative and detailed. Your writeup MUST include the following information:
Name of Professional
A clear Picture or even a selfie of the professional
Address of office or workshop (What3words coordinates important for verification)
The type of services Provided (In detail with Pictures)
Years of experience and why you or other clients choose him.
Any other thing

The rules
You have to be a verified SteemAlive Member to participate.
Publish you entry in SteemAlive Community with the title: : "My Local Professional - Profile of people that render useful services in my local environment"
Submit the link of your entry as a comment on this post.
You must Subscribe to our community.
You must upvote and resteem this post to help create awareness
Your first tag should be localprof

How winners are selected
Quality matters to us so much, so winners will be selected based on the following criteria
Number of Professionals featured - There are up to 15. The more you feature, the better your rating
Detail is very important: Provide as much information as you can for each professional.
Formatting of post is a must - at least Justify alignment and centered headings
Originality

The Contest Prize - 30 Steem
The total Steem Prize is 30 steem. Here is how we have arranged it:
1st Position: 10 Steem
2nd Position: 7 Steem
3rd Position: 5 Steem
4th Position: 3 Steem
5th - 19th: 1 Steem Each.
1st - 3rd positions will have their posts submitted to Booming for additional support if they did not get support from 01 after 6 days.
This contest will end as soon as the contest post pays out (7 days from now)

Support this contest.
You can help us increase the contest prize by sending us any cryptos used here on Steemit. Send Steem or SBD to @steemalive
@sammylinks Donated 5 Steem to support this contest and help increase the Prize





Subscribe:::Discord.
:::join trail
c: @steemitblog.