Ukraine Country Representative Report by @antorv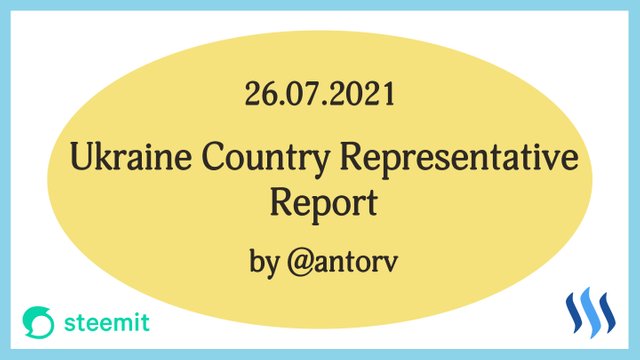 ---
Hello, dear Steemit Team.
First half of summer 2021 appeared to be slow, relaxing and full of vacations in our community. Ukrainian Steemians demonstrated their holiday photos, showed us new places to go. So did I.
Now it's time to come back to stable work with the Steem-BRU (BY-RU-UA) community, quality posting, and further developing.

Last week the most labor-intensive task for me was to complete the The Communities of the Month Application for Steem-BRU (BY-RU-UA) community. But together with another CRs and community members we did it.

Every day I curate the delegators from @steem-bru account. From the next week I'll ask someone from BRU's admin team to change me and to help with curation.
Now the curator account has 28,175.46 SP (its own: 4,210.65; and delegated: 23,964.81). In my plans to delegate 1000 SP more to our account — from my own SP.

We have few newbies and newly found Ukrainians, and very glad to welcome them. Let's meet @kitkat07, @sergeyk, @chillipepper, @tosja, @bugavi, @layma, @svetik44, @uadigger, @olezoom, @tanata, @kirilbnkv (BY). Some of them are dormant, but at least we could list them for future :)

🙋 So, here's a list of 37 active Steemians in Ukraine & partually Belarus (who have at least 1 post during the last 14 days):
---
🙅 Inactive during last 14 days (57 people):


Best regards,
@antorv (Yulia)