The Communities of the Month Application | 23/07/2021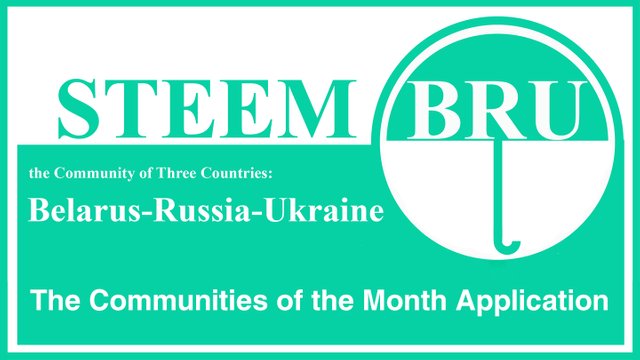 Hello, dear Steemit Team and all Steemians!
We'd like to start our application with a short video⤵

💪And now facts and declarations💪
---
Community Purpose
The purpose of our Steem-BRU (BY-RU-UA) community is to gather all the Belarusian, Russian and Ukrainian Steemians around it. Or any nation Steemians who speak our community languages (Belarusian, Russian, Ukrainian).
Also anyone is welcome to take part in our community contests and delegate SP to a community account (@steem-bru) — to be voted by it.
Our community is unique. There are no other communities covering the same subject or area as ours. People join our community to have friendly support and social connections with Steemians that speak their languages or live in the neighbourhood. That is why now we have Steemians from Moldova and Kazakhstan in the community — new people join the group that understands them (in our case we use Russian language to communicate with each other).
Also we have a lot of people from Asia and Latin America in our community (as guests) because they like to take part in the numerous contests which are organized by our members.
---
Community Team
Admin of the community is @antorv (Ukraine Country Representative), and Moderators of the community are: @olesia (Ukraine Country Representative), @knopka145 (Russia Country Representative), @filinpaul (Russia Country Representative), @dmitrik (Ukraine), @greatketty (Russia), @vlad26 (Moldova).
All together we cover the languages: Russian, Ukrainian, Belarusian, Polish, Romanian, English. The common language for all of us is Russian.
The team members are being rewarded only by upvotes of @steecurator01 and sometimes @booming accounts — for their personal posts. All community funds are headed for increasing Steem Power of @steem-bru (our community curation account)
There are 4 people who have all keys to rule the community: @antorv & @olesia (Ukraine Country Representatives), @knopka145 and @filinpaul (Russia Country Representatives).
---
Community Curation Account
The community curation account is @steem-bru.
It has 28,175.46 SP (its own: 4,210.65; and delegated: 23,964.81).
The plans for growing the SP of the account are the next:
Appr. from September we will increase the delegation share. Now it's 50 SP, and will be 200 SP.
We'll insure more people to delegate to @steem-bru account.
We accept 10% of beneficial rewards from Steem-BRU members (they are free to give these rewards whenever they want or there can be a condition: 10% to participate in a particular contest).
We will continue to write posts from @steem-bru account. All of the rewards are going to the account's SP.
All the posts rewards are used for power up — we don't use rewards for paying delegators or members of the community team.
We have the Rules for using the @steem-bru account. And it is strictly forbidden to move assets out of account.
There are 4 people who have the keys to the @steem-bru account: @antorv & @olesia (Ukraine Country Representatives), @knopka145 and @filinpaul (Russia Country Representatives).
Current Voting CSI score for @steem-bru account: 11.8 ( 0.00 % self, 105 upvotes, 34 accounts, last 7d ).
Nearly 103-105 posts receive a vote from the community account each week. There's no proportion because we vote only for those who delegated.
---
Plagiarism & Abuse
This question bothers us a lot, and we do our best to smoke the plagiarists out.
Few times @endingplagiarism warned us about plagiarism in our community. We reacted — the breakers were warned. The breakers were not our community members but guests who came to participate in the contests.
Country Reps check posts for plagiarism all the time they have a suspicion. Especially while curating from @steemcurator06.
From now on newly-appointed Mods also will help to chek the posts for plagiarism (all posts in the community).
All contests organizers has a responsibilities to ensure all contests posts are plagiarism free.
We found a great way to fight with duplicate & fake accounts: we demand to show their face and to introduce themselves. There's no incognito Steemians in our community from last spring — we checked everyone.
To ensure all photos used in the community are copyright, we use Google search.
---
Engagement & Commenting
All contests organizers has a responsibilities to comment every contest post.
Everybody is more or less active in our community. But the Commenting Leader is @filinpaul. We will try to be same as @filinpaul! :)
---
Plans & Updates
We try to post all important updates for the community. It can be posts from community curation account or posts by 4 Country Reps.
We have an approximate long term plan for the community but everything depends on the circumstances, the crypto market, etc.
---
Promotion
We promote our community and the platform in general outside of Steem:
Another social media (Twitter, Facebook, Instagram, TikTok)
Visit cards
We plan a real offline meeting! After meeting the content will be spreaded in all possible social media
@dmitrik is in a process of creating telegram & viber stickers for Steem BRU's PR — it's also a promo tool.
To promote the community within the platform, we'll continue to launch interesting contests.
Global Marketing Plan for the community promo can be compiled when there's understanding what budget we have. For example, the easiest way can be the following: a CR writes a post with promo suggestions and a plan. If the Steemit Team confirms it can be a good idea, the post gets a reward to cover the spendings for implementing that plan.
But of course we'll try to find more chargeless promo tools.
---
Else
We encourage #steemexclusive posts in your community.
It happened so that with this post we apply to allow us to fractionally change the rules of curation from @steemcurator06 — to change for community development.
We kindly ask you to give us the official permission to support the users not only living in one of three countries (Belarus, Russia or Ukraine) but also living in any country of the world & calling themselves Belarusian, Russian or Ukrainian (who are not curated from other @steemcurator accounts). There are not much of such people, and they have no other communities to be a part of (except of Steem-BRU (BY-RU-UA)). We really want they to keep posting on Steemit, and our support can help. Else, these people are likely to leave the platform...
We are talking about:
@kitkat07 (Ukrainian but lives in Poland)
@vipnata (Russian but lives in Italy)
@steem-venera (Russian but lives in Latvia)
and few others.
Also there are 2 active Steemians from Moldova and 4 Steemians from Kazakhstan. They have no their own country communities yet. We can give them a temporary "community shelter" in Steem-BRU (BY-RU-UA) — until more users from their countries appear on the platform. We are already good friends, talk in community telegram chat and discuss everything together.
Steemians from Kazakhstan: @milakz, @vik24, @natulya21, @saule.sara
Steemians from Moldova: @vlad26, @hardphotographer
These are probably the main things about us. We want to give as much support to Steemians as we can.
---
Also we'll keep our fingers crossed for our friendly communities:

▪ SteemFamily
▪ Steem Skillshare
▪ SaturdayMemories
▪ ARTSteemit

---

To embody our plans and keep developing we really need your support.

Thank you.

---

Best regards,
@antorv
@olesia
@knopka145
@filinpaul
Steem-BRU (BY-RU-UA) Community