Business Activity| Ultrasound, benefits, treatments and more | By MERAKI ESTHETIC SPA| 10% of Rewards go to @businessactivity
Hello dear community,

I have decided that in order to have a better organization of the posts I will choose each day to talk about new topics, so you won't get bored of just reading about my services and I will be able to give you my recommendations as well so you can know more about how the devices, cosmetics and treatments that we use in Meraki Esthetic Spa work.



| Days of publication | Topics to treat |
| --- | --- |
| Monday | Aparatology used in the treatments |
| Wednesday | Pathologies, Skin Lesions treated at Meraki Esthetic Spa |
| Friday | Treatments we offer at Meraki Esthetic Spa |
table of contents to talk about during the week
---
Now yes, in keeping with the new plan, today we will talk about a device that I am always asked about and curious if it works or not:
The Ultrasound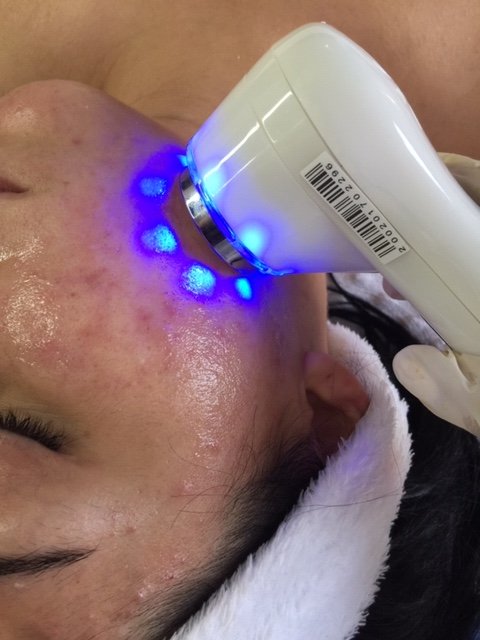 Ultrasound is a device used in various branches of medicine, from physiology to aesthetic medicine.
It is a series of mechanical waves, generally longitudinal, whose frequency is above the hearing capacity of the human ear.
That is to say, it is a device that generates deep soundless and painless waves, as a patient you will not feel:
❌Coldness
❌Cold
❌Heat
❌Current
❌Pain
❌No sound
The ultrasound used in aesthetic medicine has a wave range of 3Mhz which means that only penetrates up to 4cm reaching the last layer of the skin (the hypodermis) without reaching the muscle, while ultrasound used in physiotherapies have a wave range of 1Mhz covering approximately 12cm of skin reaching the muscle.
A megahertz (Mhz) is a unit of frequency measurement, equivalent to 10⁶ hertz. It is very often used as a unit of measurement of the working frequency of a device of something, or else as a measurement of waves.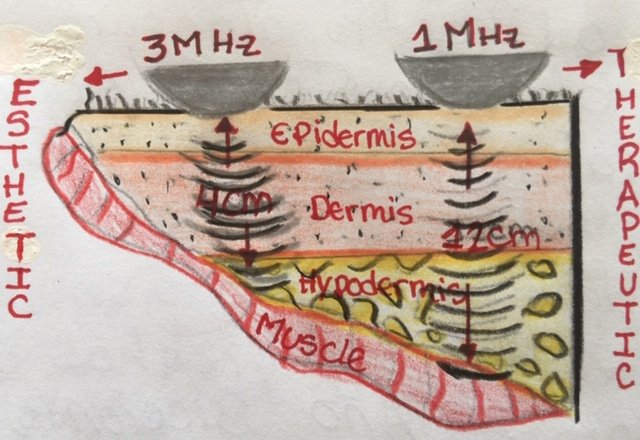 Drawing of the skin layers and the wave range of these two types of ultrasound
---
Function of aesthetic ultrasound
At meraki we use ultrasound in our cleanings after the extraction of comedones, in order to stimulate the skin and relieve pain.
After an extraction the skin is inflamed, this device helps us precisely to relieve that inflammation, its waves penetrate deeply stimulating the area.
Ultrasound is also used in post-operative patients after cosmetic surgery to relieve inflammation and hematomas.
When performing a lymphatic drainage ultrasound is our ally, remember that with this massage we want to remove harmful substances from our body that cause inflammation and that is precisely the function of ultrasound, improve areas affected by inflammation.
here is the link if you want to know more about lymphatic drainage: |Business Activity| Puffiness under the eyes? I have the solution. |By MERAKI ESTHETIC SPA
---
Modalities of ultrasound
According to the problem to be treated, ultrasound can be used in continuous mode or pulsed mode.
Continuous mode: It is used for patients with contractures, falls and bruises without deformities. It is used in therapeutic massages.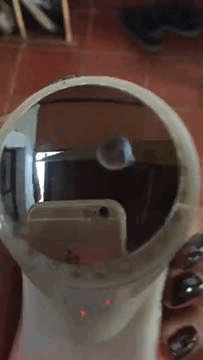 Pulsatile Mode: It is used in inflammatory processes, to promote healing and drainage of edema.
An edema is swelling caused by excess fluid trapped in the body tissues.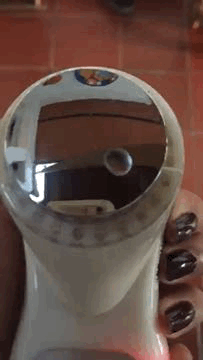 Of course, only the specialist will know this, since the patient has no way of knowing what modality the device is in, only until the session is over and they feel improvement.
But if you are curious, ask your specialist to do the water drop test, to know if an ultrasound is working well, place a drop of water on its head, the drop will begin to vibrate according to the mode in which it is, if its movement is constant it is in the continuous mode, if on the contrary the drop vibrates at certain intervals of time it is in the pulsatile mode.
Note: Never let the ultrasound be placed on open wounds.
Also be sure to have a conductive gel applied before applying the ultrasound, as without this the ultrasound does not transmit its waves into the skin.
---
Sessions and duration
The sessions will depend as any procedure of the patient, how many will need to have improvement and how many will need to maintain that improvement. But the maximum number of sessions in a row that can be performed with an ultrasound is 14 sessions and the minimum is 5 sessions. The time of these can vary from 10 to 40 minutes depending on the area to be treated. In meraki we do not have ultrasound sessions alone, this is always accompanied by other treatments such as:
🍃Deep cleansing
🍃Dermapen
🍃Mesotherapies
🍃Lymphatic drainage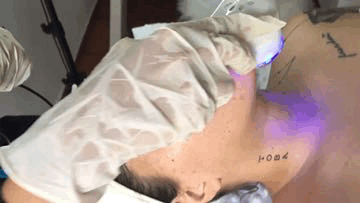 ---
Ultrasound with chromotherapy
The ultrasound that we use in Meraki has one more function and is that of chromotherapy or LED therapy, this as its name suggests is a treatment in which lights are used to combat various pathologies or skin problems, this treatment is quite extensive and interesting, so I will dedicate a post just to clarify doubts about the operation of chromotherapy.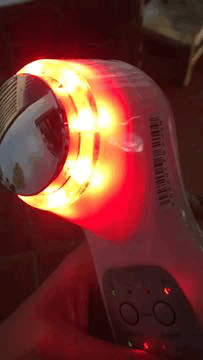 If you want to get an idea of what it is about, here is a link to a reel created by me talking about the most used colors and their benefits: Terapia Led
---
Cost and treatment table
| Treatment | cost |
| --- | --- |
| Lymphatic drainage+ultrasound therapy (Recommended weekly) | $10 SBD 1.42 STEEM 17.34 |
| Mesotherapies + ultrasound | $20 SBD 2.84 STEEM 34.67 |
| Facial cleansing | $20 SBD 2.84 STEEM 34.67 |
| Back cleaning | $25 SBD 3.55 STEEM 43.34 |
| Buttocks cleaning | $25 SBD 3.55 STEEM 43.34 |
| Facial Dermapen | $35 SBD 4.97 STEEM 60.67 |
| Facial + Chemical peeling | $30 SBD 4.26 STEEM 52.01 |
| Facial+Dermaplaning | $22 SBD 3.13 STEEM 38.14 |
| Facial cleansing VIP | $35 SBD 4.97 STEEM 60.67 |
According to your needs a new package is made to suit you
---
I hope all this information has been for your benefit and the next time you go to an aesthetic center you feel more confident about how you will feel and what you can expect from the treatments.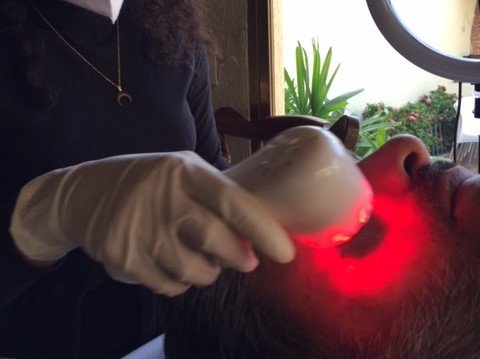 - XOXO
Remember that you can contact me on any of my social networks either to clarify any doubts or to schedule your next appointment:
---
---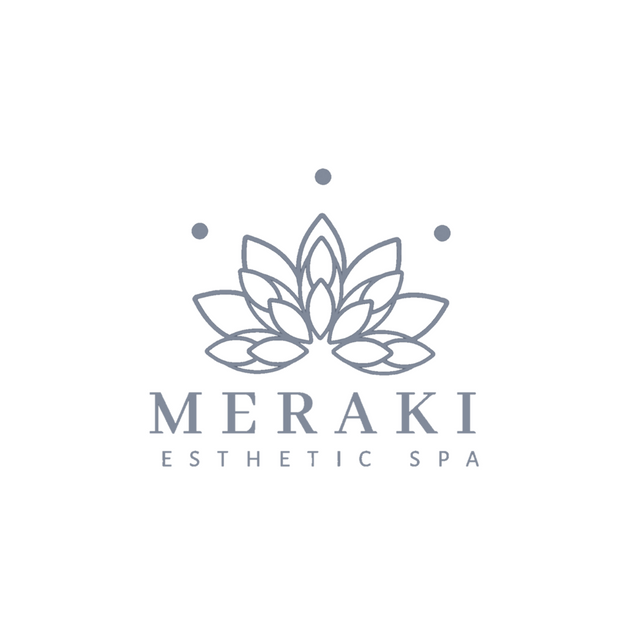 The receptivity that I have had through this medium has me very excited, thanks to all the guys at @businessactivity who work every day for this community to grow.