Launch of The Business Activities Diary - Share your experience when visiting businesses 📌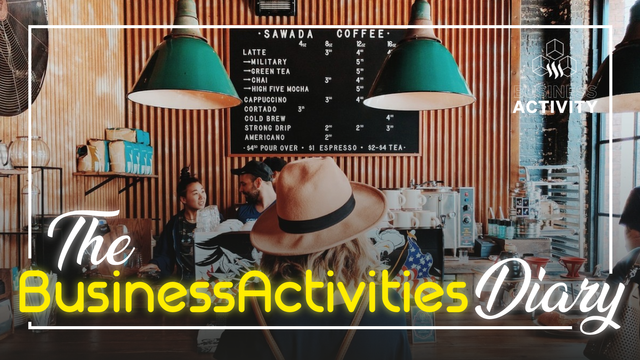 The development of activities of the members is very broad, we want them to feel comfortable and learn through the publications that will be shared how to manage finances, how to invest, save, what is expected of the current financial, technological world, how the economy moves , which brings so many unexpected changes.
Entrepreneur, entrepreneur, promoters, investors from all over steemit join The Business Activities Diary.
What is it about and what are we looking for with this new publication methodology?
They will now have the opportunity to display a new type of post, The Business Activities Diary.
The Business Activities Diary
Daily, regularly or on weekends, everyone at some point visits shops, restaurants, grocery stores, fishmongers, street stalls, fairs in different sectors, among others. We want you to share your opinion or comments about the business.
You can share the following information in your publication:
What kind of business is it?
Is your location ideal with respect to the type of business?
Photos of the business, own authorship.
Opinion of the business: how is the service, what is new and interesting, how do they achieve sales and customers according to their impressions on the site, how do you feel as a customer in the business, Would you improve the care or services of the business you visited?
Provide service prices in local currency and STEEM.
Would you recommend visiting the business? Please provide a rating.
At least in one image you must appear in the business. Proving that you visited the mentioned site. This is very important.
Posting Rules
Title: The Business Activities Diary [Current date] - yourtitle
Tags: #thebusinessdiary #steemexclusive #fintech #businessactivity
Minimum 300 words.
IMPORTANT. In the business community there are two forms of current publications that can be shared, as a business owner and related topics with finance, Cryptos, among others; This new form of acceptable content is incorporated under the community rules.
Do you want to join Steem Business Activity?
Please read the Introduction of our community:
Welcome to Steem Business Activity | General Rules

Join the Business Activity community
We are now on Discord!
Business Activity Team
@oscarcc89 - Founder 🔹


@cindycam - Editorial Staff 🔹


@gensequini - Team SBA 🔹


@riska-amanda - Team SBA 🔹


@litzney - Team SBA 🔹


@ponpase - Team SBA 🔹

Would you like to support our community with Steem Power Delegation?

Founder @oscarcc89 - About me - Discord: oscarcc89#4887