Business Activity | Beginning as an investor - How to verify your business in the community?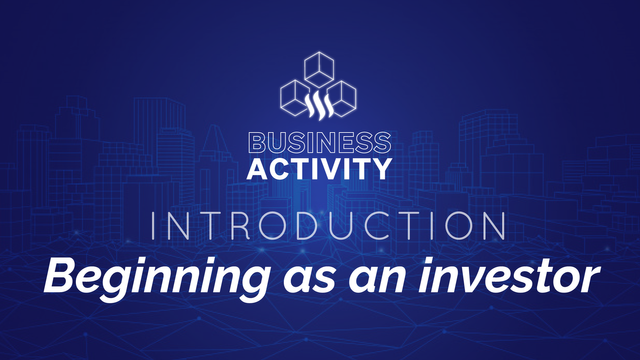 Welcome everyone to your business community, where each investor presents their business publications in different ways.
This publication is aimed at steemians creating business presentation publications, showing an appeal in everything that is the business world and its representation, through its content. His first publication in the community is his letter of introduction to the Steem Blockchain, where the amount is massive and they will be seen with great attention, because they are precisely business sectors, which must demonstrate their activity with the best possible impression, being not only in words but in deeds.
The introduction will give life to your new and first beginning on the platform, therefore, it is necessary to be clear, concise, and demonstrative not only in images but in writing, a powerful writing of what you have founded, are and maintain as an investor. , where the content must be extensive, eye-catching and captivating.
Your Business Presentation must contain
It is mandatory to follow the guidelines that are requested in this content.
Title
Business name | Official Presentation to the Business Activity community | by: @user
Before introducing himself to the business community, the business owner must make his presentation to the NewComers community. After this indication, you can formally present yourself in this community.
If you are an old user in steemit, just make your presentation in the business community, for more information anchor your home presentation.
Put the following information at the bottom of all business account posts.
Business logo
Copy and paste the code and replace the text in the right column
|Business name:|Company|
|-|-|
|Owner's name:|@user|
|Business address:|City, State, Country.|
|About us:|Link to presentation|
Tag
Use: #businessactivity

Beginning as an investor.
Each business owner and/or entrepreneur must show:
Who are?
Business objective
Vision
Mission
For the companies.
As a company, being old or new, it must have a presentation logo, the brand of its image, that must show it, it may well explain its meaning.
For entrepreneurs.
If you have a logo as an entrepreneur, please show it, if you don't have one, let us know, in the middle of your writing.
For all
Each company or entrepreneur must write in depth the aforementioned, including location, time founded, making all their business activity known to all users in clear and extensive words.

Important, clarify that you now accept STEEM and SBD as a payment method, and you must specify it in your presentation.

Show your social media links if you have any. This will help the verification.

Your introduction must contain a minimum of 300 words, to enter as a minimum in the development of your business activity.

Used correct format, be unique in the way of showing your business on the Blockchain. Enter the following link to obtain HTML & Markdown codes, for a better presentation.
https://steemit.com/spanish/@oscarcc89/aplica-formato-con-markdown-and-html
Please use the font size correctly, '#' for titles, do not use these labels for paragraphs as it distorts the information and does not display correctly on mobile devices or PC, please take into account.
Your verification and approval as an investor will depend on this; anchored for verification and corresponding label; You must join the discord channel, leave your message on the chat-general channel and / or locate the moderators.

What is not accepted?
Plagiarism.
Content from other platforms, which are not of their authorship.
When showing current content (date of joining the platform and community) that you have on other platforms or social media, add the link.
If you are a user with multiple businesses, you can only present one with your username, and you should create a new account with the business name.

Conclusion
Read each instruction carefully, if you have any doubts contact the Discord Server with the moderators, where they will kindly be helped with the current doubts.
An introduction is to clearly talk about the business, functions, performance, members involved, activities, and the entire start-up of the business in question.
Do not report briefly, extend the information the greater the better, the understanding of the activity you carry out must be explicit and concise.
---
We are now on Discord!
Business Activity Team
@oscarcc89 - Founder 🔹


@cindycam - Editorial Staff 🔹


@gensequini - Team SBA 🔹


@rjlv190 - Team SBA 🔹
---
Would you like to support our community with Steem Power Delegation?
Founder @oscarcc89 - About me - Discord: oscarcc89#4887