LAKSHMI Update - We 400 and Still Counting - Join for Wealth and Happiness
LAKSHMI - Growing Community - Join for Wealth and Happiness
We are happy to announce that LAKSHMI community is growing with active users. We started few weeks ago and now we are more than a century (399) users base. Cheers!! and congrats to all members. We will not stop here and try to grow regularly with team.
We all love Steem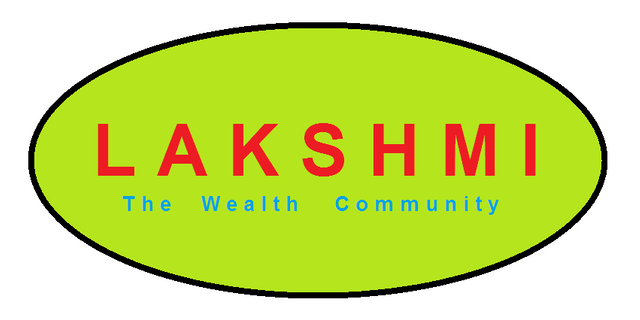 We have 73 active users, 243 interaction and 393$ pending rewards in community. So become a part of this growing community and make your future bright and secure. Our moto is "Wealth and Happiness for All".

We started LAKSHMI community about 4 months ago with few members. Now we have approx. 400 members. At the time of starting as i committed to provide 100% upvote to new members from my account and thereafter rest post was receiving 40% upvote daily. Till now, we didn't received the delegation for community support and i am still continuing by upvote, meanwhile my SP increased approx 3-4 times by buying more steem and powerup. Now, My voting power is continuously reducing because beside of community upvote, i have given some vote to friends and other steemians of my choice. Now, community is growing and my vote distribution increased in community. Keeping in mind the commuity growth, we have decided from now onwards I will provide my 60% vote on first post to new community member in LAKSHMI and afterwords rest post gets 25% upvote on daily basis. This will maintain my voting power as well as community gets benefits. If we receive any delegation then we will decide according to community decision. Hope this will work in community favor.
If you like to join our community 'LAKSHMI' then you will enjoy daily 25% upvote from me on your daily posts in community. The first post after join will entitle you my 60% upvote. The more details you will find here in my posts their. Hope you will find some interest here. Currently I have only approx. 72,500 SP and voting from my account. If we receive good delegation for LAKSHMI community, we will upvote all members post from community account. Till then you will get upvote from my account.
Details about how to join community LAKSHMI is here in post
You can help in providing delegation, so that we can grow together and support new comers at steemit. We don't have boundaries, so anyone can join and cheers community benefits. Please find delegation details here. The different ready delegation links are these
10SP
30SP
50SP
100SP
500SP
1,000SP
5,000SP
10,000SP
100,000SP
1 Million SP
The generic link for delegation is https://steemconnect.com/sign/delegateVestingShares?delegatee=hive-159906&vesting_shares=XXXXXX%20SP
You can fill any SP amount in place of XXXXXX. If you find any problem then please contact by commenting below.
Note : Please check the LAKSHMI community members post and give your feedback with comment in that post, if you like then give a upvote to support each other. This will much better and encourage members with #steemit. So what are you waiting, start now...
Community for Wealth and Happiness