Today I'm going to show you a tutorial of a painting made last year and that I want to share on the OnchainArt community.
By the way, if you are an artist and you want to show your art and process, tutorials or just share pictures of your artwork, you can join this community run by @midlet and which you will find here ----> OnChainArt,
isn't that great news ? 😊 🎊 🎉
The tutorial I share today is the one of this gourmet colorful painting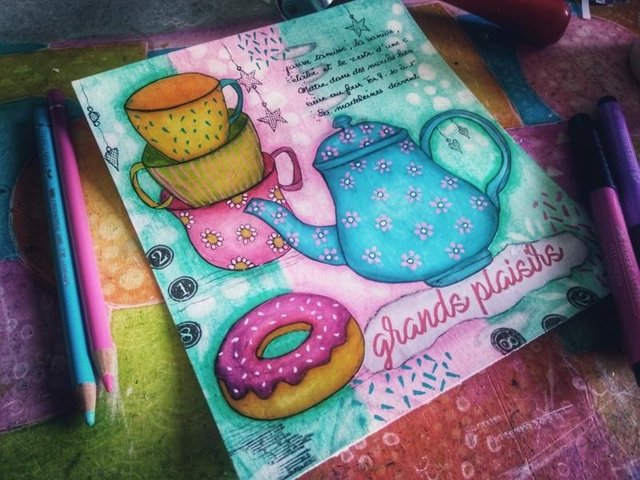 Aujourd'hui, je vais vous montrer le tutoriel d'une peinture réalisée l'année dernière et que je souhaite partager sur la communauté OnchainArt.
Soit dit en passant, si vous êtes un artiste et que vous souhaitez montrer votre art et votre processus, des tutoriels ou simplement partager des photos de vos œuvres, vous pouvez rejoindre cette communauté dirigée par @midlet et que vous trouverez ici ----> OnChainArt, n'est-ce pas une excellente nouvelle? 😊 🎊 🎉
Le tutoriel que je partage aujourd'hui est celui de la création de cette peinture gourmande et colorée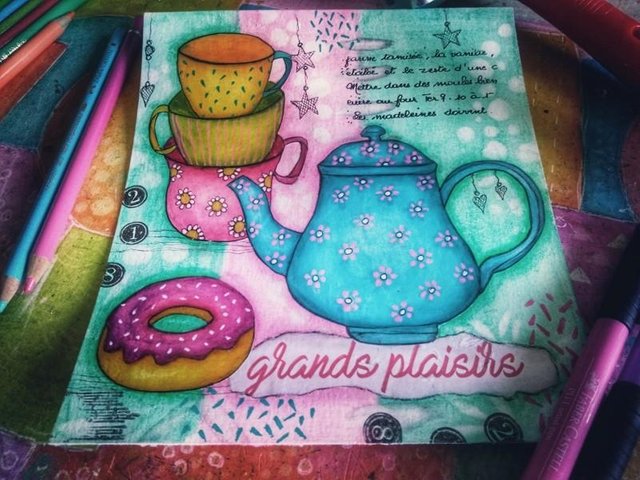 My intention is to make a gourmet painting around tea time!
Winter usually made me want to do a serie of paintings focused on enjoying sweets ...😉
First I started by drawing and painting a teapot with my Neocolor II watercolor pastels, on a simple sheet of white paper, like printer paper,
that I previously coated with a layer of gesso to make my support non-porous.
Here is the finished teapot which I then cut and will stick on my background when I will have painted it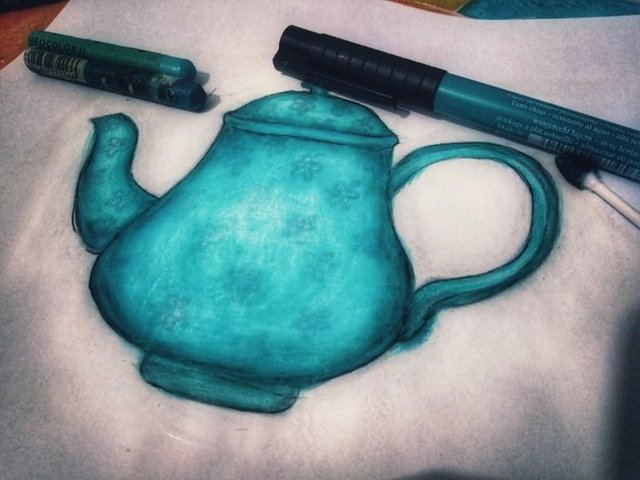 Mon intention est de faire un tableau gourmand autour de l'heure du thé !
L'hiver me donne généralement envie de faire une série de tableaux axés sur les petites douceurs à déguster...😉
J'ai tout d'abord commencé en dessinant et peignant une théiere avec mes pastels aquarellables Neocolor II, sur une simple feuille de papier blanc, de type papier d'imprimante,
que j'ai au préalable enduit d'une couche de gesso afin de rendre mon support non poreux.
Voici la théière terminée que je vais ensuite découper et que je collerai sur mon fond lorsque je l'aurai réalisé

The sweetness of tea time will be a donut! 🍰
so I draw a donut and will treat it the same way like the teapot : gesso + aquasoluble pastels for the colorisation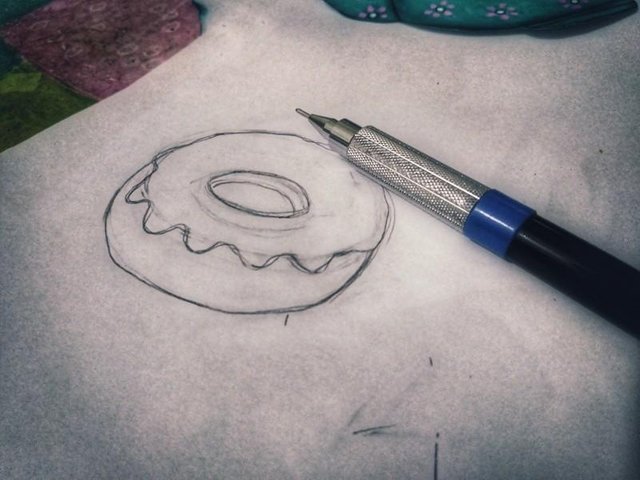 La petite douceur de l'heure du thé sera un donut ! 🍰
donc je dessine un beignet et je le traiterai de la même façon que la théière: gesso + pastels aqua solubles pour la colorisation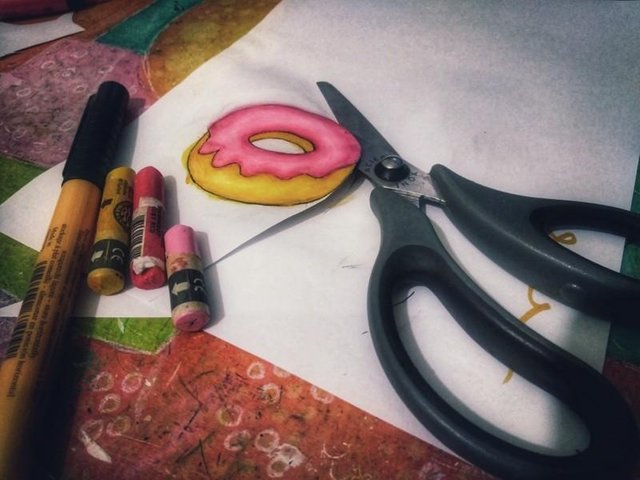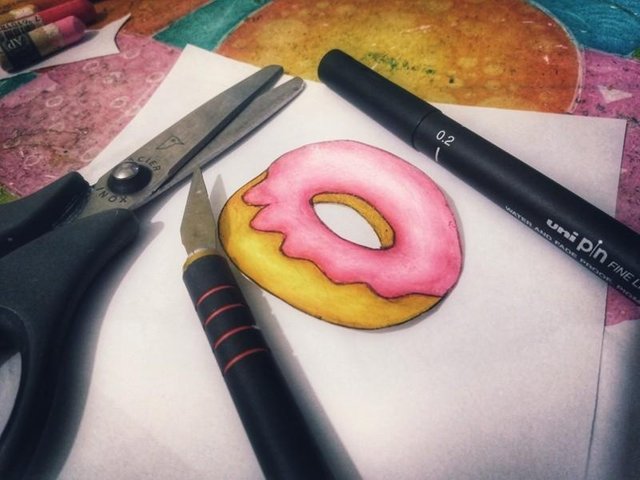 | | |
| --- | --- |
| I now create the background of my painting on a thick 18 * 20 cm paper, still using my watersoluble pastels Neocolor II after a layer of white gesso. | Je crée maintenant l'arrière-plan de ma peinture sur un papier épais de 18 * 20 cm, en utilisant toujours mes pastels hydrosolubles Neocolor II après une couche de gesso blanc. |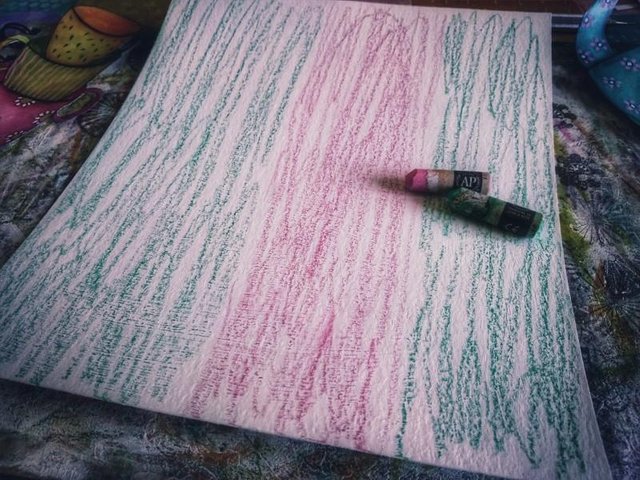 | | |
| --- | --- |
| My wet brush spread the pigments of these wax pastels and I can create patterns by adding more water with my brush, which remove some paint and let the white gesso layer appear 😉 | Mon pinceau humide répand les pigments de ces pastels à la cire et je peux créer des motifs en ajoutant plus d'eau avec ma brosse, ce qui enlève un peu de peinture et laisse apparaître la couche de gesso blanc 😉 |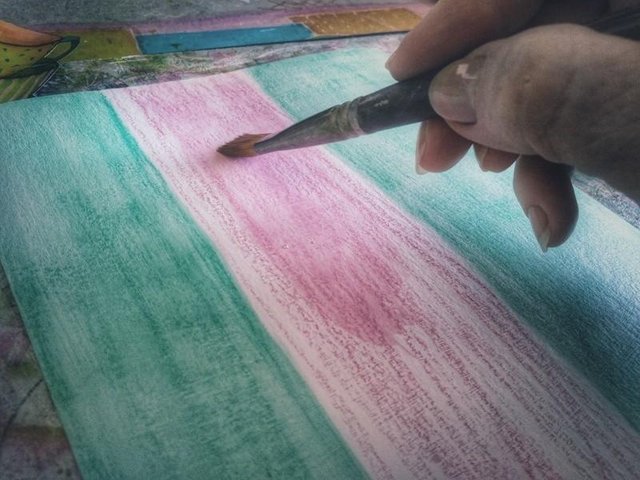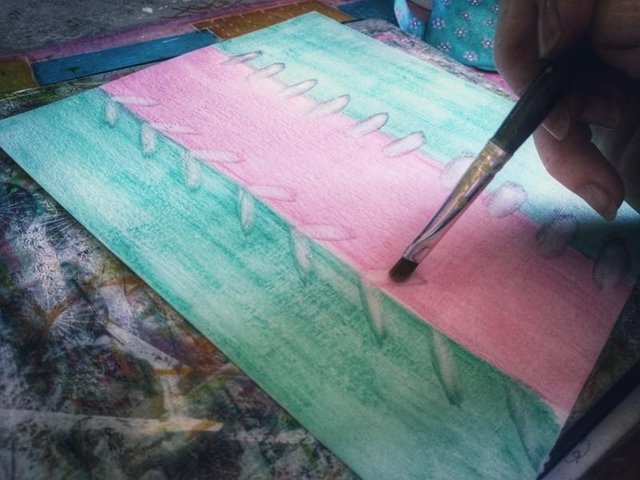 | | |
| --- | --- |
| I have made also a pile of cups of tea 😊 | j'ai également fait une pile de tasses pour le thé 😊 |
| and I stamp an extract from a cooking recipe | et je tamponne un extrait de recette de cuisine |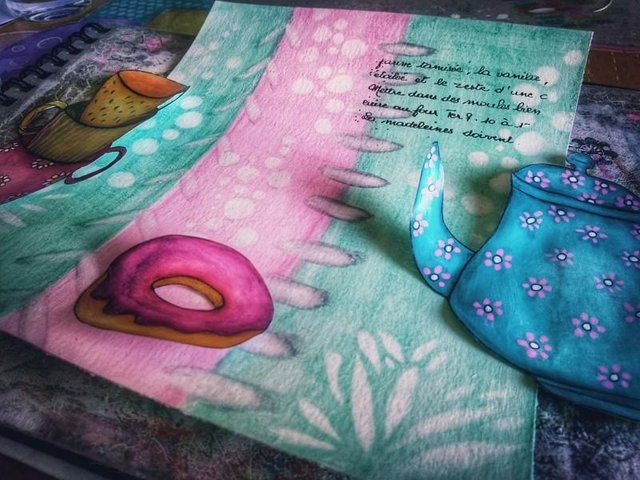 | | |
| --- | --- |
| I stick each element on my board: the cups, the teapot and the donut | Je colle chaque éléments sur mon tableau : les tasses, la théière et le donut |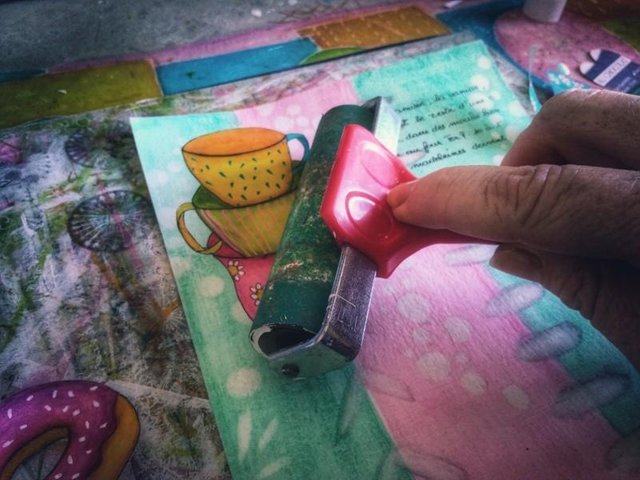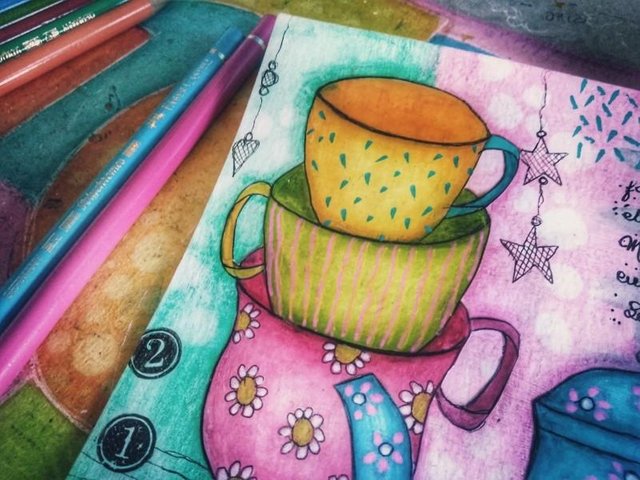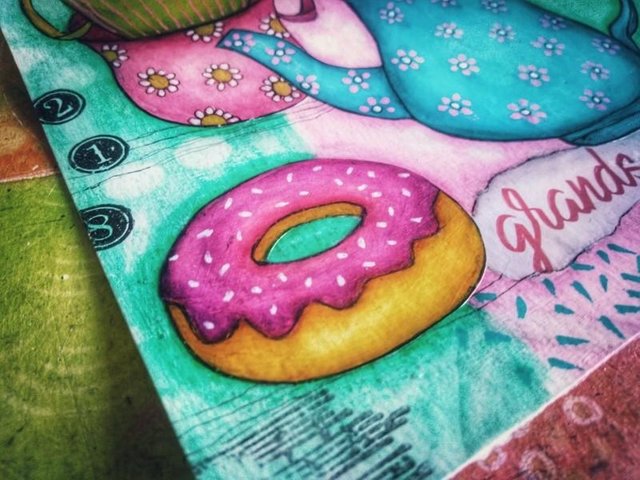 | | |
| --- | --- |
| I add some embellishments here and there | je rajoute quelques enjolivures deci delà... |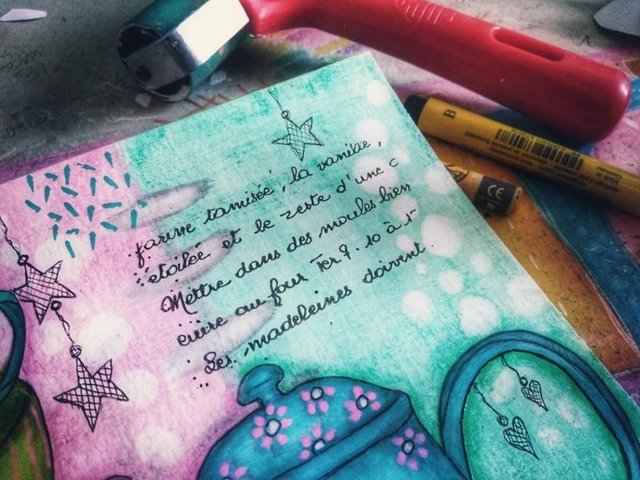 | | |
| --- | --- |
| a few words from a magazine page that I tore up and I stick to the right place | quelques mots venus d'une page de magazine, que j'ai déchirés et que je colle à l'endroit propice... |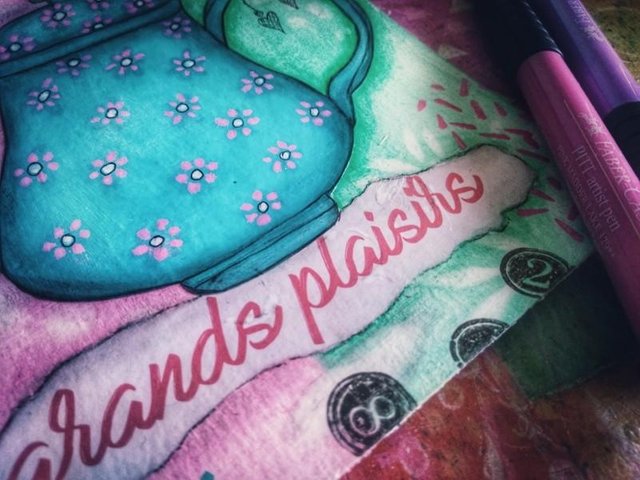 | | |
| --- | --- |
| and here is my gourmet painting finished! | et voilà mon tableau gourmand terminé ! |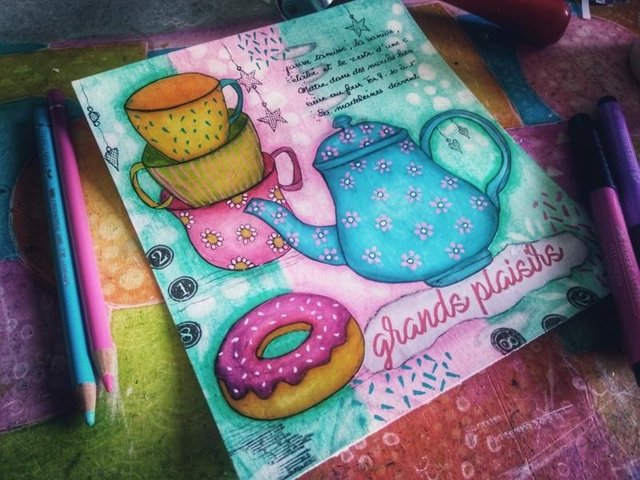 I invite you now to have a cup of tea together
je vous invite à présent à prendre une tasse de thé ensemble
It is not the tea that makes this moment a gourmet one of course ... it's the donut 😉
But it is always a delightful pleasure to have a leisure time surrounded by lovely colors and flowery patterns,
and most of all, in good company ...the finest that can be ! 😊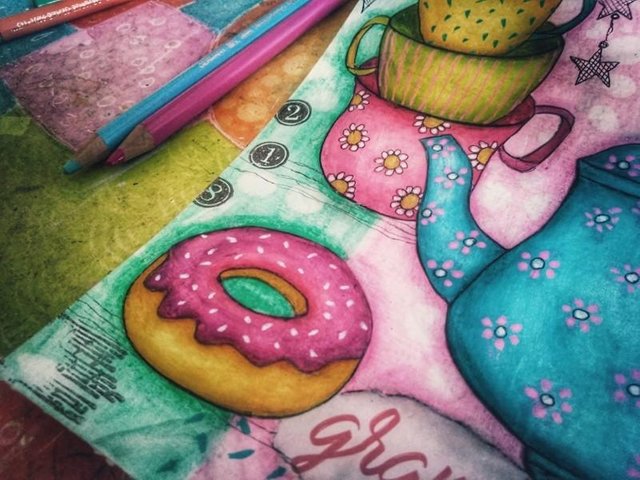 Ce n'est pas le thé qui rend ce moment gourmand bien sûr...c'est le donut 😉
Mais c'est toujours un plaisir de passer un moment détendu entouré de jolies couleurs et de motifs fleuris
et surtout, en bonne compagnie ... la meilleure qui soit !😊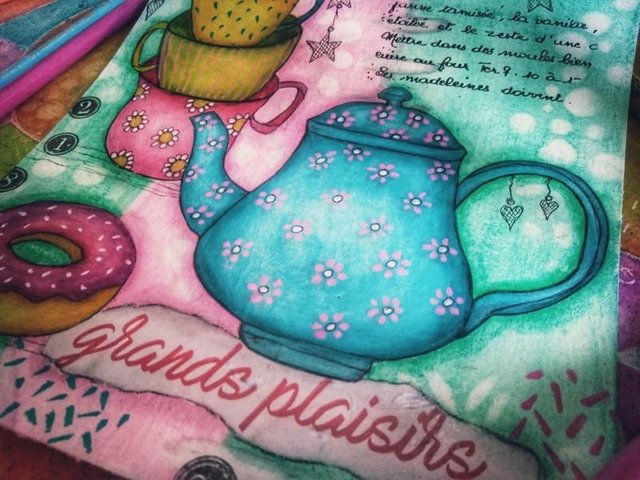 I wish you a fantastic afternoon Lovelies !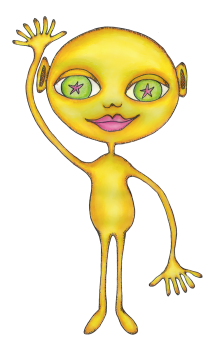 Bye bye les amis !

My last posts
#AmazingNature even in the simpliest flowers ❤️ [ENG-FR]
---
Custom wooden door sign [ENG-FR]
---
Luigi the gnome featuring Mario the Snail 🐌
---
A goat portrait for @derangedvisions contest. Photography followed by a drawing 😊 [ENG-FR]
---
Upside down swan for #FeatheredFriends
---
Homemade koala sticker tutorial [ENG-FR]
---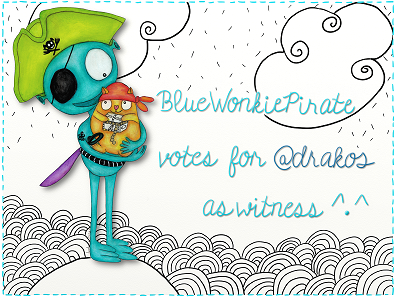 ---
---
Collect my art on Makersplace.com
---
---