5,348 STEEM needed to complete the budget, let's keep donating !!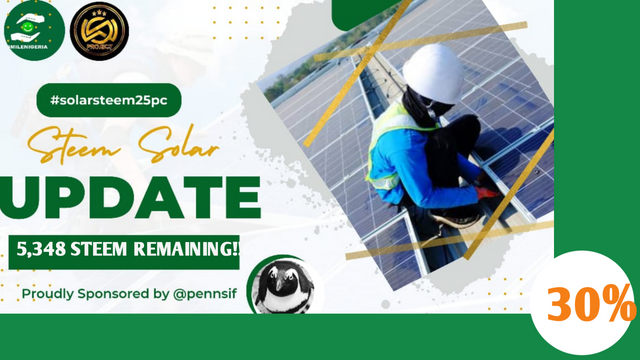 Greetings,
I want to start by Commending the few users that are supporting this project consistently just like you believe in this, I also believe in it and I also believe that very soon we would celebrate the end part.
Here is another update for the solar steem fundraising activities for the past week. A lot has actually happened within this interval that is worth mentioning.
In our Sixth update today, we have some interesting news to share with you all.
I am glad to also let you know that the donation is ongoing and it is moving gradually, and little by little we are getting there.
This journey might not be an easy one as I have mentioned on many occasions, but gradually we can achieve our goal which is just to have the needed fund to execute this project, and guess what guys? this call for constantly setting beneficiaries to smilenigeria in our various publications just like we are doing.
Looking at the smilenigeria official account this evening, we can all see the progress so far in the fundraising, it is moving well and it has yielded some good results.
As you can see from that update, we are making good progress, and I believe we can reach there just very soon, so let's do it. Time for celebration is ahead of us and we shall all gather to celebrate once this is achieved.
---
---
All donation counts. Charity is one of the core cardinal activities of this community and it has made its name a great one within a short period of time, we would continue to do our best to get this fund completed, even though it might take a little time.
---
---
Remember, you can also transfer some STEEM to the smilenigeria account as an individual or you can send some STEEM from your charity account if you have one and if your team policy permits that. All you have to do is to make a post about it and alert me.
Interesting Update
Thanks to @pennsif who has donated his prize for the Award he won as the best Community Contributor to @smilenigeria in other to support this project.
---
---
As also part of my support, I have donated a 50% reward of my prize as the best Community Contributor Award winner to @smilenigeria too.
This is going to make a huge impact in raising the fund.
---
---
Wallet Update
Presently we have 410.071 STEEM out of the 5,758 STEEM that was remaining to purchase this Solar PV for this project, which means 5,348 STEEM are still needed to complete this, don't forget that the budget price was 9000 STEEM. By the way, that's a big growth, though it's a little bit far from our budget, we can achieve it, friends.
---
---
In response to this, I as the leader of world smile Project Nigeria humbly invite all to support the fundraising shortage for the Second Steem Solar PV Project in Nigeria, it doesn't matter which community you are writing to set this, hence you are setting it to smilenigeria and using the hashtag #solarsteem25pc.
---
---
For generous donors and steemians who find this project useful for the general public, you can make voluntary help by setting a percentage of your publication directly to the WSP Nigeria account @smilenigeria and also by including the hashtags #solarsteem25pc among your first 3 hashtags.
---
---
In other to realize these needed funds, there would be many interesting programs that will come up soon coupled with some contests.
Let's keep donating till this happens…!!
I want to thank you all for your generosity. Very soon, I have already started using the smilenigeria account to support publications that set beneficiaries to the smilenigeria account. This is our way of appreciation.
Related Publications:
---
---
Sponsor:
This project is sponsored by @pennsif as part of his off-chain project. It is a great privilege for us to have such a great interest from pennsif.
Note that it is also governed by the @worldsmile project. Feel free to show your support for this project by donating.
---
---
---
---
---
---
Regards:
Nigeria, December 22nd, 2022
@ubongudofot
World Smile Leader / CR For Nigeria