WSP - A Propose Budget to Install 1000 watt Solar Power Energy [23rd May, 2022]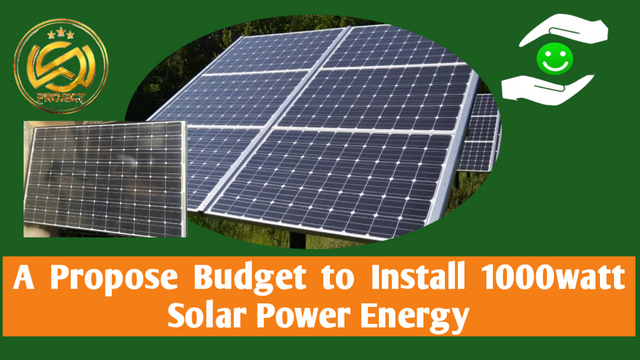 Greetings Friends,
Following the recent electricity Crisis in Some parts of Nigeria, a part was critically affected due to a fire outbreak that took place at Nwanaiba, Uyo in Nigeria.
Members of this zone were affected as they face electricity outages for a very long time now. The report has it that, it might take months before this is solved by the Electrical Power company.
The world smile Nigerian leader ubongudofot is in the same zone in which this electricity problem has occurred.
WSP Nigerian leader made a post about this some days ago in his personal account on how Electricity issues can be solved in Some parts of Nigeria and one of the good suggestions adopted was to install a solar plant.
Since the smilenigeria account is the dedicated account that is used to receive donations for charities, it will also interest you to know that this account would be used for all the donations made toward realizing the fund for the solar power energy purchase and installation.
You can read more about this project through these publications published by ubongudofot:
Beneficiary/Target
The beneficiaries of this project include Steemians living in the zone shown below, and at least 40 or more people living in this zone of Ekpri Nsukara, Uyo, Nigeria.
This plant is going to be installed in an enclosed space. Locked up in the same Compound where the WSP Nigerian leader is staying. It is going to be under his supervision daily.
Location:
Time required For Run the project
The project implementation would be a quick one. On Confirmation of disbursed funds for the project. Not more than a week would be enough to move equipment and materials to the site, after which a day or two will be enough to round up installations, testing, and launching.
Power Capacity
The Solar plant will generate 1000 watts of Electricity for this spot. One crystalline Solar panel to regularly charge the battery, along with a 100ahms backup battery. This plant can run for 24hours.
---
Cost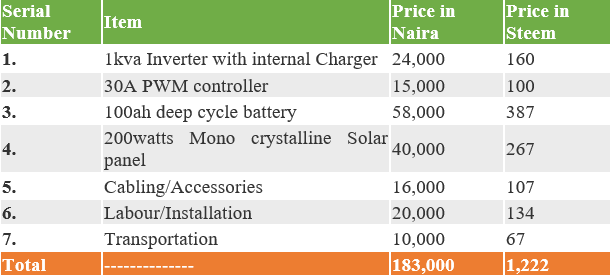 Note: Price of steem is based on the current price of today 18th May,2022
Prices can rise since they are imported. Globally prices are unsteady these days, especially in Nigeria. So, the prices mentioned above are based on the 18th - 23rd May, 2022 price.
Project Implementation Stages
After the disbursement of Funds, the project is scheduled to go through the stages below:
• Shipping the equipment and materials to the site from the depot.
• Installation of the plant
• Testing of the plant
• Commissioning/ launching of the plant.
All would be published here for fairness.
We hope forward to realizing this project through your donations.
Thank you for all your support from different users and the Steemit Team (@steemcurator01 and @steemcurator02) so that we can respond to every important problem in Nigeria and also the world step by step, we cannot do it alone without your intense support. Because of this reason, we continue to look forward to this support through sharing rewards and upvotes for the sustainability of the smilenigeria program in the future.
Regards:
ubongudofot (WSP Leader For Nigeria)