Perela is a potential crop as an edible oil in Bangladesh
Perela is a potential crop as an edible oil in Bangladesh.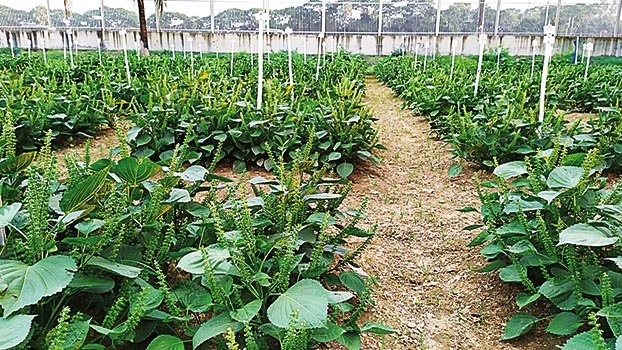 Image Source
The total demand for edible oil in Bangladesh is 51.28 lakh metric tons, of which 48.21 lakh metric tons have to be imported. Its value is 3.20 billion dollars which is 26 thousand 138 crore Bangladeshi rupees. In our country, mustard, groundnut, sesame, linseed, soybean and sunflower are cultivated among the oil crops. Oil is usually made from mustard, sesame and sunflower. At present only 4% of the cultivable land in the country is under oil cultivation. Mustard is cultivated in a total area of ​​4.44 lakh hectares of land in the country, from which 6.5 lakh metric tonnes of mustard and 2.50 lakh tonnes of oil are produced. (Source: AIS)
The demand for edible oil is increasing day by day in the country. But the cost of imports is increasing as production is less than required. A team of researchers from Sher-e-Bangla Agricultural University (Shekribi) has come up with a new oil crop 'Golden Perilla' to reduce import dependence and increase the yield of quality edible oil. After a long period of research, the research team has been able to adapt Perilla to the native climate. Perilla is an edible oil variety rich in omega-3 fatty acids. Sau Perila-1 (Golden Perila BD) is a species of adaptive parila in Bangladesh. Sher-e-Bangla Agricultural University Professor of Agriculture worked to expand the variety in Bangladesh. HMM Tariq Hasan, Professor of Horticulture. AFM Jamaluddin and Mohammad Abdul Qayyum Majumder, an officer of the 27th BCS (Srishi) cadre of the Department of Agricultural Extension. As a result of continuous research for a long time, it was possible to determine the suitability of the crop for cultivation in the conventional agricultural season of Bangladesh. As a result, on 12 January 2020, the crop was named as Sau Perela-1 (Golden Perilla BD) variety and released by the National Seed Board (GHZ) of the Ministry of Agriculture. The crop is already being cultivated experimentally in 12 districts of the country and its bumper yield is expected. The specialty of this crop is that the oil obtained from its seeds contains 50-55% linolenic acid (the main source of omega-3 fatty acids) which is very beneficial for the human body. 40% oil can be extracted from its seeds, of which about 91% is unsaturated fatty acids. The oil of this seed can be extracted in the conventional grinding of the native method.
Characteristics of the variety
Sau Perella-1 (Golden Perella BD) belongs to the family Lemiasi (Mint Crop). The height of this species is 90-100 cm. Is up. The seeds can be white, gray, dark brown and the weight of a thousand seeds is 3.5-4.00 grams. The variety is drought tolerant. Cultivation can be done in Kharif-2, which will help reduce winter crop dependence.
Medicinal properties of Perilla: Its oil is very beneficial for our body, especially for heart, brain and skin, including diabetes. It contains 50-55% omega-3 fatty acids which are very beneficial for the heart. 91% of total fat is unsaturated. It boosts immunity, controls high blood pressure, diabetes. It is extremely beneficial for the eyes.
Use of Sau Perella-1 Oil: Oil obtained from seeds can be purified and eaten without refining. This oil is used for various purposes. For example, in different types of cooking. Mixed with salads. In making different types of mash. In making pickles and sauces. In increasing the aroma of different foods.
The production technology of U Perilla-1 (Golden Perilla BD) is suitable for cultivation of almost all types of non-waterlogged soil crops However, sandy loam and loamy soils are more suitable for perilla cultivation. Cultivation is done in Kharif-2 season. 1.0-1.5 kg seed is required per hectare. Suitable time for sowing seeds is 15th July to 25th July. Total production period is 100-105 days (30 days in seedbed and 60-65 days after planting).
Seedbed preparation: Seedbed width 1.0-1.5 m length Any amount can be taken according to the size of the land. Healthy seedlings can be obtained by arranging organic manure in the seedbed. There should be a drainage system between the two beds in the seedbed so that excess water does not accumulate after rain. As the seed size is small, the soil should be loosened as much as possible. Care should be taken so that ants do not attack. As the seedlings are likely to be damaged due to monsoon rains, the first 15 days of sowing can be covered with polythene canopy with poles around the seedbed.
Seed sowing: The soil in the seedbed should be well drained. Sowing seeds in a half inch deep line increases the germination capacity of the seeds. If seeds are sown without lines, the soil should be sprinkled on the seeds after sowing. After sowing the seeds, light watering should be done in the seedbed. Care should be taken so that the seedbed does not dry out completely.
Land preparation: Land should be prepared by cultivating four or five landscapes and scraping the soil with a ladder. Arranging drains around the land will facilitate drainage.
Fertilizer quantity and application method
Seedling planting: 25-30 days after sowing the seeds are suitable for planting. At this time each plant has 5-6 leaves. Seedlings should be planted immediately after lifting. Leaving soil in the roots while tying the seedlings after lifting the seedlings helps in rapid growth of the plant after planting. Light irrigation should be given immediately after planting the seedlings. The planting distance is 40-50 cm from tree to tree and 30-50 cm from line to line.
Irrigation and drainage: Irrigation is usually not required as perilla is cultivated in Kharif-2 season. However, if there is no continuous rain for 15-20 days, light supplementary irrigation may be required at the time of flowering. Drainage system should be maintained so that water does not accumulate in the land.
Interim care: Weeding should be done once 10-15 days after planting and second time after 25-30 days. Crop diseases and insect infestation are generally very low. However, the following insects can attack.
Cutting Insect: This insect hides under the ground during the day and cuts the seedlings at night.
Remedy: After seeing the affected cut tree, the soil around it should be turned upside down and insects should be collected and killed. If the infestation of this insect is high, it is necessary to use pesticides as per the advice of the local agriculture department.
Thanks for visiting my blog
#steem #steemexclusive #steemit #actnearn #ctp
---
---
Join Serey telegram community: https://t.me/joinchat/ZdpxxkcrWvkxYWU1
Read Serey white paper: https://serey.io/files/serey-whitepaper-september-2020.pdf