My Town famous StreetFOOD "Chicken Samosa"|| SteemFoods Contest -4
Life is getting busier day by day. And I've been thinking since this morning. I want to take part in the Steam Food Challenge Four. So this is my post to participate in the ongoing Steam Food Contest Number Four.
My food today is not the food of a big hotel, but today I will take you all to my city's famous street food chicken samosa shop.
This samosa shop is small. And only three or four people can sit and eat samosas. But due to lack of space, most people buy chicken samosas from this shop and take them home. And enjoy eating.
My nephew Abdul Mutakbar Khan told me to feed the uncles samosas. So my nephew and I went to the Samosa's shop to buy samosas. This shop is very famous for its delicious samosas.
The samosas of this shop are very popular among the people of Ardgar village and school children.
This shop is located on the premises of my city Moch Union Council. The shop is located in the city of Moch, next to the Government Bohaz High School, next to the Mahmood Store. And the maker of the samosas is named Mama Chaudhry. People affectionately call him by the name of Mama Chaudhry.
Reasonable selling price. And a chicken samosa costs 20 rupees, while the same chicken samosa costs 40 rupees at a big store.
The second reason is that it is cheaper and the other reason is that this samosa is more cheaper than other places.
The third reason is that the sauce of this shop is very delicious which is given with samosas. Hanji, I really like Mama Chaudhry's sauce.

---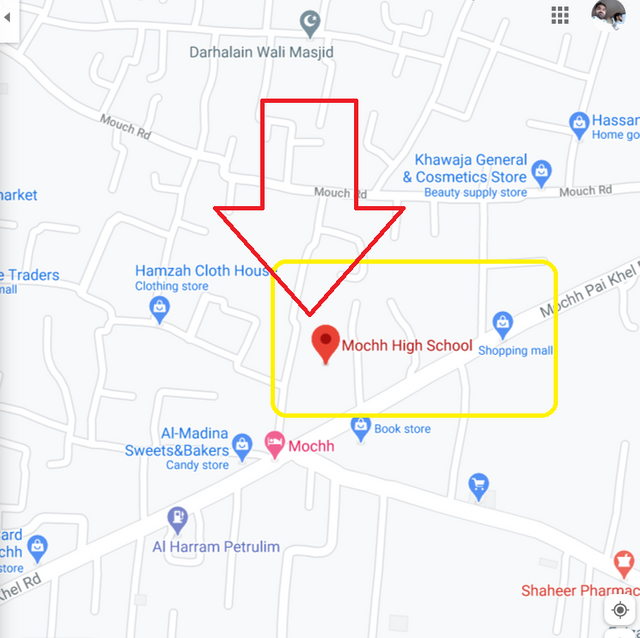 You can see Mama Chaudhry in the picture above. You can also see Mama Chaudhry's pot. In which he is frying samosas in oil in a pan. And in the picture above, Mama Chaudhry and my nephew Abdul Matakbar are standing. And we are waiting for our samosas to be cooked.
۔ Mama Chaudhry cooks samosas by lighting a fire in front of her shop. Mama is a very honest samosa seller. And all the children in the area love Mama Chaudhry very much.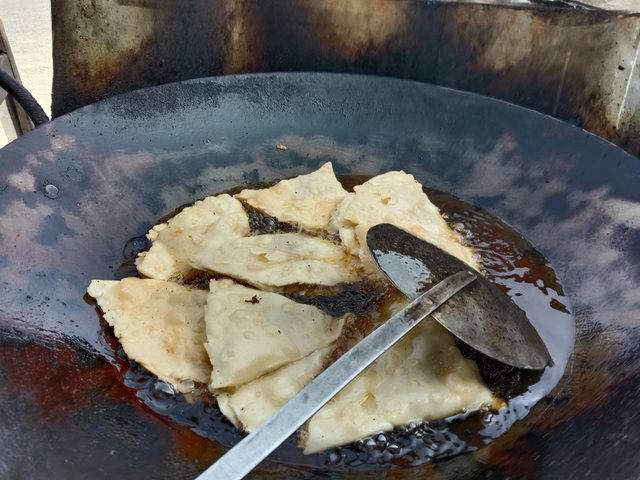 I asked Mama Chaudhry what ghee he used to make samosas. He told me that I don't use ghee but samosas are cooked in the best dal company oil. And I'm glad to hear that the best quality oil is used to make samosas.
When I asked the recipe for making samosas, Mama Chaudhry told me that it is very easy to make samosas.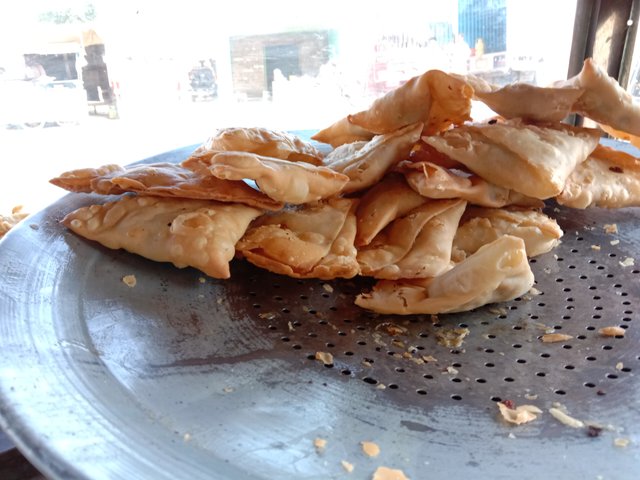 INGREDIENTS OF MAMA CHAUDHRY SAMOSA
-Flour
Chicken Vela
Oil
Water
Lentils, onions, potatoes, green coriander
Samosa spice powder
Tomato
the method of preparation
First soften the potatoes in water and then grind them finely. In this way, grind all the ingredients like green chillies, coriander and onion and mix them in the chicken stock.
And knead the flour and knead it into small lumps and make them into the shape of a samosa. Fill the mixed ingredients in the samosas. And fry in hot oil. Cook when the samosas are browned. Enjoy with sauce.
It is really very easy way to make samosa at home, but i think some things look very easy but it is very much difficult. i will try at my home this method.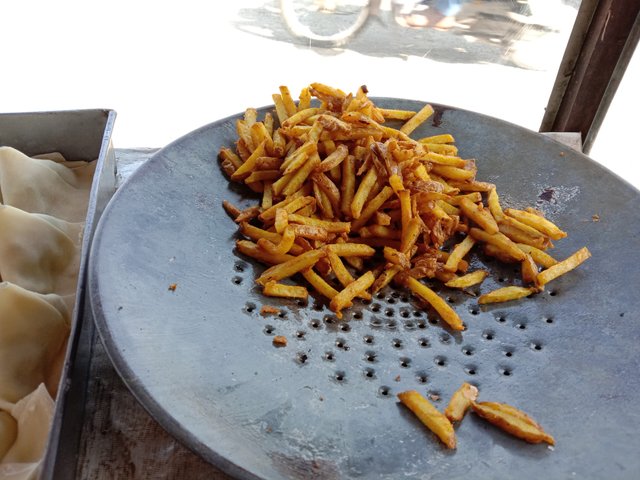 mama has not any written menu but he also sell potato chips and you can see chips photo in this pic,but i did not buy chips we only buy samosa , so i bought total 12 samosa for my family and i paid Rs.250 pakistani rupees and this amout is equal about $2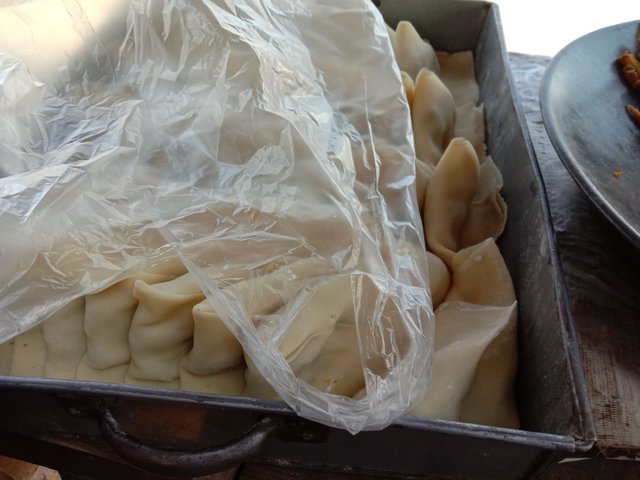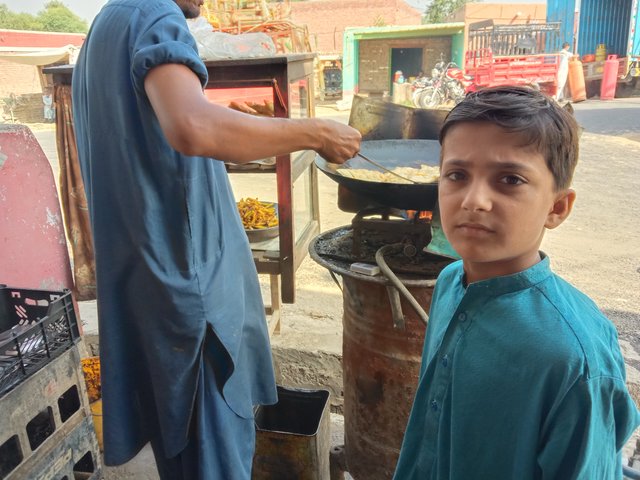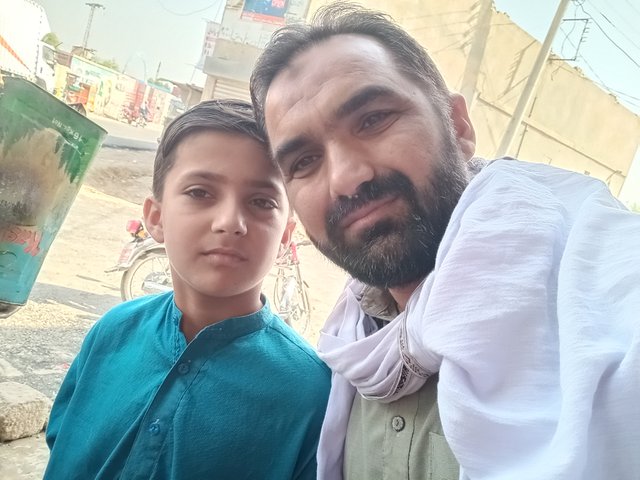 in above photos it is view of shop out side road, so shop is very much small and only 3 4 people can sit, so i made these photos and selfie at the time of purchasing samosa,, so you can view out side area of street food shop, there is no distance from road to shop, so shop is on road, hope you all will enjoy these all photos.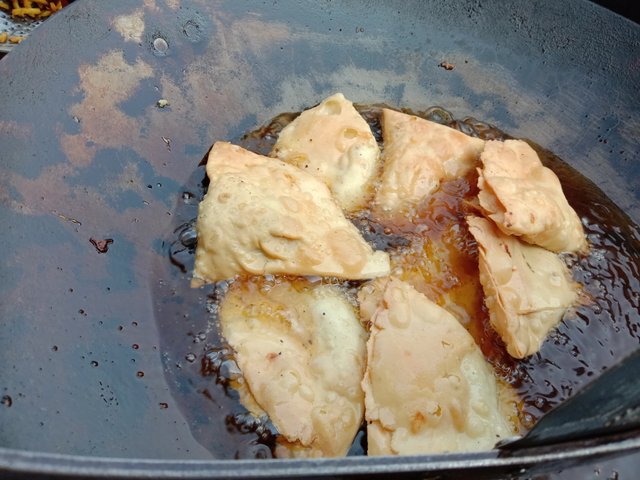 it is photo of delicious samosa , in my area other samosa shop are very much expensive and their samosa size is also very much small,but mama samosa is very much big in size and also very much cheap, you can see beauty of samosa in this pic, so it is our best street food in my city, it is cheap , delicious and amazing, so i bought it and now i am trying to take participate in contest 4 that is held by steemfood community, i do not know you all will like it or not but hope you all will enjoy,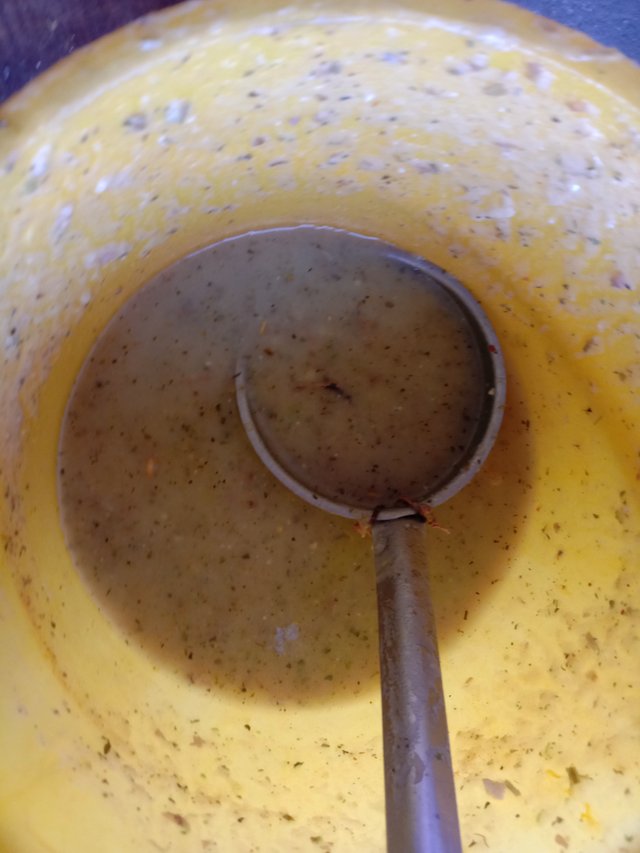 it is chatni, this chatni also serve with smaosa , here i am saying true, this chatni is very much delicious so some people like this samosa because of this chatni,, mama prepare chatni in large quantity to serve customer, because customer demand chatni very much,, so you can see in bucket chatni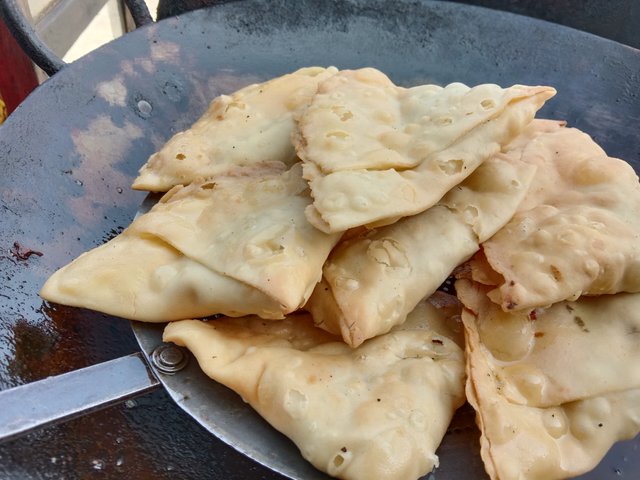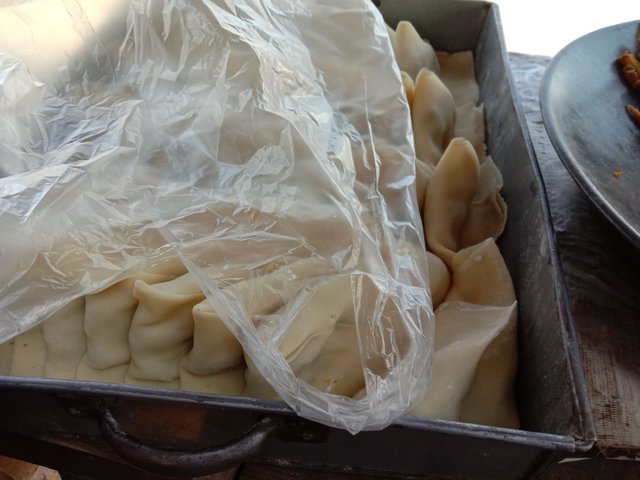 This is my entry for SteemFoods Contest -4- Promote a Restaurant In Your Area! , thank you very much for @alikoc07, @steemitblog, @steemcurator01 for giving us this opportunity to share life introduction here.
if any new friend do not know about this contest then he/she can get information from this official post SteemFoods Contest -4- | Promote a Restaurant In Your Area! | 250 Steem Award-Winning Contest |

steemfoods community is best community for food lover.
Regards
@yousafharoonkhan