Aggression Among youths-Causes and effects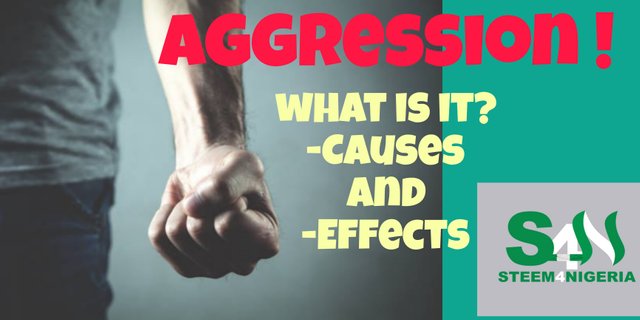 Introduction
Welcome back to our weekly contest dear community members. This week, we have chosen a topic that is common and that effects Almost everyone in our localities.
Recently, it has been observed that aggression is on the increase especially among the youths. It is no longer a hidden fact. I don't know if that is the case in your city of residence. But let's find out From you through this topic.

Contest Hints
✓ What is aggression?
✓ Is it more prevalent among the youths in your area?
✓ What are the causes?
✓ What are the effects?
✓ What are the solutions?

Contest Rewards and Distribution
The contest's reward pool is 15 SP.
Top 5 winners win 3 SP each.

Contest Guidelines and Rewards
° Write an article on the subject with at least 300 words and post it in this community.
° Flee from plagiarism
° Endeavor to subscribe to the community and follow our official account @steem4nigeria.
° Leave reasonable comments on other entries from other participants.
° Use the tag , #steemexclusive, #creativewriting, #yourcountry and club status in the first four tags. Invite your friends by mentioning them in your comment on this post and at the bottom of your entry.
° Write quality content to stand out and also to be suitable for support. Quality articles in the contest can be submitted for booming support. The contest ends on the 11th of September 2022.

Conclusion
We hope and believe that this topic will catch your attention and you will do your best on it. We wish you all the best in this contest. Success to you

---
Support the growth of Steem4Nigeria by delegating some SP

50SP
100SP
150SP
250SP
500SP
1000SP
1500SP
2000SP
2500SP