I Am Proudly Nigerian, Planting And Harvesting My Cassava, And Processing It Into Garri (Cassava Flakes), A year Project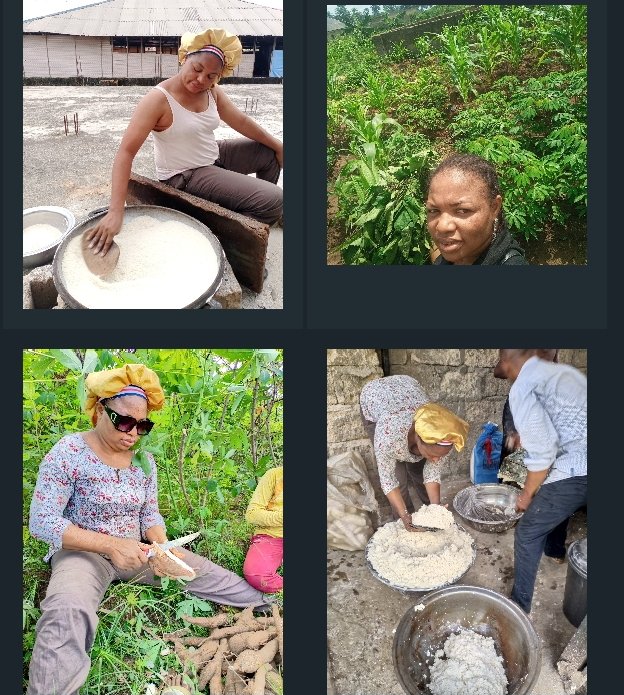 Hello dear Nigerians and friends, trust you are all doing great? Today, I will like to share with you all how I have planted, harvested and even processed cassava into flakes or garri which is Nigerian most cultivated crop. It's amazing how it all took place within one year. Please read on and see what I mean.
Cultivation of cassava with the stem
It was a year ago when this journey began and that was April 2021 when I and my husband thought of cultivating cassava in our farm land. It looked impossible because we are in a land that is not our home town and you know that this cassava is mostly planted by those in the village and those in the cities will travel to the village and come back with garri (cassava flakes) as a gift. So it looked awkward planting it in the town. But with mush encourages from friends and well wishers, we decided to give it a trial.
I made a post about a year ago when we went to plant the stem. Some of the stem were brought to us by my parents in laws from the village and they even went with us to the farm to help us start the planting. See the picture and the post link below 👇👇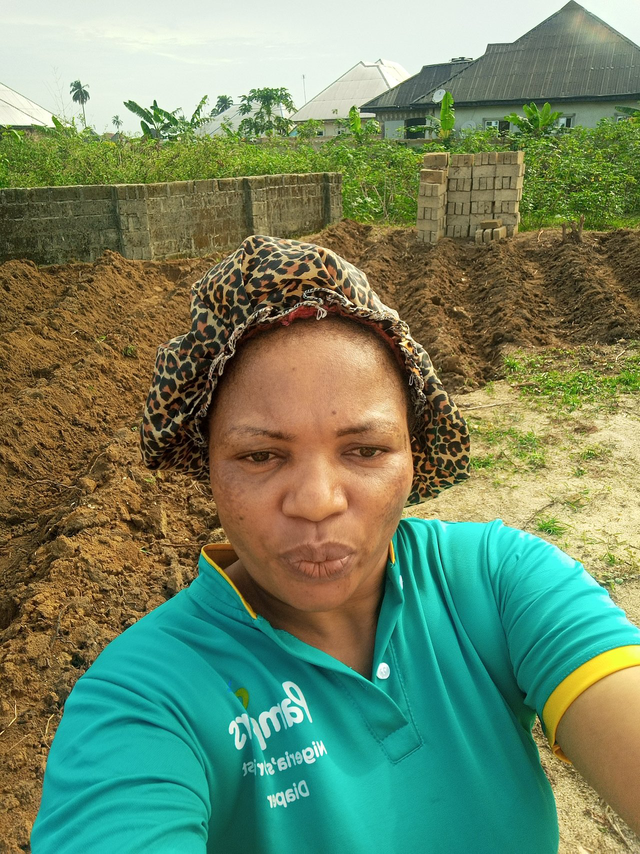 Link
The planting was done by first clearing the bushes, then creating ridges. Then the stem were cut into smaller pieces and planted on the ridges.
Caring For It
Next was the weeding and when it seemed that they were not doing well, we added fertilizer to it to revive it. After about 2 months, the growth became more visible. I visited and made a post about it especially when I go there to harvest pumpkin and corn. One of the Publications I made about it in the one I have added the link below along with the picture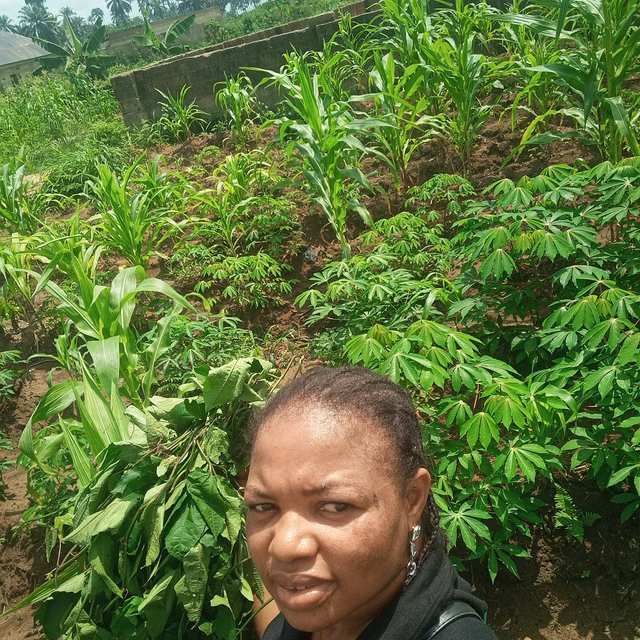 Link
You can see how beautiful and fresh the cassava looked. Hope you can identify the one that is cassava? Haha, I trust you do.
Harvesting
After about 10 months, we started harvesting the cassava little by little to make into tapioca until just this past Monday, April 10th, that we made up our mind to harvest and process the cassava into flakes or garri. The efforts needed to do that is much but we had to do it.
It was early morning that faithful Monday that we started harvesting the cassava. It was pretty easy because the ground has softened due to the rain that have been wetting the ground. I even was able to uproot the cassava unlike before when the ground was very strong. The yield was encouraging. I have added videos when I was personally harvesting the cassava, you will like it but don't laugh at me, hahaha 🤣🤣
The video explains the harvesting stage very well. I will also add some pictures for more explanation
@benton3 is the one washing the casava in the picture, @wizzyboy3 and @madilyn02 are the ones with me in the other picture
Processing
We couldn't finish the whole cassava in the farm because it was big, so we peeled the ones we harvested, washed them and took them to the mill for grating, see the video below
The arrangement was for them to grate and squeeze the water out of it. That was what happened , so after grating, we just bagged the grated cassava and left it there till the next day so that the water can be squeezed out.
Then we started making arrangements on how to get the things needed for the final stage of the processing. We made contact to get the following
The frying pan ( a special pan is used for frying the garri). It is a custom in Igbo land where I come from that when a girl is being given in marriage, this spacial frying pan along with other kitchen equipments will be given to the girl as a gift. I was also given this garri frying pan by my parents as if they knew that I will someday start frying garri. But my own pan is in my in-laws house. I had took it down there when we were relocating to this city that am residing now. Hence, I had to borrow from someone else. In fact, it was @eliany that brought the pan to me from her mother inlaw.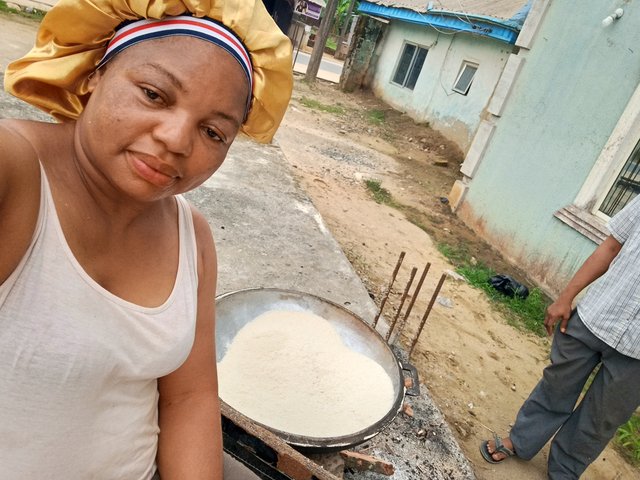 you can see the pan down there with garri inside
The next thing was the sieve. Yes, when the cassava is grated, it usually contains some lumps that needs to be separated with the sieve. So I also had to borrow from someone.
Then the turner and pot stand was also arranged for. Luckily, I got everything I needed including firewoods. But the firewoods were purchased for 3000 Naira which is about 16 steem.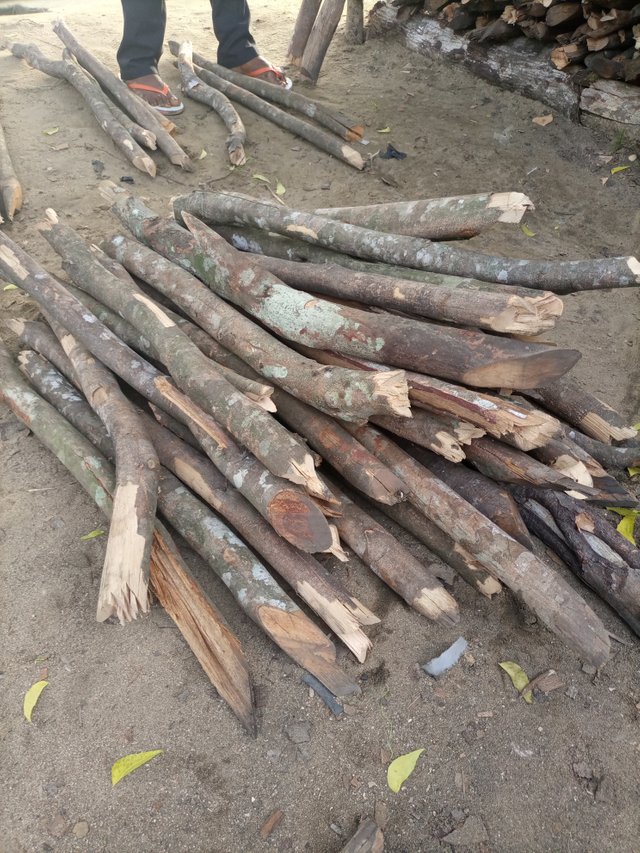 Then the next day being on Tuesday, we brought back the squeezed cassava to be fried on Wednesday. I like waking up early to fry because if the following reasons
It is stressful to process. You will be besides firewood fire and as such, one don't even need to fry when sun 🌞 comes out else everywhere will heat up and you will not find it easy at all

I like staying in the open to fry and not in a house do that the smoke will not affect me much and staying in the open means that passersby will be watching. So doing it early will be much better when people are still sleeping.
So early morning, though not too early as I had planned, we woke up to begin. While @madilyn02 was sieving it, @benton3 was getting the fire 🔥 set for me to start. But he was the one that started it, after the first pot, I took over. Since the squeezed cassava was in four bags, we were only able to finish 2 bags due to the sun that came out and then planned to finish up on Thursday morning. And thankfully, we concluded it successfully. See the video of the frying below 👇
It is a thing of joy to see that we were able to get upto 50kg of garri just in this first batch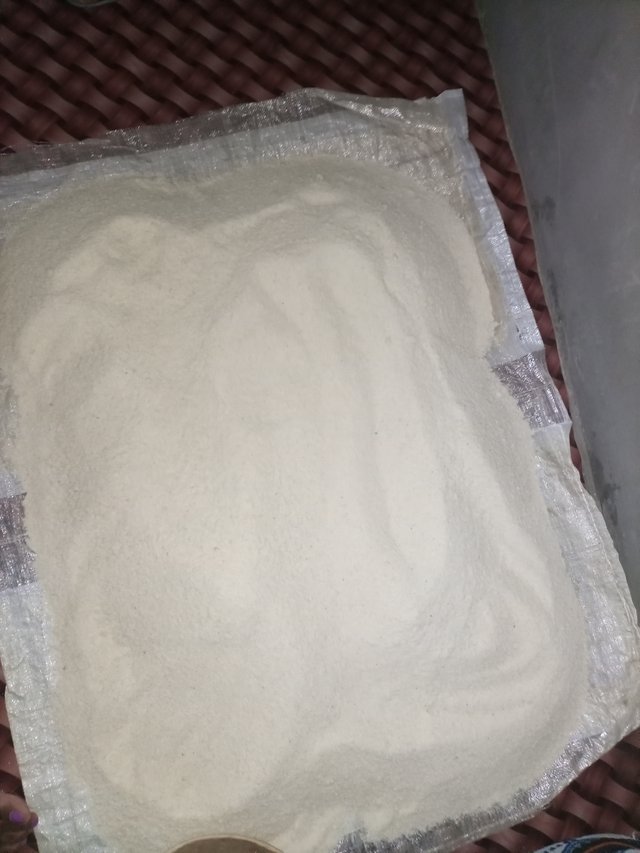 you can see the cassava flakes or garri there, spread for it to cool before bagging it.
Reflection
It was amazing growing my own food and processing it. As the garri is now, we can soak it in water like flakes and drink with groundnuts, milk and any other thing of your choice and it will serve as food. But we mostly enjoy it with soup as you can see in the picture below. Simply boil hot water, turn it in a bowel and add the cassava flakes and turn very well. Then prepare your soup and enjoy.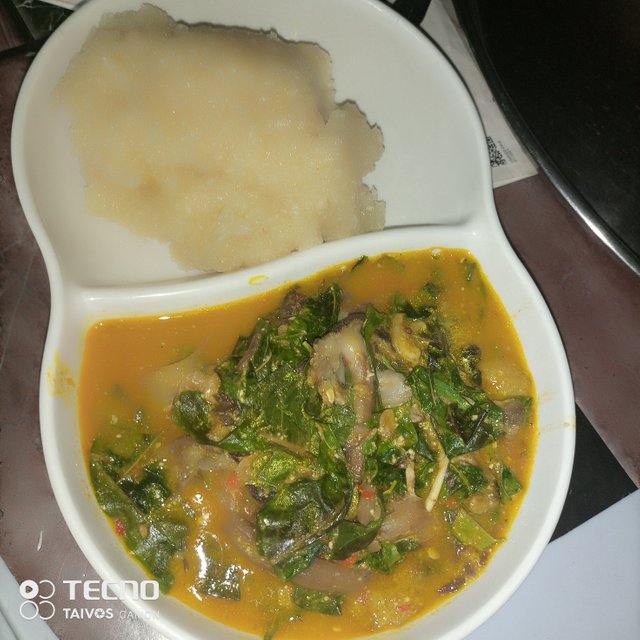 It was about 15 years ago that I fried garri last. I am glad that I was able to do it again. It gives great joy. This practice has rekindle the desire for farming that I once had just like my late dad who was a great farmer. Am thinking of even replanting the cassava stem. We gathered the stem at a place and covered it for replanting. But we will have to finish up the harvesting of the remaining cassava this coming week.
It is beneficial to grow your own food if you can. For one thing, it will be free from sand and debris which are mostly common in the ones we buy from the market.
It is also economical. And the joy I get by growing and processing the cassava knows no bounds. I bet you to try it out and thank me later, haha.
From @ngoenyi,
This is my introductory post here