New Contest: Literary works brought to the big screen: 25 STEEM prize pool || Nuevo Concurso: Obras literarias llevadas a la gran pantalla 25 STEEM en premios

Beloved literati / Amados literatos
📖🧙🏻‍♂️ Habemus 🧙🏻‍♂️📖
New contest / Nuevo concurso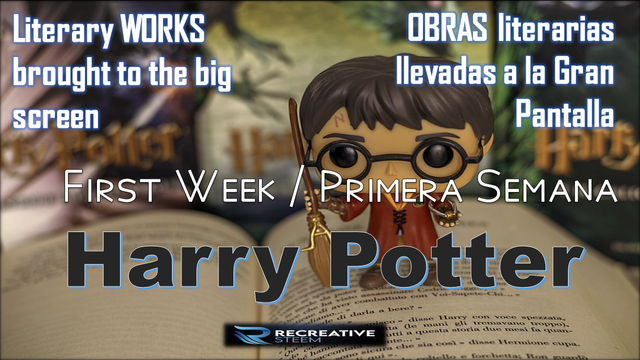 Nuevo Concurso: Obras literarias llevadas a la gran pantalla


New Contest: Literary works brought to the big screen


Muchas son las increíbles producciones literarias que han servido de base para los cinematógrafos más importantes de la historia. Tal es el caso de la saga Harry Potter, un libro para niños y jóvenes, escrito por la autora británica J. K. Rowling.
There are many incredible literary productions that have served as the basis for the most important cinematographers in history. Such is the case of the Harry Potter saga, a book for children and young people, written by the British author J. K. Rowling
.
Sabemos de buenas fuentes, que en esta comunidad y en toda steemit, quienes amamos la literatura, también disfrutamos enormemente del cine y su gran pantalla. De ahí nuestra nueva iniciativa.
We know from good sources that in this community and throughout steemit, those of us who love literature also greatly enjoy cinema and its big screen. Hence our new initiative.

¿Qué te proponemos?
What do we propose?
- Selecciona de entre uno de los libros o películas de esta importante saga, lo que más te haya impactado: Una historia, un hechizo, un personaje, sé libre en medio de tanta trama.
- Select from one of the books or movies of this important saga, what has impacted you the most: A story, a spell, a character, be free in the midst of so much plot.
---
- Realiza una reseña sobre lo seleccionado que no exceda las 300 palabras, y que todo lo allí escrito sea tu pensamiento. No copies nada que no te pertenezca, salvo que cites la fuente de manera debida.
- Write a review about what you have selected that does not exceed 300 words, and that everything written there is your thought. Do not copy anything that does not belong to you, unless you cite the source properly.
---
- Invita a 3 amigos a participar en el concurso.
- Invite 3 friends to participate in the contest.
- Comparte tu publicación en tus redes sociales: facebook, instagram, twitter u otra, etiquetando a
@steemit
y
@recreativesteem
. Muéstranos una captura dando evidencias de ello.
- Share your publication on your social networks: facebook, instagram, twitter or another, tagging
@steemit
and
@recreativesteem
. Show us a capture giving evidence of it.
- Coloca el enlace de tu publicación en el cajón de comentarios, y no olvides mencionarme en alguna parte del escrito, así doy contigo más rápido.
- Put the link of your publication in the comment box, and do not forget to mention me somewhere in the writing, so I find you faster.
---
Editor and contest manager:
@yrmaleza
El concurso estará activo hasta que este post tenga vigencia.
The contest will be active until this post is valid.

PRIZE POOL TO DISTRIBUTE


= 25 STEEM

PLACES / LUGARES

1st = 9 STEEM
2nd= 7 STEEM
3rd= 5 STEEM
4th= 4 STEEM


Very Essencial
Configura tus publicaciones para apoyar la cuenta comunitaria
Set up your posts to support the community account
@hive-141434

Delegate SP to Recreative following these links
Follow us on our social networks
Telegram
Twitter
Instagram
Discord

Use the tag
#recreative-literatura #recreative-books #steemexclusive #yourcountry