STEEMKIDS COMMUNITY WORD DEFINITION CONTEST SERIES WK 4|| WHAT DOES COMPASSION MEAN TO YOU? 50 steem price
Hello dear users, welcome to another contest series for steemkids community word Definition, this is the 5th of it's kind. The 4rd one about about love was massive. Love is close to our hearts and as such a lot of people joined in the contest. The result will soon be announced but we need to get busy with yet another exciting word definition. Let's get busy again.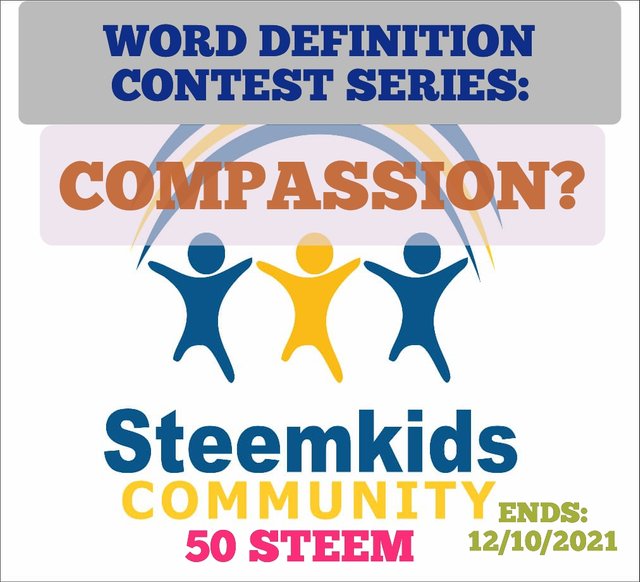 WHAT IS THE WORD TO BE DEFINED IN THIS WEEK #4?
COMPASSION, WHAT DOES IT MEAN?
Compassion is a beautiful word which we can't wait to hear it's definition from you all. We might have head it severally. You may have even mentioned it or seen others display it either to you or you displayed it to others. It can mean different things to different people and the way it is shown might be different from person to person. Let's hear your own.
CONTEST TIPS
What do you understand by compassion?

Who can show it and why?

Have you shown someone compassion, how did you do that and how did the recipient feel?

Has anyone shown you compassion before and how did you feel when it was shown to you?

Express your compassion to someone in a practical way.
Do you think compassion is a virtue that should be cultivated by all and be demonstrated in a practical way?

How did you learn to show compassion and where?

How will the world look like if everyone cultivates this quality?
CONTEST RULES
**✓ set @steemkidss as 20% beneficiary
✓ Be creative and original.
✓ plagiarism will not be tolerated and you will be banned if cought
✓ The contest is open to everybody
✓ pictures must be your own .
✓ your publications must be at least 300 words but if it is not, you can drop it as a comment on this post.
✓Subscribe to steemkids community, it is a must.
✓ Vote and resteem
✓ you must join steemkids community curation trail
✓ Invite at least 3 friends to participate especially those who have not subscribed
✓ Use harshtag #steemkids-wordserieswk5, #steemexclusive #contest, #steemit #yourcountry
✓ Mention @steemkidss in your post
✓ Drop your entry post link under the comment section of this post.
✓ please apply all the rules
✓ duration is one week from the date of this contest Tuesday, (12/10/2021)(11:59pm Nigeria time)

Reward pool- 50 liquid steem
1st place- 15 steem
2nd place- 10 steem
3rd place- 7 steem
4th place- 5 steem
5th place- 3 steem
10 steem will be shared among all other participants that didn't win and who are not upvoted by the curators before the winners result is announced as a compensation. So everyone wins 💃💃💃💃💃💃💃💃
Winners will be those who apply all rules and are detailed. Remember to join steemkidss curation trail, don't forget, it is very important. But if you were supported by the curators, you will not be selected as a winner again. We want to make sure we support as much people as possible.
I wish you all the best!
Special mentions
@pennsif
@disconnect
@arie-steem
@stephenkendal
We, at steemkids community are mostly grateful to @steemitblog and steemcurator01 for all the supports given to us so far.

Support us by delegating STEEM POWER.

Best regards
@steemkids Community


Join our discord channel::::::Join our telegram group::::::subscribe to our community