Steemkids community Weekly Contest: How I Care About ......(Week #4: Environment) Contest Series. 10 Steem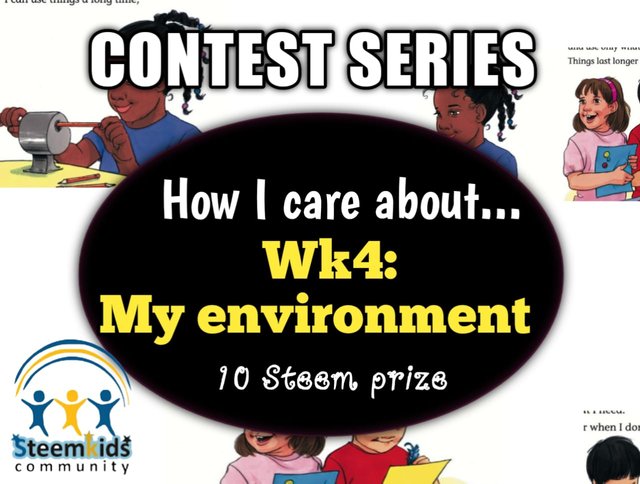 Hello dear community members, trust you are all well? Welcome to week #4 of this "how you care about.... Contest Series. The result of the week I will be announced soon.
This time around, we want to you to write about another thing you care about.
The title is How I Care About.... Contest series. Each week, we will mention one of the things we all care about and request that we share how we care about it personally. We will like to learn those ways you take care of those things that matter to you.

Week #4: How Do You Care About Your Environment?
We have chosen another thing that we a love to care for and that is our Environment. Each day that passes by, we care about our Environment in different ways. Some are similar and others are peculiar. Kindly tell us how you go about caring for your Environment.

Contest tips
👉How do you care for your Environment?
👉How often do you care for it?
👉What things do you use in caring for it and does it cost you anything?
👉How do you feel when you have cared for your Environment?
👉Do you sometimes fail to care for your Environment? What results when you neglect that responsibility?
👉Benefits of caring for our environment
👉Do anyone assist you to care for your Environment?

Contest Rules
✓ Publish your post in Steemkids community using any language of choice
✓ You must be at least in club5050 to participate.
✓ The minimum length of your post is 300 words
✓ This contest will start on 00:00(UTC) Saturday 17/09/2022, to 23:59(UTC) Saturday 24/09/2022.
✓ Drop the link of your entry post as a comment on this post. Invite 3 friends to participate
✓ Use the title 👉How I Care About ......(Week #4: Environment) Contest Series
✓ Make sure to follow @steemkidss. Vote and resteem this post
✓ Plagiarism of any sort will be detected and you will be disqualified.
✓ Include only original images
✓ Include #steemkidscontest-w4, #steemexclusive and your club status among your first 3 tags.
✓Anyone can take part
✓set at least 10% beneficiary to @steemkidss
Note: Visit other participants entries and engage meaningfully with them. We will check the engagements when determining our final winners. Ensure you also reply to the comments on your own entry
Quality is key: ensure you apply markdown styles especially centered headings and justified alignment.

Contest Prize
We will award 10 steem to 3 outstanding entries in the order presented below 👇👇👇👇.
1st prize --- 5 steem
2nd prize------ 3 steem
3rd prize------ 2 steem

Best regards
@steemkids Community team


Join our discord channel:::::::Join our telegram group::::::subscribe to our community

Support us by delegating STEEM POWER.
50SP
100SP
250SP
500 Sp
1000SP
2000SP
2500SP