Steemit Engagement Challenge S6/W2 - Food Diary game (My daily food in pictures)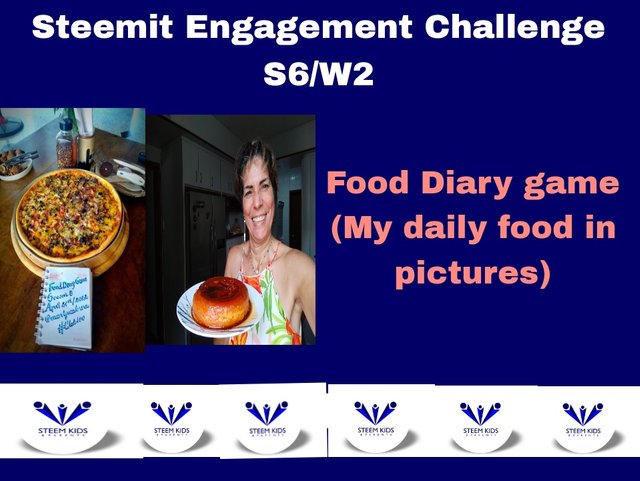 Hello dear friends and the entire steemit family, we gladly welcome you all to week 2 of the season 6 community engagement challenge. The week 1 was wonderful and we received numerous entries and comments. The result will be out when the time of the engagement challenge runs out. If you have not already made your entry, please do so.
For this week, it is our turn to host diary game and we have chosen to host food diarygame.
Food is part of our daily lives. There is no day that passes without us eating. In fact, the basic routine of our everyday life is made up of breakfast, lunch and dinner. There are some other foods in between meals. We will like to see your foods that you eat within the day, please show them to us in pictures.


What you are expected to do
Take pictures of at least 3 different meals you enjoyed within the day. There should be evidence that shows that it is your food. Either you take a selfie with the foods or you write your username, current date and steem kids and parents on a plain sheet of paper and take the picture of it along with the foods.
Below are some samples of what we are expected to do. We can choose to do one or both following the examples and the rules of this contest.
Both images downloaded from here
Briefly explain what the food is all about, why you chose that food and the nutritional information. Which category does the food fall (breakfast, lunch or dinner).
Who prepared the food? If you are the one you can include the recipe and procedures in brief as well as the cost of the food in your local currency and in steem. If you purchased it, you can tell us about the vendor, what you like about their food, the amount you purchased the food and the picture of the place.
Let us know how you felt eating those foods that day and if you can recommend it for others to eat. How grateful are you for being able to see the food you ate because so many do not have the opportunity to have the food to eat.
Do you already know what you will eat the next day? Mention them

Contest Rules and Rewards
Plagiarism of any kind will not be tolerated

Write an article on the subject with at least 300 words and post it in steem kids & parents community.

You are eligible to make only one entry per week. And you must be in at least club5050

The Title should be - " *Steemit Engagement Challenge S6/W2 - *Food Diary game (My daily food in pictures)".

Subscribe to steem kids & parents community and follow our official account @steemkidss.

Leave reasonable comments on at least three entries from other participants (ensure you interact greatly with other users).

Use the tags #steemkidsandparents-s6w2, country (e.g #nigeria), and club status in the first five tags. Invite at least three of your friends by mentioning them at the bottom of your entry.

10 STEEM Power (5, 3, and 2 SP) would be shared between the top 3 winners.

Write quality content to stand out and also to be suitable for support. The contest starts at 00:00, on the 28th of November, and ends at 23:59, on the 4th of December 2022.

we invite you to support @pennsif.witness for growth across the whole platform through robust communication at all levels and targeted high yield developments with the resources available.

Click Here
Best regards
@steemkids Community team



Join our discord channel:::::::Join our telegram group::::::subscribe to our community

Support us by delegating STEEM POWER.
50SP
100SP
250SP
500 Sp
1000SP
2000SP
2500SP