Get A new Kids Verified Label- "Skids-Verified✓". Previous Verified ✓ Kids Are Now Null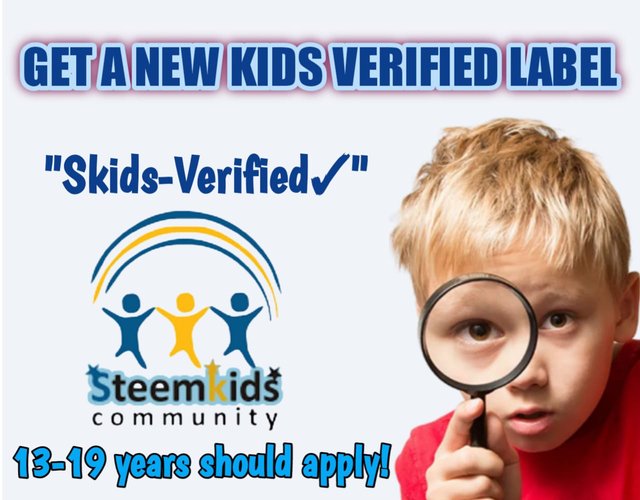 Hello dear community members, it is a cause for concern that most of our verified kids are either inactive due to some reasons best known to them or are farming/fake accounts which do not give the community a good name. Some have also grown above 19 years and are no longer considered as kids.
It is at this background that we have decided to reverify our kids to ensure that we are dealing with the real kids.
We have noticed that some accounts are used by some users to earn more supports, thus hiding under the umbrella of our verified kids and producing contents that the kids can not ordinarily produce on their own.
We understand that it is true that some kids who are even below the age of 13 can produce wonderful contents, these ones we can identify with time having seen their efforts and what they can produce as contents.
Get The label 👉"skids-verified"
From now onwards, we will like to give new verified label for our kids that fall within the age bracket.
Steemkids community is a community for kids between the ages of 13 to 19. These are the ones we will give our verified label and it is no longer "verified kid✓" but "skids-verified ✓".
To verify a kid, we will check the following
If you are already verified in newcomers community of your introduction post

If you are within the age bracket of 13 to 19 years of age

If the account is genuine and nit managed by an adult. We will keep an eye and will not hasitate to remove our label from your name if you are caught.

If you are following the rules of steemexclusive and posting plagiarism free contents. If you are found plagiarising, we will give you maximum of 2 warnings and then flag you and even mute you.
As time goes on, we will keep an eye on you and will let you know if there is anything else you will need to be watched on or you need to do to remain our verified kid.
You Are Invited To Present Yourself For Verification
Starting from the time this post is announced, we will be looking forward to giving out kids the "skids-verified ✓" label of anyone who has met with the guidelines above.
Then you will need to upload a picture of you along with a verification paper on your hand that you will write the following on
Your username

Age

Date of the day you want to upload the image

I love steemkids
You will also add your introduction post link as you.
So you are to reply to this post, upload the picture you have taken and add your introduction post link to it. State who recruited you add this
I have read and understood all the rules of this community and I will always obey them
After we have gone through your comment and everything is ok, then you will be given the label.
This means that you will be eligible to take part in our projects and contests and special attention will be given you as our kid.
Note that only steemkidss account will be used to verify kids and give them the label
Good luck to you all!

Support us by delegating STEEM POWER.