CONTEST :"THE STEEMKIDS VOICE" 50 STEEM ADWARDS// CONCURSO: "LA VOZ STEEMKIDS" 50 STEEM EN PREMIOS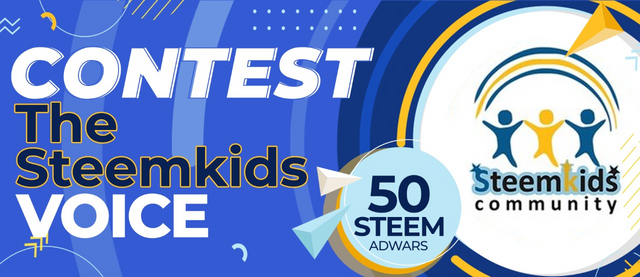 Hello dear Steemkids Community Kids


It is a real honor for me to belong to this great Steemkids community, where we encourage the growth of each of you, encouraging you to grow and develop as integral bloggers of our blockchain.
We want to get to know you more and more every day and encourage your diverse talents in our Steemkids community.
That's why today we bring a special contest for you who like to sing and/or play a musical instrument. We would love to see everything you know about the fine arts and in this window we propose you to bring us a video of at least 2 minutes, singing your favorite song.


Contest: The Steemkidss Voice
We want to hear you sing and appreciate your great talent, you can do it playing an instrument as well, with karaoke track or a capella. We want to see you.

How to participate?
Write a text of at least 200 words telling us the reason why you chose this song and post the link to your youtube or vimeo video, which you have recorded for this contest.
The title of your post should start Steem Kids Contest -The Voice Steemkids: "Song title" by @author"
Use the tags in this order #kids-voice, #steemexclusive, #yourcountry, #contest. Remember to do it in this order and that the exclusive tag is within the first "4".
You must resteem this post and post your participation link in the comments of this post.
You must invite at least 3 friends to participate in the contest.
Age range of participants: from 8 years old to 17 years old.
You will only be able to share your participation in this Steem Kidss Steemit community.
It is important to remember that our official account to benefit the community with your support is @steemkidss. Be sure to set up all your posts with at least 10% profit.

50 Steem in prizes
The top 5 entries to The Steemkids Voice contest will be the winners of 10 Steem each. They will also have the chances to be selected for the post of the day, if their post is of quality and meets all the requirements posed.

Duration:
The contest starts today September 24 and the End Date 23:59 UTC October 01.
"The SteemKids Voice"

Who can participate?
All children with a Steemit account who are verified on Steemkids Community.
If you are not yet verified, take advantage of doing it right now and participate in this wonderful artistic initiative. We also invite you to join the healing trail of our community and be part of the growth of this great family.



Important Recommendations:
You must make an exclusive video for this contest, you can upload it to youtube or vimeo platforms.
You start with the words: "La Voz Steemkids" Week N°#1 My user is: @user and I will sing the song: "Name of the song".

We invite you to comment on other active posts in the community to encourage fellowship in our community and value the talent of other users.

We invite you to read the STEEMKIDS COMMUNITY GUIDELINES ON CONTENT CREATION.
---
We already want to see and hear from you on The Steemkids Voice
---
---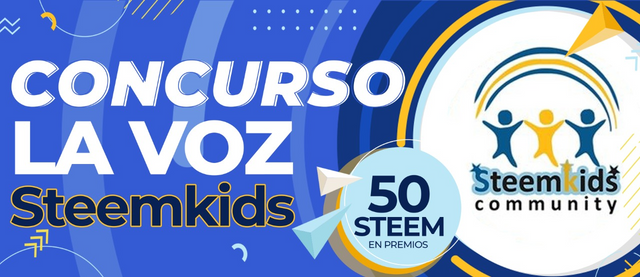 Hola queridos Niños de Steemkids Community


Es un verdadero honor para mi pertenecer a esta gran comunidad de niños de Steemit, en donde fomentamos el crecimiento de cada uno de ustedes, les impulsándolos a crecer y desarrollarse como bloggers integrales de nuestra blockchain.
Deseamos conocerles cada día más e impulsar sus diversos talentos en nuestra comunidad Steemkids.
Es por esto, que hoy traemos un concurso especial para ti que te gusta cantar y/o ejecutar algún instrumento musical. Nos encantaría ver todo lo que sabes hacer de las bellas artes y en esta ventana te proponemos que nos traigas un video de al menos 2 minutos, cantando tu canción favorita.



Concurso: La Voz Steemkidss
Queremos escucharte cantar y apreciar tu gran talento, puedes hacerlo ejecutando algún instrumento también, con pista karaoke o a capella. Deseamos verte.
---
¿Cómo participar?
Escribe un texto de al menos 200 palabras relatándonos la razón por la cual escogiste esta canción y coloca el link de tu video de youtube o vimeo, que has grabado para este concurso.
El título de tu publicación debe iniciar Steem Kids Contest –The Voice Steemkids: "Título de canción" por @autor".
Utiliza las etiquetas en este orden #kids-voice , #steemexclusive , #su país , #contest. Recuerde hacerlo en este orden y que la etiqueta exclusiva este dentro de las primeras "4".
Debe dar resteem a este post y publicar su enlace de participación en los comentarios de esta publicación.
Debe invitar al menos 3 amigos a participar en el concurso.
Rango de Edades de los participantes: desde los 8 años hasta los 17 años.
Solo podrá compartir su participación en esta comunidad Steem Kidss de Steemit.
Es importante que recuerden que nuestra cuenta oficial para beneficiar a la comunidad con tu apoyo es @steemkidss. Asegúrate de configurar todas tus publicaciones con al menos 10% de beneficio.

50 Steem en premios
Las mejores 5 entradas al concurso La Voz Steemkids serán los ganadores de 10 Steem cada uno. Además tendrán las posibilidades de ser seleccionados para la publicación del día, si su publicación es de calidad y cumple con todos los requisitos planteados.

Duración:
El concurso comienza hoy 24 de Septiembre y la Fecha de culminación 23:59 UTC del 01 de octubre
"La Voz SteemKids"
---

¿Quiénes pueden participar?
Todos los niños con cuenta en Steemit que estén verificados en Steemkids Community.
Si aún no estás verificado, aprovecha hacerlo ahora mismo y participa en esta maravillosa iniciativa artística. También te invitamos a unirte al trail de curación de nuestra comunidad y ser parte del crecimiento de esta gran familia.


Recomendaciones Importantes:
Debes realizar un video exclusivo para este concurso, puedes subirlo a las plataformas de youtube o vimeo.
Inicias con las palabras: "La Voz Steemkids" Semana N°#1 Mi usuario es: @user y voy a entonar la canción: "Nombre de la canción"

Te invitamos a comentar otras publicaciones activas en la comunidad para fomentar el compañerismo en nuestra comunidad y valorar el talento de otros usuarios.

Los invitamos a leer las DIRECTRICES DE LA COMUNIDAD STEEMKIDS SOBRE LA CREACIÓN DE CONTENIDOS
---
Ya queremos verte y escucharte en La Voz Steemkids
---

Support us by delegating STEEM POWER.

Best regards
@graceleon
@steemkids Community team


Join our discord channel:::::::Join our telegram group::::::subscribe to our community