STEEMKIDS COMMUNITY GUIDELINES ON CONTENTS CREATION
INTRODUCTION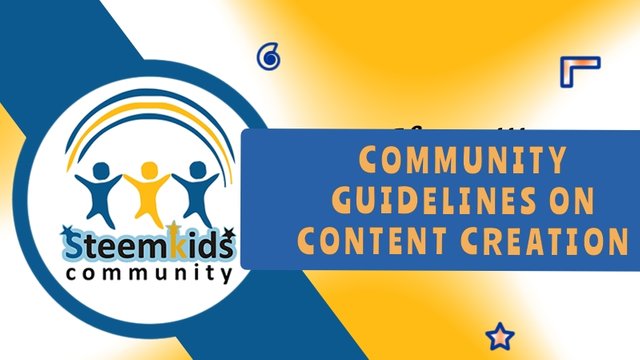 Hello to all the members of this growing and new community focused on our beloved children. As is well known, our community was selected for monthly support under the Steemit team. Therefore, we want to make a special announcement with some instructions that can help us move forward in this support process.
We want to bring the community guidelines, specific ones that could help us move forward more quickly if everyone did their part. The development of the community depends mostly on the support of all the people who make life in it, so we ask for a little collaboration so that together we can give life and strengthen this community.
GUIDELINES ON THE TYPE OF POSTS THAT CAN BE MADE IN STEEMKIDS COMMUNITY
This community is free to any subject as long as they respect the minimum quality regulations of 250 words and that the publications are free of plagiarism. This is a healthy and educational place for children to come and learn as well as share their ideas and make quality posts so they can share them with all their peers.
First, we want to make a special request to all those people who are not yet part of our community trail, to join the community trail to continue strengthening the voting power and rewards that can be generated through the curation made within this community. It is important that we can all come together under this medium so that you can perform more efficient curation with much value and that members can have acceptable rewards, but this will only be possible through collaboration.
CONTENT PROTOCOL
Second, we want to propose a content protocol that can be useful for community members to create different types of posts and that creates a diversity of content within the Community that everyone can get out of satisfied with and that can be beneficial for learning and interaction. The tags we would like to use in the community from now on are as follows:
#kids-health (Mondays): publications related to health and wellness.
#kids-educative (Tuesdays): publications where people can create content intended to teach others.
#kids-natural (Wednesdays): publications where acts of preservation of the environment or acts related to environmental care are made.
#kids-sports (Thursdays): publications related to sports and physical activities that children can develop.
#kids-food (Friday): publications related to desserts, sweets, and special foods that children can make together with their parents.
#kids-art (Saturdays): publications to demonstrate the creativity of children through drawings, paintings, photography, constructions, etc.
#savebypowerup (Sundays): publications related to the increase of the SP the account of the members of the community through the Steem Powerup.
QUALITY POSTS SELECTION FOR THE DAY
We will be selecting a top of daily publications related to the content protocol to give them a little exposure and that they can have a little extra support. We ask @steemcurator01 to please review the publications of the top daily that we will be making through the main curator account to be able to promote these people.
The content protocol requires people to place the beneficiary of at least 10% of the rewards to be sent to the community's primary curating account. This will be a way to help the curation account of the community grow and we can all come out with long-term benefits.
To be selected for the top daily posts, your post must be set to give at least 10% of the post rewards, and needless to say, it must be published within this community.
You must also drop your post links in our telegram group for post links and follow the rules. The rules are as follows:
Comment on at least 2 post links that are already dropped in that group.

Go back to that group and write commented on that post link that you have commented on.

You must make meaningful comments on the posts.

Then drop yours for others to comment on. Note that the link must be links to the posts that are made in steemkids community.
Post links group for steemkids community
It is from there that we will pick the quality posts for the day.
We want to encourage engagements among members of steemkids community.
CONCLUSION
We believe that this will assist all in the community to know what to publish. Thank you all for your usual understanding.
Best regards
Steemkids Community team


Join our discord channel:::::::Join our telegram group::::::subscribe to our community

Support us by delegating STEEM POWER.