@NGOENYI CONTEST #17||LETS TALK ABOUT SUMMER SEASON IN YOUR COUNTRY, WHAT IS IT LIKE?|| 10% TO @STEEMKIDSS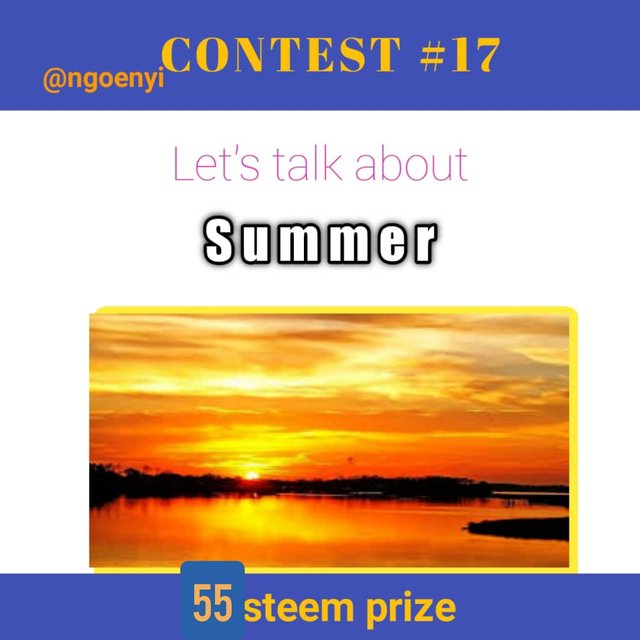 Hello dear friends and fellow steemians, I welcome you all back to this my contest. Contest is a way to keep everyone busy and active. It gives one idea of what to write about. My last contest was about what you think is important that everyone must experience. I received wonderful entries. The rewards were sent as well. But this time, I want to hear you talk about summer seasons and what it is usually like in your country. It is going to be fun 😊😊😊😊😊. I believe that everyone will like to join this contest.
Summer season varies from place to place. For those in northern hemisphere, it begins in the month of June, and ends in August. But for those in the southern hemisphere, it is within the months of
December to February.
Within these months, a lot of things change, fun everywhere even certain flowers start to flourish. Well, I have not been to so many places and I will like to read how it is like in your country, or area.
WHAT IS THIS WEEK'S CONTEST TOPIC?
LETS TALK ABOUT SUMMER SEASON IN YOUR COUNTRY OR AREA, WHAT IS IT LIKE?
CONTEST TIPS
✓ Apart from the celebrations that go on during that period (I am not interested in the celebrations), what changes occur during summer season in terms of the whether, people's behaviors, businesses, schools and any other thing you may like to talk about.
✓ How do personally feel about summer season, where you like to visit during the season, what do you like most about summer. I want to hear from you.
CONTEST RULES
Your write up must be your own. Plagiarism will not be tolerated and will lead to disqualification if cought.

Write in not less than 300 words

Use images to represent what you what you mean. It will either be your own image or from a free source site but properly referenced

join steemkids community curation trail here and set it at 100%

Resteem, vote and drop your post link at the comment section of this post.

Use these tags: #ngoenyi-contest17 #steemexclusive #contest #yourcountry

this contest will end in the next 7 days from now which will be 6th of December 2021 at 11:59pm Nigeria time

Invite at least 3 friends of yours to join the competition.

Share your entry in any social media of your choice like Facebook, Twitter and any other one. But be sure to upload the screenshot of your social media share at the comment section of this post along with your contest entry link.
REWARD POOL- 55 STEEM
1st place will win 15 steem
2nd place 10 steem
3rd steem 7 steem
4th place 5 steem
5th place 3 steem
15 steem will be distributed among other participants that didn't win. So you see, it is a win win situation. Why not join
SPONSOR
@steemalive has added to the price pool with 15 steem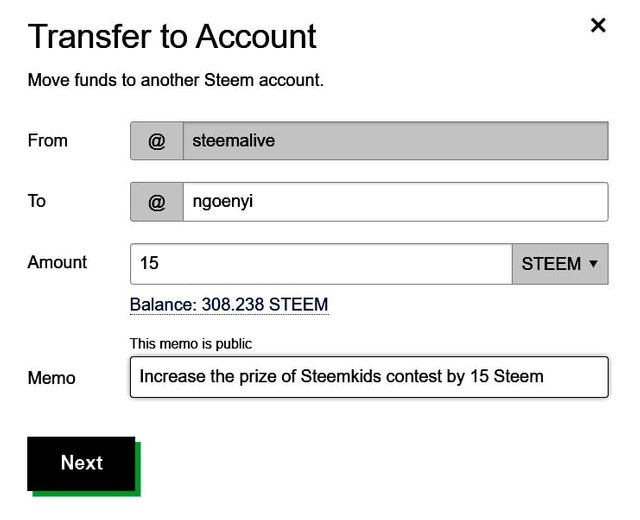 I am most grateful to you @steemalive for your generosity.
I am grateful to @steemcurator01 and the steemit team for this initiative

Support us by delegating STEEM POWER.
This is my introductorypost here


Join us: discord:::::::::Facebook::::::::twitter:::::telegram chat::::::telegram post link group:::::::telegram kids corner exclusive