2nd contest "Steemit Weekly" - Describe Selected Habitat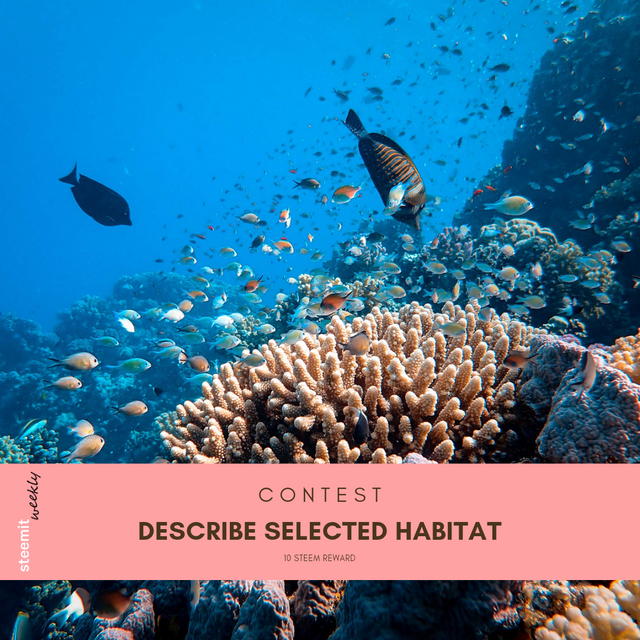 First number of "Steemit Weekly" behind us, so it's time to collect some articles to prepare another edition. This time the main theme is "Nature".
---
What to write about:


I encourage you to write the article about any habitat.
What is habitat? It's some area where particular species of plants and animals live. It can be some lake, river, pond or sea, it could be some forest, jungle, swamp, desert or mountains, finally, in micro scale, it could be even your own garden.
Write the article about selected area from your country or from any other place in the world. Let us know what animals and plants are living there, what is the climate, what does that place make special, what do you love about it, where exactly it is and/or add any other information you would like to share with us.
Maybe you would like to write about the saltiest sea or the highest mountains in the world? Maybe you think it would be interesting to share with us some information about the popular lake in your district or tiny river which cross your town? Maybe you would like to share with us what do you know about the Amazon jungle, or you wish to describe Sahara? It is all up to you!
I'm very proud of your entries from the previous week so I am sure this time you will provide equally good content.
---
Rules of This Contest


🗞️ Give the up-vote and resteem this post
🗞️ Write a post about selected habitat
🗞️ Post must be in English or Spanish
🗞️ Plagiarism is prohibited. All sources must be properly marked
🗞️ Post the link to article in the comment below
🗞️ If you add the photos, make sure it's CC BY free licence or use photos which you made on your own. You can also publish the post without any photos.
🗞️ Post must be published in this community
🗞️ Include following text in your post: "I consent to the publication and distribution of my article in the electronic and paper versions of "Steemit Weekly"and in all social media."
🗞️ Add the tag #steemitweekly in the first three tags
---
Rewards


Winner will receive 10 STEEM
Their post will be published in "Steemit Weekly" newspaper.
I might select extra one or more articles which will be rewarded with 5 STEEM and publication in "Steemit Weekly". It depends on the quality of the entries but more importantly, on the available space in the newspaper ("Steemit Weekly" is designed to have maximum 20 pages).
You may also want to check list of the "Steemit Weekly" contests for this week: 9 great contests is waiting for you!
---
Post Submission Deadline:
 25th of June 2021, 12.00 (GMT -3)

Announcement of the winners:
 27th of June 2021, 18:00 (GMT-3)

---

Read the first edition of Steemit Weekly
Special thanks to all our partners:
1️⃣ @toufiq777 - Steem Bangladesh
2️⃣ @haidermehdi - Steemit Pakistan
3️⃣ @yousafharoonkhan - Steem Challenge
4️⃣ @tarpan - Zero to Infinity
5️⃣ @xpilar - World of Xpilar
6️⃣ @marcybetancourt - Venezolanos Steem