Grab the Opportunity. We Are Looking For A Moderator in STEEMIT PAKISTAN Community!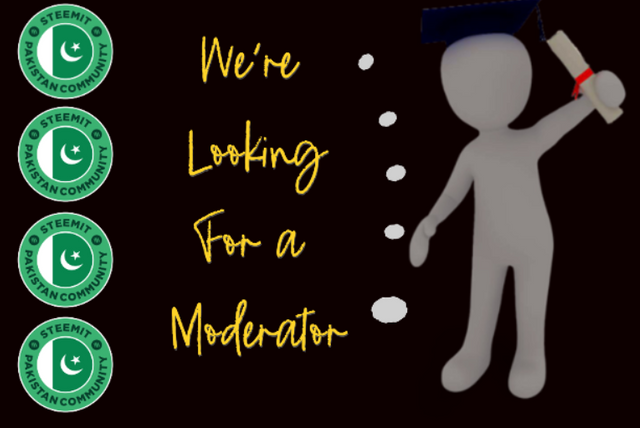 Hello Everyone, this is Steemit-Pak, the Official country curation account of Pakistan Community. We hope you all are having a great time with the clubs here on Steemit. We are always here to help you if you are in any sort of trouble.
---
Won't make this a very long as it is a simple announcement. As mentioned in the title and the cover image too, we are looking to grab a moderator someone from you all who fits on our requirement and has been a loyal member to our community over the past few months. It could be anyone from the members who were always there in the community. Including the times when we were in the second tier of Booming support to the time when we finally achieved the @steemcurator01's support.
---
There are a few basic requirements:
An Active member of Steemit Pakistan Community.
Having reputation above 60 atleast.
Pro-Newcomer Verified in the Newcomers Community.
Should have the ability to detect plagiarism.
Should be collaborative and a team person.
Work with dedication the Community.
Should be a delegator to Steemit Pakistan with a handsome percentage of his/her Steem power.
---
That's all. Anyone fulfilling all the above responsibilities shall write a short application in the comment section of this post. We would be looking forward to select a perfect moderator for our community. All the names will be discussed in our management group and a good fit will be selected regardless of any favoritism!
---
Good luck to all of you. We are listening :)
Steem On!
Accepting applications for the next three days - 9th December 2021